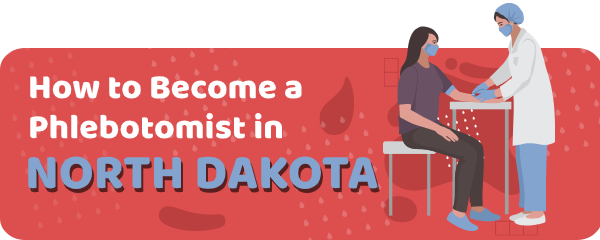 If you want to start a career in the medical-related field, you can choose phlebotomy.
North Dakota offers plenty of training programs and options at colleges and vocational schools for aspiring phlebotomists.
Phlebotomy is expanding quickly, and there is a growing need for qualified phlebotomists in North Dakota.
The primary tasks of a phlebotomist are to draw blood and tissue samples from patients and to maintain proper records.
However, phlebotomists have other laboratory tasks as well.
At the moment, there are more than 200 open job positions for phlebotomists in North Dakota.
Sponsored Listings
In general, choosing a phlebotomy career is safe, because it isn't affected by recession and phlebotomists are appreciated in all healthcare facilities.
In North Dakota, cities such as Fargo, Bismarck, Dickinson, Valley City, Wahpeton, Bottineau, Lisbon, and Riverdale are top cities for phlebotomists employment.
What Does a Phlebotomist Do?
The phlebotomist isn't just a person who draws blood samples from the patients.
There is more to the role than holding a needle.
Duties of a certified phlebotomist include transporting and handling samples in the laboratory.
Also, phlebotomists need to know how to properly assess the patient and make him or her feel comfortable.
Therefore, skilled phlebotomists are confident performing venipuncture and they cause minimal discomfort to the patient.
Thus, the phlebotomist's role includes professional skills and personal skills such as empathy and customer service skills.
The latter is important because phlebotomists need to be able to handle different types of people and different situations.
Also, the career of a phlebotomist is a great option if you want to have the opportunity to advance your career in the future.
If you start as an entry-level phlebotomist, you can upgrade your knowledge and become an ultrasound technician, medical assistant, or nurse in the future.
Where Can a Phlebotomist Work?
Phlebotomists can work in a variety of medical environments.
For example, hospitals are always in need of trained phlebotomists.
Therefore, they can work in the ER, surgery pre-op, or NICUs.
Next, phlebotomists are often employed at medical laboratories, community clinics, nursing homes, and private practice offices.
Also, blood banks are a common work setting for phlebotomists.
Those who work in a blood bank can expect to have a busy schedule and plenty of patients during one working shift.
Gaining as much experience as you can, is important to help you develop soothing skills.
You will have to learn to calm the nervous patients before the procedure.
Certification Requirements in North Dakota
North Dakota isn't one of the states that require phlebotomists to be certified to be allowed to work.
However, the majority of reputable employers prefer or only hire certified phlebotomists.
Holding a certification in phlebotomy proves that you have undergone proper training and that you are fully qualified for the position.
Certification will also help you to negotiate a higher salary, even if you have no experience at all.
The minimum requirements for phlebotomists training are having a high school diploma or GED.
Some facilities that offer training programs also require their students to have CPR certification.
It proves that you will be able to handle unexpected situations.
Also, many schools require their students to demonstrate communication skills in English.
It is important because the ability to speak, read, and communicate effectively with patients and other team members is crucial.
Students also need to show proof of immunizations, and to show evidence of not having tuberculosis.
Furthermore, students need to have medical insurance and liability insurance to be able to enroll in clinical rotations.
Additionally, some facilities require that a candidate pass a criminal background and drug test.
Schools
Future phlebotomists in North Dakota can study at Turtle Mountain Community College in Belcourt.
The program offered is the Phlebotomy Technician program.
The program curriculum includes classroom instructions, laboratory exercises, and practical experience.
Students who complete the Phlebotomy Technician program in Belcourt will be trained to properly draw blood, handle and transport samples, to handle laboratory equipment and analyze samples, and test them in laboratory settings.
The program meets the requirements set by the National Accrediting Agency for Clinical Laboratory Sciences.
Once you complete the program, you will be granted a college certificate which is enough for phlebotomy licensure.
Then, you are qualified to start working on an entry phlebotomist position.
| School Name | Address |
| --- | --- |
| Turtle Mountain Community College | 10145 BIA Rd 7, Belcourt, ND 58316 |
Sponsored Listings
Salary
An average salary of a phlebotomist in North Dakota is $33.233 per year.
The salary depends on education, certification, experience, location, work setting.
Annual Salary Range: Annual Salary by Location:
| Location | Avg. Annual Salary |
| --- | --- |
| Fargo | $33,205 |
| Bismarck | $32,989 |
| Grand Forks | $30,911 |
| Minot | $32,458 |
| Mandan | $32,989 |
| Dickinson | $32,458 |
| Jamestown | $32,566 |
| West Fargo | $33,205 |
| Williston | $32,458 |
| Wahpeton | $32,674 |
Regional Salary in North Dakota
| Region | Employed | Avg. Annual Salary | Avg. Hourly Pay | Top 10% Annual Salary | Bottom 10% Annual Salary |
| --- | --- | --- | --- | --- | --- |
| Fargo, ND-MN | 170 | $39,890 | $19.18 | $60,610 | $29,970 |
| Grand Forks, ND-MN | 30 | $39,730 | $19.1 | $58,710 | $31,280 |
* Salary information based on the May 2022 Occupational Employment Statistics (OES) Survey for Phlebotomists, OCC Code 31-9097, BLS.
* Employment conditions in your area may vary.
Phlebotomy Classes by State
---