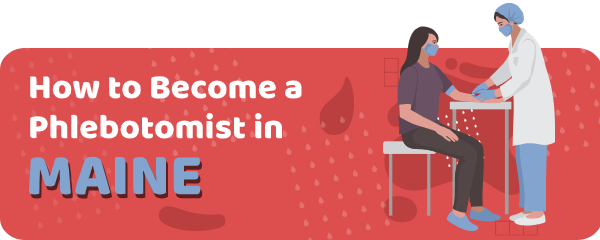 A phlebotomist is trained to perform drawing blood samples procedure and test the specimens.
The phlebotomists' tasks are various, but usually include micro-sampling – venipuncture and blood draw, sample handling, lab processing, etc.
Therefore, they need to be skilled and properly trained to perform all the tasks.
Sometimes, a phlebotomist may have up to 100 venipunctures per day.
The patient education and calming the patient is also common for phlebotomist.
Keep reading to find out how to become a phlebotomist in Maine.
Sponsored Listings
Phlebotomist Training in Maine
All medical roles, including phlebotomists, need to be properly trained to perform their tasks, in this case – to safely draw blood from the patient.
However, phlebotomist training includes much more than just need handling.
Phlebotomists need to be familiar with human anatomy, especially anatomy related to the cardiovascular system.
Next, the training usually includes safety procedures that are important for patients and technicians.
If you enroll in an appropriate training program, you can expect to learn everything you need to gain confidence in the role.
The majority of phlebotomist training options are quite similar, but some focus more on theoretical knowledge, while others pay more attention to practical exposure.
Also, some phlebotomist courses are part of a medical assistant or nursing program.
Those are great if you plan to take a step further in your education sometime in the future.
The first part of the training is classroom education.
The classroom instructions usually cover the following topics:
CPR and elementary emergency training
Anatomy
Physiology
Medical terminology
Safety procedures
Handling challenging patients
Also, training in phlebotomy is an excellent starting point for ultrasound technicians and other medical workers.
Certification in Maine
In the USA, some states require phlebotomists to earn the national CPT certification.
In Maine, holding a certification is useful as it offers plenty of options for advancing your careers, getting a bigger salary, and finding the job easier.
Nowadays, healthcare facilities prefer certified phlebotomists, because certification demonstrates that you have the necessary knowledge and skills to perform all phlebotomists' tasks.
Therefore, certified phlebotomists are more often employed than those who don't hold a certification.
Even though the schools have the authority to change the prerequisite, there are some general prerequisites for phlebotomy certificate programs.
Those include:
High school diploma or passing the equivalency test
The age of 18 or older
Ability to communicate, speak and read in English
Passing the criminal and drug background test
The tuition will cover some of the costs, but you can expect to have additional cots for testing.
Therefore, you should always research to have fresh information on the prerequisites and costs of the program you plan to attend.
On the other hand, getting a certification has plenty of benefits.
The major benefit is boosting marketability on the job market.
The certification will make you nationally recognized and allow you to work almost anywhere in the States.
Therefore, if you plan to relocate in the future, it might be a great idea to earn your national certification first.
Phlebotomist License Renewal
The phlebotomist license needs to be renewed every two years.
Therefore, make sure to be diligent and renew the license on time.
If you fail to do so, you risk losing your job and you might have to take the refresher course to renew the license after a long time.
However, those who have medical assistant or nursing license are not required to update their phlebotomy license.
On the other hand, having your phlebotomist license up-to-date is always a plus for all job positions.
Schools
Six appropriate schools in Maine have phlebotomy training courses.
For example, the Academy of Medical Professions has excellent 10-week training for future phlebotomists.
Eastern Maine Community College, on the other hand, offers phlebotomy training that lasts 56 hours.
Helping Hands Trade School has two training courses for future phlebotomists – elementary and advanced training courses for ambitious phlebotomists.
Kennebec Valley Community College prepares students to sit for the certification exam offered by the American Society for Clinical Pathology Board.
The Phlebotomy training course at Northeast Technical Institute is offered as a part-time and full-time option.
Washington County Community College has the 25-credit hour program for future phlebotomists.
| School Name | Address |
| --- | --- |
| Academy of Medical Professions | 18 Pleasant Street Suite 210 Brunswick, ME 04011 |
| Eastern Maine Community College | 354 Hogan Road Bangor, ME 04401 |
| Helping Hands Trade School | PO Box 93 Waterville, ME 04903-0093 571 Sabattus St., Suite 2 Lewiston, ME 04240 |
| Kennebec Valley Community College | 92 Western Avenue Fairfield, ME 04937 |
| Northeast Technical Institute | Scarborough Campus and Corporate Headquarters-51 U.S. Route 1, Suite K Scarborough, ME 04074 Bangor Campus- 1010 Stillwater Ave Bangor, ME 04401 |
| Washington County Community College | One College Drive, Calais, ME 04619 |
Salary
Salary depends on education, certification, living costs, experience, and policy of the healthcare facility.
For instance, the average annual salary of a phlebotomist in Maine is $34.118.
Annual Salary Range:
Annual Salary by Location:
| Location | Avg. Annual Salary |
| --- | --- |
| Portland | $35,416 |
| Lewiston | $35,062 |
| Bangor | $32,344 |
| South Portland | $35,416 |
| Auburn | $37,268 |
| Brunswick | $35,109 |
| Biddeford | $35,251 |
| Sanford | $35,808 |
| Augusta | $33,526 |
| Scarborough | $35,416 |
Phlebotomy Classes by State
---