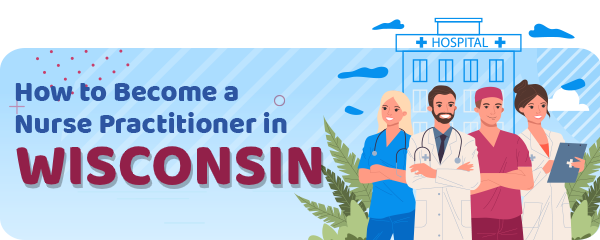 In Wisconsin, advanced practice registered nurses (APRNs) are defined are registered nurses who completed educational requirements and passed a national certification exam.
Aspiring APRNs in Wisconsin can apply Advanced Practice Nurse Prescribers (APNPs), and by earning the APNP credential, they can start prescribing drugs or medical devices.
In Wisconsin, there are four roles of APRNs – nurse practitioner (NP), Clinical nurse specialist (CNS), Certified Nurse Midwife (CNM), and Certified nurse anesthetist (CRNA).
Nurse midwifery has additional state legislative which allows them to obtain a license in the specialty area.
The first requirement for aspiring APRNs is holding a valid registered nurse license.
Wisconsin is one of the states that are part of the nurse Compact agreement.
Therefore, it recognizes multi-state licenses obtained by nurses in other compact states.
Nurses who come from the state that isn't part of the compact agreement can apply simultaneously for RN license in Wisconsin and APNP credentialing.
Educational Requirements for APNPs in Wisconsin
Aspiring APNPs need to complete a master's program at regionally accredited schools.
The Wisconsin legislative allows the nurses to obtain a master's degree in nursing, or any health-related filed.
However, graduates need to meet the requirements to choose a certification agency.
In Wisconsin there are several appropriate certification agencies and the requirements may vary and depend on the specialty area.
For example, the certification agency may only accept candidates who completed programs specially designed for certain roles or population foci.
The requirements usually include coursework in clinical assessment and a typical number of 500 clinical hours.
Nurses who earned their certification by July 1, 1998, aren't required to hold a Master's degree.
The certification for those nurses includes 45 hours of recent course work in pharmacology.
The national APNP certification is mandatory in Wisconsin.
In this state, several approved organizations are in charge of the certifying process.
Those are the American Association of Critical-Care Nurses, the American Acadamy of NPs, the American Nurses Credentialing Center, etc.
You can find the complete list of approved certifying organizations in the current application packet.
Also, an APNP needs to pass a jurisprudence examination, the test that focuses on laws and rules in the state.
A Wisconsin APNP must pass a jurisprudence examination or test of state laws and rules.
After you submit your application, you will be asked to complete the untimed test, at your own pace.
However, you need to have at least 85% success, or you will have to pay an additional fee of $75 for retaking the jurisprudence test.
Malpractice Insurance Requirement
All APNPs in Wisconsin need to have malpractice insurance.
However, there are a few exceptions.
For example, nurses who are employed within the government doesn't have to hold malpractice insurance.
Application Process
You can find all application forms on the Wisconsin Department of Safety and Professional Services website.
There are several steps you need to complete.
First of all, you need to verify your national certification and master's degree.
You have to submit official transcripts or previous certificates to verify recent pharmacotherapeutics coursework
If you have a criminal background, you will have to submit further documentation.
The costs include $75 for application and $75 for the jurisprudence exam.
After you complete all the forms and gather all supporting documents, you can mail it to the Board of Nursing in Madison.
Once the Board receives the forms, you will get an email with an application process tracking code.
The application review can last from seven to 15 days, or even longer.
If you need an allowance to prescribe controlled substances, you will have to apply for the DEA number, and the Board will refer you to the Drug Enforcement Administration.
Maintenance/ Renewal
Certification maintenance includes occasional meetings, continuous education, and improving competency.
Also, APNPs in Wisconsin need to complete at least eight contact hours of clinical pharmacology/therapeutics coursework in a year.
In Wisconsin, APNPs renew their licenses biennially.
However, all APNPs need to submit evidence of malpractice insurance every year.
Nurse Midwife Licensing
Aspiring nurse midwives need to complete approved a program approved by the American College of Nurse-Midwives to seek the national certification.
Bear in mind that currently, the Certification Council of American College of Nurse-Midwives is now the American Midwifery Certification Board.
In Wisconsin, graduates can apply for a temporary license, which allows them to practice while they are in the process of gaining certification.
Also, malpractice insurance is required for nurse midwives as well.
You can download all application forms form the Wisconsin Department of Safety and Professional Services website.
Schools
Several schools in Wisconsin have appropriate programs for APNPs.
For example, Alverno College in Milwaukee offers two campus programs for Family Nurse Practitioners and Psychiatric Mental Health Nurse Practitioners.
If you are interested in the hybrid program – a combination of classroom courses and online courses, you can apply for Bellin College in Green Bay.
Concordia University Wisconsin offers graduate certificate programs and MSN programs, both conducted fully online.
Marquette University in Milwaukee has multiple programs suitable for those seeking graduate, MSN, and DNP programs.
Check the table for more information on schools in Wisconsin.
| School Name | Address |
| --- | --- |
| Alverno College | 3400 S 43rd St Milwaukee, WI 53234, (414) 382-6000 |
| Bellin College | 3201 Eaton Rd Green Bay, WI 54311, (920) 433-6699 |
| Concordia University Wisconsin | 12800 N Lake Shore Drive Mequon, WI 53097 (262) 243-5700 |
| Concordia Wisconsin Campus | 12800 N Lake Shore Drive Mequon, WI 53097, (262) 243-5700 |
| Herzing University | 4006 Washington Rd Kenosha, WI 53144, (262) 671-0675 |
| Marian University | 45 S National Ave Fond du Lac, WI 54935, (920) 923-7600 |
| Marquette University | 1250 W Wisconsin Ave Milwaukee, WI 53233, (800) 222-6544 |
| University of Wisconsin-Eau Claire | 105 Garfield Ave Eau Claire, WI 54701, (715) 836-4636 |
| University of Wisconsin-Madison | 702 West Johnson Street. Suite 1101 Madison, WI 53715, (608) 263-2400 |
| University of Wisconsin-Milwaukee | 2442 E. Kenwood Blvd. Milwaukee, WI 53211, (414) 229-1122 |
| University of Wisconsin-Oshkosh | 800 Algoma Blvd Oshkosh, WI 54901, (920) 424-1234 |
Salary
An average annual salary of a nurse practitioner in Wisconsin is $107.790.
However, the salary depends on location, education, experience, specialty, healthcare facility, etc.
Annual Salary Range:
Annual Salary by Location:
| Location | Avg. Annual Salary |
| --- | --- |
| Milwaukee | $108,303 |
| Madison | $107,680 |
| Green Bay | $104,977 |
| Kenosha | $107,286 |
| Racine | $107,286 |
| Appleton | $104,999 |
| Waukesha | $107,894 |
| Oshkosh | $104,320 |
| Eau Claire | $101,284 |
| Baraboo | $106,805 |
Nurse Practitioner by State
---