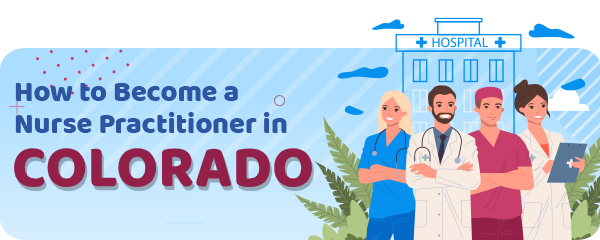 In Colorado, the Board of Nursing is in charge of the registry of advanced practice nurses.
The first requirement for future advanced practice nurses is to have a registered nurse license.
An advanced practice nurse is registered based on the appropriate graduate education and national certification.
In Colorado, there are four roles of advanced practice nurses, recognized by the Board.
Those are nurse practitioner (NP), certified nurse-midwife, certified registered nurse anesthetist (CRNA), and clinical nurse specialist.
Registered nurse license may be issued in Colorado, or another nurse compact state.
That way, the compact agreement ensures that the nurse has multi-state nursing privileges across all compact states.
However, the status of an advanced practice nurse is state-specific.
The out-of-state nurse with the primary state part of the nurse compact can hold the status C-CNS, C-NP, C-CNM, or C-CRNA.
APN Educational Requirements
To become eligible for the licensing, the nurse needs to complete a graduate or post-graduate degree educational program focused on the chosen role.
Nurses who already have a graduate degree in the nursing field, are qualified based on a post-graduate certificate program.
The only programs accredited by the Council for Higher Education Accreditation or the U.S. Department of Education are appropriate.
Further, the Board regulations note that the following organizations are also suitable for the accreditation process.
American College for Nurse-Midwives
Council for Collegiate Nursing Education
Council on Accreditation of Nurse Anesthesia Programs
Accreditation Commission for Education in Nursing
Bear in mind that the list of accrediting agencies can change.
APN Certification Requirements in Colorado
The American College of Nurse-Midwives and the American Midwifery Association is in charge of certified nurse-midwives in Colorado.
The Council on Certification of Nurse Anesthetists certifies nurse anesthetists.
Nurse practitioners and clinical nurse specialists have a wide range of appropriate and approved certifying agencies.
Additional Requirements for Independent Practice
To practice independently in Colorado, an advanced practice nurse needs to hold liability insurance.
However, there are some exceptions to this rule.
You can check the Nurse Practice Act for the complete list and descriptions of all exceptions from the rules stated in the Act.
Requirements for Prescriptive Authority
The advanced practice nurse needs to have a graduate degree, as well as education and training in the prescription drugs field, to become eligible for the prescriptive authority.
Likewise, it includes three semester hours of coursework in pathophysiology, physical assessment, and pharmacology.
In Colorado, there are two different levels of prescriptive authority.
The requirements for the provisional authority (RXN-P status) include having 1.800 hours preceptorship.
The requirement is set because it allows the nurse to gain enough experience in the chosen clinical setting and perform the duties of the chosen role.
Therefore, the advanced practice nurse may have two preceptors – physician and RXN preceptor, or only the first one.
The regulations state that a nurse needs to interact with a preceptor(s), at least, weekly.
There are additional requirements for the RXN-N for the next five years and those include a 1.800-hour mentorship
Before a nurse earns the full prescriptive authority  (RXN status), he or she needs an articulated plan for safe prescribing in at least two roles.
Out-of-State APNs
In Colorado, an advanced practice nurse can seek endorsement if he or she holds credentials in another state and has an active nursing practice for at least two years in the most recent five years.
The second option is available for nurses who have a graduate degree and national certifications.
Nurses who apply for the endorsement due to active practice, need to submit a copy of all licenses past and present.
The verification form is available through the Board of Nursing, and it needs to be sent to the current state of recognition.
The Application Process
The application process can be complete online on the website of the Colorado Government.
You need to upload the certification documents to the online system and follow the guidelines.
However, nurses who apply on the graduate education basis need to have their official transcripts sent from the primary source (educational institution) sent to the Division.
Nurses whose RN license is issued outside Colorado, need to submit license verification and uploaded scanned copy.
The application fee is $75.
Further, applicants need to fill the online Healthcare Professions Profiles.
If you have any questions or difficulties submitting your online application, you can contact the licensing agency.
Nurse practitioners and clinical nurse specialists who have a population focus, need to submit a paper application.
The application for the prescriptive authority is also available on paper.
Moreover, you need to provide transcripts, and sometimes course descriptions.
The fee for RXN-P status is $150.
APN License Renewal
All APNs need to renew their licenses every other year.
In-state RN licensing renewal happens approximately at the same time.
The certifying agency usually requires the nurses to engage in continuing education.
Schools
Future advanced practice nurses have several schools in Colorado with plenty of different programs.
For example, those interested in becoming a Family Nurse Practitioner can complete an online program at Regis University.
The University of Northern Colorado offers DNP programs with Adult-Gerontology concentration.
University of Colorado Anschutz Medical Campus in Aurora has some great graduate certificate programs.
Check the table for more information.
| School Name | Address |
| --- | --- |
| Colorado Mesa University | 1100 North Avenue Grand Junction, CO 81501, (970) 248-1020 |
| Colorado State University Pueblo | 2200 Bonforte Blvd Pueblo, CO 81001, (719) 549-2462 |
| Regis University | 3333 Regis Boulevard Denver, CO 80221, (800) 388-2366 |
| University of Colorado | 12950 E. Montview Boulevard Aurora, CO 80045, (303) 724-2152 |
| University of Colorado Anschutz Medical Campus | 12950 E. Montview Boulevard Aurora, CO 80045, (303) 724-2152 |
| University of Northern Colorado | 501 20 ST. Greeley, CO 80639, (970) 351-1890 |
Salary
Specialization, role, and experience are some of the factors that affect the salary of advanced practice nurses.
In Colorado, a nurse practitioner earns on average $109.103  per year.
Other factors that affect the salary are location, facility, certifications, etc.
Annual Salary Range:
Annual Salary by Location:
| Location | Avg. Annual Salary |
| --- | --- |
| Denver | $110,668 |
| Colorado Springs | $108,917 |
| Aurora | $110,595 |
| Fort Collins | $106,531 |
| Arvada | $110,668 |
| Pueblo | $101,487 |
| Westminster | $110,668 |
| Boulder | $112,276 |
| Thornton | $110,668 |
| Coal Creek | $103,410 |
Nurse Practitioner by State
---