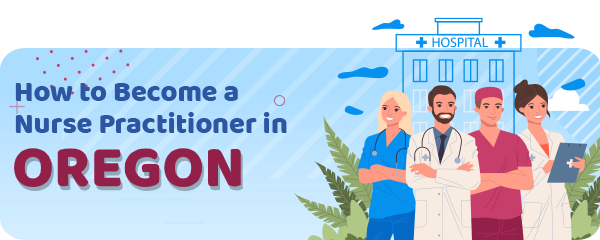 The Oregon State Board of Nursing (OSBN) certifies advanced practice nurses in four nationally recognized roles.
However, in Oregon, nurse midwives are licensed as nurse practitioners.
Nurse anesthetists and clinical nurse specialists have a separate certifying process.
In Oregon, as well in other US states, nurse practitioners are the most common role.
The data from a few years ago show that the Board certifies 3.399 nurse practitioners, 634 nurse anesthetists, and 200 clinical nurse specialists.
Additionally, advanced practice nurses in Oregon are required to have an RN license and appropriate certification in the advanced role.
The requirements depend on the role.
However, formal graduate education is a basic requirement for all roles.
Nurses who don't hold the RN license first need to apply for the RN endorsement license.
Further, long-term practitioners who come from other states may be licensed in Oregon according to the standards that were in place at the time of graduation.
Nurse Practitioner Certification Requirements in Oregon
Nurse practitioners in Oregon need to hold a master's or doctoral degree to be eligible for the APRN license.
Thus, they are required to complete suitable programs for the chosen role and population focus.
However, nurses who completed their education before 1986 are not required to hold master's degrees.
On the other hand, they need to demonstrate the completion of programs that meet standards described in the Oregon Administrative Code, section 851-050-0001.
Nurses, who graduated after 1981, need to hold at least a BSN degree.
Additionally, nurse practitioners in Oregon need to meet the state criteria for prescriptive authority.
In Oregon, the requirements include completion of 384 practice hours at the RN practice level.
Next, having a national certification is required for all nurse practitioners.
They can obtain certification in various designations with a different population focus.
There is a set of standards that the agency needs to meet to be approved by the Board as a certifying agency.
The certifying agency requires a graduate degree and 500 clinical practice hours.
Moreover, the National Commission on Certifying Agencies and the American Board of Nursing Specialties sets the standards for the certification examination.
In Oregon, a nurse practitioner may specialize in the following areas:
Family
Adult
Adult-Gerontology Primary Care
Adult-Gerontology Acute Care
Pediatric
Pediatric Primary Care
Pediatric Acute Care
Neonatal
Geriatric
Women's Health
Psychiatric/ Mental Health
Acute Care
Nurse Midwife
However, some of the mentioned specialties are retired examinations.
The Board has the authority to change the list of acceptable certification.
Thus some of the certifications can only be renewed, but aren't available for the new graduates.
Clinical Nurse Specialist Requirements
Clinical nurse specialists in Oregon are also required to complete a graduate degree or post-master certificate program.
A program needs to be related to clinical practice and includes theoretical coursework related to the chosen role.
Clinical nurse specialists who completed their studies in the past need to demonstrate recent work experience.
In Oregon, national certification isn't mandatory for clinical nurse specialists.
On the other hand, the Board recognizes certification, and the licenses will note the certification.
In the state of Oregon, there are several approved organizations suitable for the certifying process of clinical nurse specialists.
Also, a clinical nurse specialist can seek prescriptive authority, but it isn't mandatory in Oregon.
Nurse Anesthetist Requirements
Aspiring nurse anesthetists in Oregon must complete an accredited nurse anesthesia program.
They need to hold a master's degree, at least.
However, CRNAs who graduated before January 1, 2001, are exempted from the master's degree requirement.
Additionally, nurse anesthetists in Oregon need to pursue national certification.
Also, they are allowed to practice within limited time holding a tittle Graduate Nurse Anesthetists.
The limited work permit is valid for nine months after graduation.
According to the Board, there is one certification agency for CRNAs – the National Board of Certification and Recertification for Nurse Anesthetists.
Applicants who have graduated before two years (or more) need to demonstrate at least 850 hours of active practice during the last two years.
Those who are unable to meet the requirement can pursue credentials that will allow them to work under supervision.
Prescriptive Authority Requirements
Requirements for prescriptive authority include completing one course in the following fields:
Pathophysiology
Physical assessment
Pharmacological
Nurses who completed integrated pathophysiology and physical assessment course before 1996 are also eligible.
Prescriptive authority is granted to applicants with experience unless they are new graduates who completed their studies in the last two years.
Application Process
All applicants can download application forms from the Oregon Board of Nursing website.
Each role has separate application packets, except for nurse-midwives who uses the nurse practitioner applications.
Additionally, candidates are required to complete a background check, unless they obtained their RN licenses in the last six months.
The transcripts and certification verification need to be delivered directly from the certifying agency and educational institution.
Candidates with disciplinary history need to submit further documentation.
All advanced roles have to pay a fee of $150 as an application fee, and the $75 is for prescriptive authority.
Application forms need to be sent to the State Board of Nursing office in Portland.
International Applicants
International nurse practitioners may be granted APRN licenses if the Board finds their education and experience equivalent to Oregon standards.
APRN Certification Renewal
ARPN need to renew their advanced credentials and RN licenses at the same time, biennially.
Schools
There are two educational institutions in-state for Oregon ARPNs.
Oregon Health & Sciences University offers multiple BSN to DNP bridge programs with several specialization tracks.
All programs are conducted on campus.
On the other hand, the University of Portland has a hybrid DNP Family nurse practitioner program.
| School Name | Address |
| --- | --- |
| Oregon Health & Sciences University | 3147 SW Sam Jackson Park Rd Portland, OR 97239, (503) 494-8311 |
| University of Portland | 5000 N. Willamette Blvd. Portland, OR 97203, (503) 943-8000 |
Salary
Advanced nurse professionals are usually paid better than RNs.
The salary depends on education, experience, employer, certifications, etc.
An average annual salary of a nurse practitioner in Oregon is $108.994.
Annual Salary Range:
Annual Salary by Location:
| Location | Avg. Annual Salary |
| --- | --- |
| Portland | $114,378 |
| Eugene | $107,265 |
| Salem | $110,405 |
| Gresham | $114,232 |
| Beaverton | $114,378 |
| Hillsboro | $114,013 |
| Medford | $102,524 |
| Springfield | $106,477 |
| Bend | $105,776 |
| Corvallis | $107,832 |
Regional Salary in Oregon
| Region | Employed | Avg. Annual Salary | Avg. Hourly Pay | Top 10% Annual Salary | Bottom 10% Annual Salary |
| --- | --- | --- | --- | --- | --- |
| Bend-Redmond, OR | 100 | $126,480 | $60.81 | $146,790 | $102,170 |
| Corvallis, OR | 40 | $127,610 | $61.35 | $142,460 | $108,460 |
| Eugene, OR | 150 | $130,460 | $62.72 | $161,040 | $84,490 |
| Grants Pass, OR | 40 | $137,300 | $66.01 | $165,770 | $93,280 |
| Medford, OR | 140 | $132,240 | $63.58 | $154,140 | $116,640 |
| Portland-Vancouver-Hillsboro, OR-WA | 1,100 | $140,670 | $67.63 | $176,510 | $116,160 |
| Salem, OR | 160 | $139,440 | $67.04 | $171,280 | $103,640 |
* Salary information based on the May 2022 Occupational Employment Statistics (OES) Survey for Nurse Practitioners, OCC Code 29-1171, BLS.
* Employment conditions in your area may vary.
Nurse Practitioner by State
---