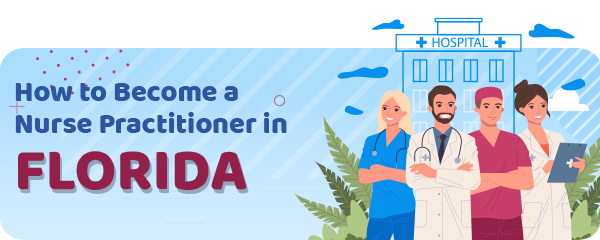 Similar to other states, in Florida, the State's Board of Nursing regulates the Advanced Nursing Practice.
Advanced practice registered nurses have multiple specialties in Florida.
Nurse anesthetists and nurse midwives in Florida also get their credentials as APRNs.
However, clinical nurse specialists (CNSs) have a different and separate licensing process.
Bear in mind that prerequisite for the APRN license is holding a registered nurse license issued in Florida.
ARNP Educational Requirements in Florida
Currently, the Florida state regulations note that advanced practice nurses need to hold master's or post-master programs to earn their credentials.
However, nurses who completed their education in the past are exempted from the degree level requirement.
The exemption from the master's degree applies to the nurse practitioners who graduated before October 1, 1998, and nurse anesthetist graduated before the same date 2001.
ARNP Certification Requirements
To earn advanced nursing credentials, one must earn the certification in specialty areas that are approved by the Board of Nursing.
In Florida, multiple organizations are approved by the Board for the credentialing process.
Those are:
American Academy of Nurse Practitioners
American Association of Critical-Care Nurses
American College of Nurse-Midwives
American Nurses Credentialing Center
Council on Certification of Nurse Anesthetists (or Council on Recertification of Nurse Anesthetists)
National Certification Corporation for OB/GYN
National Board of Pediatric Nurse Practitioners and Associates
National Board for Certification of Hospice and Palliative Nurses
Oncology Nursing Certification Corporation
However, sometimes the licensing agency can decide to accept other certification organizations.
On the other hand, not all examinations are accepted by the licensing agencies.
You can find the complete list of all restrictions in the state administrative code available on the website of Florida's Board of Nursing.
Additional Requirements
Licensing agencies in Florida also require aspiring advanced practice nurses to complete a two-hour course in the prevention of medical errors.
Additionally, all APRNs need to hold liability insurance.
In Florida, advanced practices nurse perform their duties under set protocols or they sign a collaboration agreement with physicians or dentists.
Protocols need to be submitted on a set timeline after a nurse starts its job to be valid.
The APRN Application Process
You can download all the application forms on the website of Florida's Board of Nursing website.
Nurse practitioners, nurse midwives, and nurse anesthetist all use the same application form, but they need to set their specialties.
Upon application, aspiring APRNs need to submit either official verification of certification or a copy of the current certification card.
A copy needs to be notarized to be valid.
Those who have criminal backgrounds need to provide supporting documentation and letters of recommendation.
Candidates with current RN in Florida have to pay the fee of $100.
Those who apply simultaneously for RN and APRN licenses pay $210.
Additionally, applicants in Florida who want to withdraw the application can get a partial refund.
There is an option for earning temporary permit pending certification for nurse anesthetists and nurse-midwives.
Also, you can find the verification form in the application packet.
The verification form needs to be filled out by your educational institution.
Besides, the application must include official transcripts.
All applicants need to pass the fingerprint-based background check.
You can make your fingerprint through Livescan provides accepted by the Department of Law Enforcement (FDLE).
You can find the complete list of approved providers on the website of the Florida Board of Nursing.
Next, all applicants need the correct ORI number, and the results need to be sent to the licensing agency.
You can find all information for the application process in the application packet, and the website of the State's Board of Nursing has the lists and contact information of all relevant institutions.
License Renewal
Both registered nurses and advanced practice registered nurse licensee need to be renewed at the same time.
The renewal requirements include proof of liability insurance and current certification.
Additionally, nurses need to submit the protocols as well.
Clinical Nurse Specialist Requirements and Application Process
The requirements for the clinical nurse specialist are somewhat different than other advanced nursing roles.
CNSs also need to hold a master's degree and national certification.
Only CNSs who have pursued a specialty without a nationally recognized certifying agency is exempt from the certification requirement.
In Florida, there are numerous recognized specialties for CNS.
Some of them include:
Adult Health (Medical-Surgical Nursing)
Adult Psychiatric and Mental Health
Advanced Diabetes Management
Advanced Certified Hospice and Palliative Nurse
Advanced Oncology Clinical Nurse Specialist
Child and Adolescent Psychiatric and Mental Health
Certified Critical Care Nurse Specialist
Gerontological Nursing
Pediatric Nursing
Public/Community Health Nursing
The state administrative code approves four institutions as appropriate certifying agencies for CNSs.
Those are:
American Association of Critical-Care Nurses (AACN)
American Nurses Credentialing Center (ANCC)
National Board for Certification of Hospice and Palliative Nurses
Oncology Nursing Certification Corporation
If there is no certifying agency for the chosen specialty, a candidate needs to show evidence of 1.000 hours of clinical experience in that area.
The state code also notes that half of the clinical experience needs to be post-graduation.
Aspiring clinical nurse specialists can also download the application forms from the Board of Nursing website.
All aspiring CNS applicants need to hold a valid RN license and to pay a fee of $75.
Schools
Aspiring APRNs in Florida has plenty of options for proper education.
For example, Florida International University offers plenty of graduate certificates and MSN programs.
All are conducted on-campus.
If you are interested in online education, you can complete an MSN program at South University in Tampa.
There are Master of Science in Nursing (MSN) with a Specialization in Family Nurse Practitioner program, and Master of Science in Nursing with a Specialization in Family Nurse Practitioner, which is RN to MSN bridge program.
Hybrid programs are available at the University of Central Florida in Orlando.
Check the table for more information on schools in Florida.
| School Name | Address |
| --- | --- |
| Barry University | 11300 NE 2nd Avenue Miami Shores, FL 33161, (305) 899-3379 |
| ECPI University | 660 Century Point #1050 Lake Mary, FL 32746, (407) 562-9100 |
| Florida Atlantic University | 777 Glades Road Boca Raton, FL 33431, (561) 297-6261 |
| Florida International University | 11200 SW 8th Street Miami, FL 33199, (305) 348-7703 |
| Florida Southern College | 111 Lake Hollingsworth Drive Lakeland, FL 33801, (863) 680-4111 |
| Florida State University | 600 W. College Avenue Tallahassee, FL 32306, (850) 644-5621 |
| Jacksonville University | 2800 University Blvd North Jacksonville, FL 32211, (904) 266-8000 |
| Keiser University | 1700 Halstead Boulevard, Building 2 Tallahassee, FL 32309, (850) 906-9494 |
| Miami Regional University | 700 S. Royal Poinciana Blvd. Suite 100 Miami Springs, FL 33166, (305) 442-9223 |
| Nova Southeastern University - Miramar | 2050 Civic Center Place, 3rd Floor Miramar, FL 33025, (954) 262-9498 |
| Palm Beach Atlantic University | 901 S. Flagler Drive West Palm Beach, FL 33401, (888) 468-6722 |
| South University | 4401 North Himes Avenue, Suite 175 Tampa, FL 33614, (180) 068-8093 x2 |
| The University of Tampa | 401 W. Kennedy Blvd Tampa, FL 33606, (813) 253-3333 |
| University of Central Florida | 12201 Research Parkway, Suite 300 Orlando, FL 32826, (407) 823-2744 |
| University of Miami | P.O. Box 248153 Coral Gables, FL 33124, (305) 284-3666 |
| University of North Florida | 1 UNF Drive Jacksonville, FL 32224, (904) 620-1000 |
| University of South Florida | 12901 Bruce B. Downs Blvd MDC Box 22 Tampa, FL 33612, (813) 974-2191 |
Salary
A nurse practitioner in Florida earns an average salary of $103.960 per year.
Bear in mind that salary depends on factors such as education, certifications, specialty, role, location, facility, etc.
Annual Salary Range:
Annual Salary by Location:
| Location | Avg. Annual Salary |
| --- | --- |
| Jacksonville | $103,281 |
| Miami | $106,531 |
| Tampa | $104,266 |
| Saint Petersburg | $104,179 |
| Hialeah | $105,711 |
| Orlando | $104,102 |
| Fort Lauderdale | $106,269 |
| Tallahassee | $99,253 |
| Hollywood | $106,269 |
| Pembroke Pines | $105,579 |
Nurse Practitioner by State
---