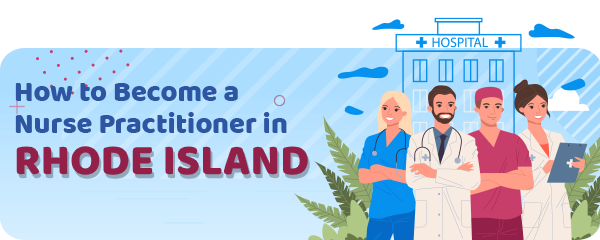 The requirements for nurse practitioners' educations are maintained on the state level, but there is a trend to arrange everything on the national level.
The states are adapting their laws to meet the standards set by the National Council of State Boards of Nursing Advanced Practice Registered Nurses (APRN) Consensus Model.
There is an ongoing change in the nursing education field, and the requirements set today may change in the future.
Because of the growing need for nurse practitioners, there are more options available for their education and third-party certification.
In Rhode Island, the state's Board of Nursing Registration and Nursing Education maintains the classification of APRNs.
There are three categories – Nurse Practitioner, Nurse Anesthetist, and Clinical Nurse Specialist.
Nurse-midwives in Rhode Island are under the jurisdiction of the state but have a different regulatory body – Advisory Committee on Midwifery.
The Rhode Island Board of Nursing doesn't include them in the APRNs.
Improved and adjusted regulations were published in 2014, and current standards are from 2015.
Nurse Practitioners Requirements
To practice in Rhode Island, an APRN must hold a valid RN license.
Additionally, if an APRN holds a valid license in some other state, he or she can be granted RN practice privilege in Rhode Island.
The requirements include completed an appropriate APRN program – graduate or postgraduate level.
Only programs that are accredited through national agencies, such as U.S. Secretary Education or the Council for Higher Education Accreditation (CHEA), are suitable.
Curriculum and clinical requirements vary from school to school and depend on population focus and role.
Each graduate needs to go through the national certification process, based on specialization.
There are several population foci in Rhode Island suitable for aspiring nurse practitioners and clinical nurse specialists – Adult/Gerontology, Family NP, Neonatal, Pediatric, Psychiatric Women's health.
The graduate will need to pursue a national certification, appropriate to his or her role and population focus.
Rhode Island recognizes the following nurse practitioner and clinical nurse population foci: Nurse anesthetists, as APRNs, are considered to have a focus on family and individual without age specification.
APRNs must behave according to morals and laws.
Their licenses can be barred, and some need to apply for the Controlled Substances Act Registration (CSR).
APRNs need to renew their licenses every two years.
Application Process
You can find all necessary application forms on the Rhode Island Department of Health website.
All three categories of APRNS have the same application packet.
Aspiring APRNs need to submit a recent photo (like the one in the passport), letter of recommendation from certifying agency, and all transcripts from previous schools.
Out-of-state applicants need to verify their credentials, and the verification form is part of the application packet.
If an applicant has a criminal record, he or she will have to submit further documentation.
The application documents need to be notarized.
You will have to pay $145 as an application fee, while aspiring CSR has an additional fee of $200.
After you complete all documents, you need to send them to the Rhode Island Board of Nurse Registration and Nursing Education.
The review of your application can take around eight weeks.
Out-of-State and International Applicants
Out-of-state APRNs can apply for a 90-day temporary nursing license.
The application must include a copy of a valid license in the native state and other application documents.
The state's Board reviews all applications and decides about education equivalency.
The Board is also in charge of the evaluation of the credentials of international candidates.
Requirements and Application for Nurse-Midwives
In Rhode Island, individuals who haven't completed nursing training can be licensed as midwives, but only if they meet national certification standards.
Aspiring midwives need to complete programs approved by the Accreditation Commission for Midwifery Education (ACME) or the Midwifery Education Accreditation Council (MEAC).
The American Midwifery Certification Board (AMCB) or the North American Registry of Midwives (NARM) maintains the certification process for nurse-midwives.
In Rhode Island, nurse midwives are allowed to apply for prescriptive clearness of controlled substances.
You can find more information and download forms from the Department of Health website.
The required documentation includes transcripts and letters of recommendation, as well as an obligatory fee of $80.
Aspiring nurse midwives need to mail their application forms to the Advisory Council on Midwifery withing the Department of Health.
The license needs to be renewed every other year, so nurse-midwives must participate in continuous education.
Out-of-State and International Midwives
Similar to out-of-state and international APRNs, midwives from another state need to verify their licenses.
There are temporary, 90-day licenses for out-of-state midwives.
An applicant who has been licensed as a midwife in another state will need to provide verification.
International nurse midwives are also allowed to apply for licensing in Rhode Island, and they need to obtain national certification.
The International Confederation of Midwifery (ICM) sets the educational standards for nurse-midwives and AMCB approves the education and grants permits for the CNM exam.
Schools
Aspiring APRNs in Rhode Island can choose programs on Rhode Island College or the University of Rhode Island.
The first offers a high-quality hybrid (online and classroom education) program with a concentration on Adult/Gerontology.
The University of Rhode Island has a variety of programs suitable for aspiring nurse practitioners.
| School Name | Address |
| --- | --- |
| Rhode Island College. | 600 Mount Pleasant Avenue Providence, RI 02908, (401) 456-8000 |
| University of Rhode Island | 45 Upper College Rd Kingston, RI 02881 (401) 874-1000 |
Salary
Salary depends on several factors, including location, education, employer, population foci, etc.
An average annual salary of a nurse practitioner in Rhode Island is $115,341.
Annual Salary Range:
Annual Salary by Location:
| Location | Avg. Annual Salary |
| --- | --- |
| Providence | $115,888 |
| Warwick | $115,888 |
| Cranston | $115,888 |
| Pawtucket | $115,888 |
| East Providence | $115,888 |
| Woonsocket | $115,778 |
| Coventry | $115,669 |
| North Providence | $115,888 |
| Cumberland | $115,888 |
| West Warwick | $115,888 |
Regional Salary in Rhode Island
| Region | Employed | Avg. Annual Salary | Avg. Hourly Pay | Top 10% Annual Salary | Bottom 10% Annual Salary |
| --- | --- | --- | --- | --- | --- |
| Providence-Warwick, RI-MA | 1,500 | $125,310 | $60.25 | $150,400 | $104,740 |
* Salary information based on the May 2022 Occupational Employment Statistics (OES) Survey for Nurse Practitioners, OCC Code 29-1171, BLS.
* Employment conditions in your area may vary.
Nurse Practitioner by State
---