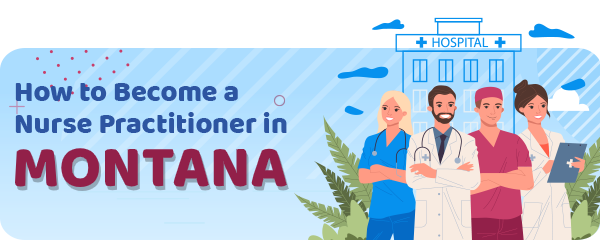 In Montana, advanced practice registered nurses (APRNs) are under the jurisdiction of the State Board of Nursing.
In Montana, there are four roles of APRNs:
Certified Nurse Practitioner
Clinical Nurse Specialist
Certified Registered Nurse Anesthetist
Certified Nurse Midwife
There is a requirement for all advanced role, to hold licensure of the registered nurse in Montana.
Additionally, the advanced practice credential may be considered as a license endorsement.
Luckily, since October 2015, Montana is part of the nurse license compact agreement.
Nurses who hold registered nurse license in the state that isn't a compact member, need to apply for RN licenses by endorsement.
APRN Educational Requirements
In Montana, APRNs need to have a graduate degree.
However, you have to pay attention to the accreditation of the program.
Additionally, the program must include preceptorship.
Future Montana APRNs need to meet the certification standards set by a third-party agency.
APRN Certification Requirements
APRNs need to sit for the national examination.
The third-party agency issues certification for the specialty based on role and population focus.
Moreover, certifications need to be compatible with education.
The National Board of Certification and Recertification of Nurse Anesthetists is in charge of the certification process for the Certified Registered Nurse Anesthetists (CRNAs).
Next, the American Midwifery Certification Board issues the certification for Nurse-Midwives.
Pediatric, adult, and neonatal critical care nurse specialists obtain their specialty certification through the American Association of Critical-Care Nurses.
Further, the American Nurses Credentialing Center maintains the certifying process of other clinical nurse specialists, including mental health nurses.
The National Certification Corporation regulates the certification of neonatal and women's health nurse practitioners.
Primary or acute care certifications for pediatric nurse practitioners are issued by the National Pediatric Certification Board.
The American Association of Nurse Practitioners certifies nurse practitioners in adult, adult-gerontology, and family practice.
The American Association of Critical-Care Nurses certifies other nurse practitioners as well as the American Nurses Credentialing Center.
You can find the list of approved certification agencies on the website of the Board of Nursing.
The Application Process
All applicants need to pass the fingerprint-based criminal background check.
You can make your fingerprints car at a local law enforcement agency, and you can find the code in the application.
After you complete the process, you mail the cards to Montana Criminal Records.
The fee for this process is $27.25.
You can find the application packet on the Board of Nursing website.
Also, official transcripts need to be sent directly from the primary source to the Montana Board of Nursing.
Additionally, if the preceptorship is not evident from the official transcripts, you need to document those separately.
Out-of-state APRNs need to submit license verification.
Those who have a criminal or professional disciplinary history, need to provide supporting documents and more details about past issues.
The licensing fee in Montana is $75.
Bear in mind that you need to submit your application materials before the Board meeting.
Remember, if you submit an incomplete application, your file can be held for up to one year.
Additional Requirements for Prescriptive Authority
In Montana, aspiring APRNs need to apply separately for the prescriptive authority.
Those who have completed their studies in the last five years need to show proof of coursework in advanced pharmacology and different disease management.
Additionally, pharmacology coursework must include pharmacokinetics, pharmacodynamics, and pharmacotherapeutics.
The coursework needs to last at least three semester hours.
Also, all applicants need to submit evidence of performing pharmacological interventions under supervision.
Those who have completed their studies five or more years ago may need to complete a three-semester course or 45 hours of continued education in pharmacology.
The application fee for the prescriptive authority is $100.
Out-of-State Licensees
In Montana, out-of-state APRNs need to complete different procedures.
They can seek license endorsement.
Additionally, prescriptive authority can be granted on the endorsement base.
All candidates who seek license endorsement need to verify their national certification.
Luckily, in Montana nurses are allowed to apply for RN and APRN licenses simultaneously.
APRN Renewal Requirements
To renew the license, APRNs need to complete 24 hours of continuing education.
Licenses are renewed every two years.
Additionally, there is a requirement of 12 hours in the clinical management of drug therapy, pharmacology, and pharmacotherapeutics.
It applies to the prescriptive authority renewal.
Schools
The choice of the educational program is very important, not only for earning credentials but also for gaining necessary practice and knowledge for the roles.
Across the US there are more schools that offer advanced nursing programs, in online, hybrid, or classroom form.
Nurses in Montana can complete one of the two available DNP programs at Montana University in Bozeman.
Both programs are conducted online.
The first choice is Nurse Practitioner, Family/Individual specialization track.
The second is a Nurse Practitioner, Psychiatric/Mental Health nurse program.
| School Name | Address |
| --- | --- |
| Montana State University | P.O. Box 173560 Bozeman, MT 59717, (406) 994-3783 |
Salary
The salary is a result of different factors.
Those can include the location (city/state), healthcare facility, experience, skills and certifications, costs of living standard, etc.
An average salary of a nurse practitioner in Montana is $99.199 per year.
Annual Salary Range:
Annual Salary by Location:
| Location | Avg. Annual Salary |
| --- | --- |
| Billings | $104,800 |
| Missoula | $90,445 |
| Great Falls | $94,877 |
| Butte | $90,445 |
| Bozeman | $90,445 |
| Helena | $92,086 |
| Kalispell | $97,120 |
| Havre | $93,235 |
| Anaconda | $90,445 |
| Miles City | $103,159 |
Nurse Practitioner by State
---