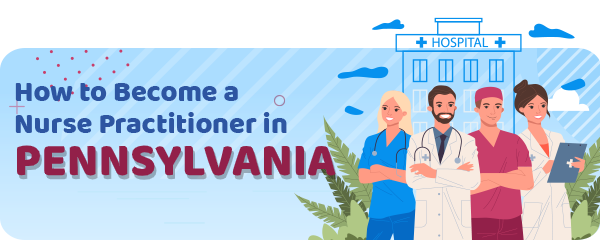 There are three roles of advanced practice nurses in Pennsylvania – nurse practitioner, clinical nurse specialist, and nurse-midwives.
The Board of Nursing is in charge of the certifying process of the Certified Registered Nurse Practitioners (CRNP) and Clinical Nurse Specialist (CNS).
CNSs and CRNPs need to hols RN license as well.
The Board of Nursing in Pennsylvania and the Board of Medicine share jurisdiction over Certified Nurse-Midwives (CNM).
The Board of Nursing issues the RN license for nurse midwives, while the Board of Medicine issues the nurse-midwife licenses.
Despite differences between licensing authority between all APRNs roles, there are similarities in the credentialing process.
All aspiring APRNs need to hold an RN license.
The next steps are competition of an advanced educational program and earning a national certification.
Additionally, nurses need to complete training in recognizing and reporting child abuse.
Unlike other US states, nurse anesthetists are not credentialed as APRNs in Pennsylvania.
They work under their RN licenses.
CRNP Requirements
Future nurse practitioners in Pennsylvania need to complete an educational program at the masters or post-masters level.
The Board must accredit or approve the program.
Next, aspiring nurse practitioners need to obtain certification on the national level.
However, the national certification requirement applies only tho those who were initially licensed after February 7, 2005.
Moreover, out-of-state and international nurse practitioners need to meet the requirements that were in place in the state of Pennsylvania at the time of initial licensure.
Nurse practitioners in Pennsylvania need to renew their licenses biennially.
CNS Requirements
The educational requirements for the clinical nurse specialist role include a complete advanced nursing program at the master's, post-masters, or doctoral degree.
Similar to NP requirements, the Board must approve or accredit the educational program.
However, the licensing agency can accept programs that were previously accepted for national certification.
You can find more information in Section 6.2(c)(1) of the state administrative code.
In general, the clinical nurse specialist is expected to obtain national certification through one of the approved organizations:
American Association of Critical-Care Nurses (AACN)
American Nurse Credentialing Center (ANCC)
Oncology Nursing Certification Corporation (ONCC)
Orthopedic Nurses Certification Board (ONCB)
Additionally, the Board of Nursing in Pennsylvania may accept some alternative qualifications in the specialty area that is not available for the certification.
The CNS need to renew their credentials, including RN licenses biennially.
Nurse Midwife Requirements
A nurse needs to complete a suitable educational program that will prepare her for the role of the nurse-midwife.
The chosen program need to meet a standard that will make the program certification-qualifying.
The American Midwifery Certification Board is in charge of the certifying process of a nurse-midwife.
Further, the certification process is examination-based.
Aspiring nurse midwives need to pay a fee of $50.
Additionally, all nurse-midwives need to register a collaborative agreement.
The requirements for prescriptive authority in Pennsylvania, in the case of nurse midwives, include having 45 hours of advanced pharmacology coursework.
There is a recency requirement as well.
At least 16 hours of coursework need to be completed in the last two years, to make the candidate eligible for the prescriptive authority.
The application for the prescriptive authority is separate as well as the fee.
Currently, the application fee for the prescriptive authority is $30.
All nurse-midwives need to renew their licenses biennially.
Additionally, they need to renew their prescriptive authority.
Application Process
In Pennsylvania, nurse practitioners and clinical nurse specialists can apply online.
The required documentation includes educational verification form and verification of successful completion of child abuse training.
The verification needs to be sent by the primary source to the licensing agency.
The application fee is $100 for clinical nurse specialists and certified registered nurse practitioners.
CRNPs need to pay an additional fee of $50 for the prescriptive authority.
Schools
There are quite a few options for advanced practice nurse education in Pennsylvania.
The Clarion University of Pennsylvania offers a graduate certificate program and MSN program with a Family nursing specialization track.
You can enroll in the programs at DeSales University, you can choose between three MSN programs and one graduate certificate program.
All programs are conducted in hybrid form, with some classroom courses and some online courses.
Drexel University offers the largest number of graduate certificates and MSN programs.
The specializations such as Online Emergency Nurse Practitioner, Adult-Gerontology Acute Care, and Primary care Nurse Practitioner, Women's Health Nurse Practitioner are available as a graduate certificate program.
MSN programs come with various specialization tracks as well.
Those include Pediatric, Psychiatric, Family, Acute care specialization track, and others.
The Robert Morris University in Moon Township has several DNP programs.
The programs are available as campus and online versions.
If you are interested in DNP bridge programs, you can consider the University of Pittsburgh.
There are plenty of options for different specializations on both BSN to DNP and MSN to DNP programs.
Check the table for more information.
| School Name | Address |
| --- | --- |
| Clarion University of Pennsylvania | 909 E Wood St. Clarion, PA 16214 (800) 672-7171 |
| DeSales University | 2755 Station Ave. Center Valley, PA 18034, (610) 282-1100 x2838 |
| Drexel University | 1601 Cherry Street Philadelphia, PA 19102, (215) 895-2000 |
| Edinboro University | 219 Meadville Street Edinboro, PA 16444, (814) 732-2000 |
| Gannon University | 109 University Square Erie, PA 16541, (814) 871-7000 |
| La Salle University | 1900 West Olney Avenue Philadelphia, PA 19141, (215) 951-1000 |
| Messiah College | One College Avenue Mechanicsburg, PA 17055, (717) 766-2511 |
| Millersville University | P.O. Box 1002 Millersville, PA 17551, (717) 871-4636 |
| Moravian College | 1200 Main Street Bethlehem, PA 18018, (610) 861-1660 |
| Neumann University | One Neumann Drive Aston, PA 01901, (610) 459-0905 |
| Robert Morris University | 6001 University Blvd Moon Township, PA 15108, (800) 762-0097 |
| University of Pennsylvania School of Nursing | 418 Curie Boulevard Philadelphia, PA 19104, (215) 898-8281 |
| University of Pittsburgh | 3500 Victoria Street Pittsburgh, PA 15261, (412) 624-4586 |
| University of Scranton | 235 Jefferson Ave Scranton, PA 18510, (570) 941-7673 |
| York College of Pennsylvania | 443 Country Club Rd York, PA 17403, (717) 846-7788 |
Salary
An average salary of a nurse practitioner in Pennsylvania is $109.212 per year.
The salary calculations include factors such as experience level, education level, skills and certifications, location, and healthcare facility.
Annual Salary Range:
Annual Salary by Location:
| Location | Avg. Annual Salary |
| --- | --- |
| Philadelphia | $117,551 |
| Pittsburgh | $107,790 |
| Allentown | $109,103 |
| Erie | $101,082 |
| Upper Darby | $117,551 |
| Reading | $108,545 |
| Scranton | $101,005 |
| Bethlehem | $109,103 |
| Merion Station | $117,551 |
| Bensalem | $123,584 |
Nurse Practitioner by State
---