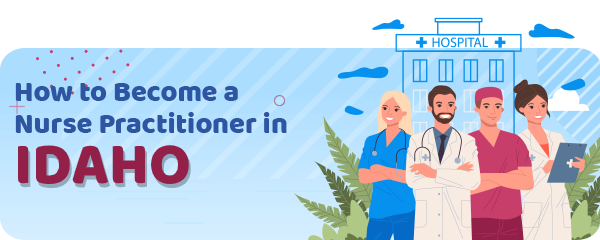 The Board of Nursing in Idaho licenses advanced practice nurses in this state.
Aspiring advanced nurses need to hold a valid registered nurse license in Idaho or in any other state that is part of the nurse license compact.
Because advanced nursing isn't part of the compact, aspiring advanced practitioners have to apply to the Idaho Board of Nursing.
There are four roles of advanced practice nurses in Idaho.
Those include Nurse practitioner, Clinical nurse specialist, certified nurse-midwife, and Registered nurse anesthetist.
Advanced practice nurses have a population focus and it can be Adult-Gerontology, Neonatal, Pediatrics, Women's health, etc.
APN Education and Certification Requirements
Advanced practice nurses in Idaho earn their licenses due to appropriate education and certification.
State regulations also note that individuals must have sound mental and physical health to be allowed to practice.
Also, all candidates need to pass a criminal background check.
Since 2016, educational standards for advanced practice nurse raised.
That way, Idaho regulations, and standards are aligned to the Consensus Model for APRN Regulation.
In Idaho, advanced practice nurses are sometimes called Advanced Practice Professional/Registered Nurses – APPNs or APRNs.
"APRN"s is a more common term, widely accepted across the nation, and selected by the Consensus Model.
To become eligible for certification, aspiring APRNs need to complete approved and accredited educational programs.
There are several recognized accrediting agencies in Idaho.
Also, the program itself needs to be properly accredited, not only the institution.
The educational requirement includes the completion of graduate or post-graduate education.
However, this requirement doesn't apply to APRNs who completed their studies before 2016.
Additionally, all certification programs need to be approved by the Board.
To be valid, the certifications must include the examination part.
To be recognized, a certification organization needs to meet the standards set by the National Council of State Boards of Nursing.
Temporary Permit Pending Certification
In Idaho, similar to other US states, there is an option for a temporary permit.
A temporary permit is available for fresh graduates in advanced practice programs.
The certification agency needs to vouch for the graduates that they are in the licensing process.
Therefore, new graduates earn their temporary permits based on registration confirmation.
If a graduate with a temporary license fails the examination, a temporary permit becomes invalid.
Those who hold temporary permits need to submit notarized examination results to the Board.
Background Check Requirements
In Idaho, all applicants need to pass the fingerprint-based background check by the Idaho Criminal Database and the FBI.
You can make your fingerprints card at the Board office.
The fee for the check is $34.
The Application Process for Idaho APRN's
You can download all application forms from the Board website.
Professionals who already hold an RN license in Idaho should apply through the APPN & RN Initial Licensure application.
Nurses with RN licenses in the compact state should use APPN Initial License – Compact RN application form.
Upon application, the candidate needs to submit a copy of the qualifying certification.
Also, APRN transcripts need to be requested from the issuing institution and submitted directly to the chosen licensing agency.
Those who at the moment of application doesn't hold the RN license in Idaho must provide additional documents.
Nurses licensed in other states need to submit a copy of current RN licenses.
All candidates need to attach a small, passport-like photo to their application form.
Candidates who have some criminal background history, need to provide supporting documents.
The application fee for the aspiring APPN is $90 and, a temporary license application costs $25.
Out-of-State Advanced Practice Nurses
The out-of-state nurses can start working sooner if they are granted a temporary licensee.
The timeframe for issuing a temporary license is from 30 days to ten weeks.
Prescriptive Authority
Only nurses who have completed their advanced educational program before January 1, 2016, need to apply for the prescriptive authority.
Nurses who have completed their studies after the set date gain the prescriptive authority with their license.
Those who need to apply for the authority have to document at least 30 semester hours of pharmacotherapeutic coursework.
The fee for prescriptive authority is $50.
The coursework requirement can be fulfilled as formal academic education or completed through continuing education.
Renewal of Advanced Practice Licenses
All advanced practice licenses need to be renewed every two years.
The renewal requirements include completing at least 30 hours of continuing education and practice a minimum of 200 hours.
To renew the prescriptive authority, APRN needs to complete at least 10 hours of pharmacology.
Schools
Nurses in Idaho can choose between three in-state schools or choose an option out-of-state.
For example, Boise State University offers two graduate certificate programs and two MSN programs.
All four programs are conducted online.
Idaho State University in Pocatello offers two online DNP programs with a specialization in Family Nurse Practitioner and Psychiatric Mental Health Nurse Practitioner.
Lastly, Northwest Nazarene University in Nampa has an online MSN program for aspiring Family Nurse Practitioners.
| School Name | Address |
| --- | --- |
| Boise State University | 1910 University Dr Boise, ID 83725, (208) 426-1000 |
| Idaho State University | 921 South 8th Avenue Pocatello, ID 83209, (208) 282-2102 |
| Northwest Nazarene University | 623 S University Blvd Nampa, ID 83686, (187) 766-8496 x8 |
Salary
A median annual salary of a nurse practitioner in Idaho is $103.283.
However, the salary depends on years of professional experience, certifications, location, education, health care facility, department specialization, etc.
Annual Salary Range:
Annual Salary by Location:
| Location | Avg. Annual Salary |
| --- | --- |
| Boise | $103,828 |
| Nampa | $102,734 |
| Pocatello | $95,096 |
| Idaho Falls | $99,478 |
| Meridian | $103,719 |
| Worley | $107,680 |
| Twin Falls | $94,767 |
| Lewiston | $108,041 |
| Caldwell | $102,625 |
| Moscow | $107,680 |
Regional Salary in Idaho
| Region | Employed | Avg. Annual Salary | Avg. Hourly Pay | Top 10% Annual Salary | Bottom 10% Annual Salary |
| --- | --- | --- | --- | --- | --- |
| Boise City, ID | 510 | $119,790 | $57.59 | $156,480 | $99,700 |
| Coeur d'Alene, ID | 130 | $128,160 | $61.62 | $175,190 | $83,170 |
| Idaho Falls, ID | 140 | $108,000 | $51.93 | $139,090 | $28,900 |
| Lewiston, ID-WA | 70 | $118,530 | $56.98 | $159,550 | $51,830 |
| Pocatello, ID | ** | $113,050 | $54.35 | $190,060 | $51,110 |
| Twin Falls, ID | 60 | $119,350 | $57.38 | $130,980 | $86,560 |
* Salary information based on the May 2022 Occupational Employment Statistics (OES) Survey for Nurse Practitioners, OCC Code 29-1171, BLS.
* Employment conditions in your area may vary.
Nurse Practitioner by State
---