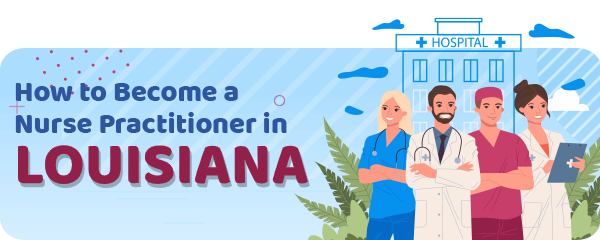 In Louisiana, the Board of Nursing is in charge of advanced practice registered nurses (APRNs).
Similar to other US states, there are four roles of APRNs – Certified Nurse Practitioner, Clinical Nurse Specialist, Certified Registered Nurse Anesthetist, and Certified Nurse Midwife.
APRNs focus on a certain population.
Therefore, a nurse practitioner may concentrate on adult, family or pediatric population, or mental health practice.
In Louisiana, APRNs earn their licenses according to advanced education and national certification.
However, the prerequisite for APRN license is holding a registered nurse license in Louisiana state.
Educational Requirements
To become an APRN, one must complete a graduate program that prepares a nurse advance role and population.
All programs need to pass the standards set by the Board and follow the curriculum guidelines.
The appropriate programs may be on the master's degree, doctoral degree, or post-master level.
However, APRNs who completed their studies in the past have different requirements.
For example, those who have graduated before December 31, 2005, don't need to hold a master's degree but need to have active practice status.
The programs need to be validated as well, by the Board or certifying agency.
APRN Certification Requirements
In Louisiana, advanced practice nurses need to pursue national certification, issued by an approved third party organization.
All roles have different organizations suitable for certification, but there are also nationally accepted organizations for certifying all roles.
For example, the American Midwifery Certification Board (AMCB) in charge of the certification process of nurse-midwives.
Nurse anesthetists are certified through the National Board of Certification & Recertification for Nurse Anesthetists (NBCRNA).
The American Nurses Credentialing Center (ANCC) and the American Association of Critical-Care Nurses (AACN) certify clinical nurse specialists.
Clinical nurse specialists can earn a certification based on population focus.
Therefore, AACC offers certification in specialties:
Adult Health Clinical CNS
Adult-Gerontology Clinical CNS
Pediatric Clinical CNS
Child/ Adolescent Psychiatric Mental Health Clinical CNS
Adult Psychiatric Mental Health Clinical CNS
Similarly, AACN offers certification in:
Adult/ Gerontology Clinical CNS
Pediatric Clinical CNS
Neonatal Clinical CNS
Acute/ Critical Care in Adult, Pediatric, and Neonatal
Nurse practitioners have by far the widest range of suitable certifying organizations.
Some of them are ANCC, AACN,  the American Academy of Nurse Practitioners (AANP), the Pediatric Nursing Certification Board (PNCB), or the National Certification Corporation for the Obstetric, Gynecologic, and Neonatal Nursing Specialties (NCC).
They also have several specialty areas available for certifications.
ANCC offers certification in the following specialties:
Adult
Family
Pediatric
Gerontological
Acute care
Adult-Gerontology Acute Care
Adult-Gerontology Primary Care
Adult-Psychiatric Mental Health
Psychiatric-Mental Health NP – Across Lifespan
AANP has a shorter list of available certifications:
Adult NP
Adult-Gerontology Primary Care NP
Family NP
Nurse practitioners interested in the pediatric population can earn their certifications through PNCP – Pediatric NP and Acute Care Pediatric NP.
Neonatal and Women's Health Care practitioners can choose NCC as a certifying agency.
AACN certifies nurse practitioners in Adult Acute Care and Adult-Gerontology Acute Care area.
The examination can change occasionally.
The Board of Nursing in Louisiana accepts previous certifications such as ANCC Gerontological Clinical Nurse Specialist and Public Community Clinical Nurse Specialist, but these certifications are not available for the new APRNS.
Additionally, if no certification is available for the advanced practice specialty area, APRN can be licensed by alternative – Commensurate terms.
In that case, aspiring APRNs need to gain clinical experience while working with a mentor.
The Board may set the requirement of 400 clinical hours and some of the hours may be completed with a temporary permit.
The Application Process
All aspiring APRNs need to pass the fingerprint-based criminal background check.
The process can be completed through the Louisiana Board of Nursing or by the local law enforcement officials.
All application packets with forms third-party supplemental forms are available for download on the Board of Nursing website.
School officials can fill out the education verification form and mail the form directly to the Board.
On the other hand, the certification verification needs to be sent to the Board from the certifying agencies.
A candidate may forms other than those from the packet, but only if they include the same information.
Additionally, transcripts need to be sent to the Board directly from the institution.
The application fee in Louisiana is $140.75.
Candidates who have their fingerprints made at the Board office pay $150.75.
The application form needs to be notarized, too.
If you are interested, you should apply at least six weeks before degree conferral.
Also, in Louisiana, the Board doesn't grant temporary permits for graduates wishing to start working sooner.
Out-of-State Advanced Practice Nurses
Out-of-state nurses who are licensed as APRNs in other states must go through the endorsement application.
The process includes license verification from both the original state and the current state.
Luckily, RN and APRN licenses can be endorsed at the same time.
Additionally, the Board can issue temporary permits if a nurse practitioner has been out of practice for two years.
Prescriptive Authority
To apply for the prescriptive authority, Louisiana APRNs need to complete three credit hours or 45 contact hours in advanced pharmacotherapeutics, advanced health assessment, and advanced physiology/ pathophysiology.
APRNs in Louisiana works with the collaborating physicians and can seek prescriptive authority only once they are granted with the license.
Schools
Aspiring APRNs in Louisiana has several appropriate schools for their advanced education in nursing.
For example, Southeastern Louisiana University offers online Graduate certificate programs and MSN programs.
Those who are interested in on-campus education can choose the Northwestern State University of Louisiana in Natchitoches.
There are excellent MSN programs such as Family Nurse Practitioner (FNP), Adult-Gerontology Acute Care Nurse Practitioner (AGACNP), Adult-Gerontology Primary Care Nurse Practitioner (AGPCNP) Campus, etc.
DNP programs are available at Louisiana State University New Orleans.
Check the table for more information.
| School Name | Address |
| --- | --- |
| Grambling State University | 403 Main St Grambling, LA 71245, (318) 247-3811 |
| Louisiana State University New Orleans | 1900 Gravier Street New Orleans, LA 70112, (504) 568-4200 |
| McNeese State University | 4205 Ryan Street Lake Charles, LA 70609, (337) 475-5000 |
| Nicholls State University | 906 East 1st St. Thibodaux, LA 70301, (187) 764-2465 x7 |
| Northwestern State University of Louisiana | 175 Sam Sibley Dr Natchitoches, LA 71497, (318) 357-6011 |
| Northwestern State University of Louisiana- Online | 175 Sam Sibley Dr Natchitoches, LA 71497, (318) 357-6011 |
| Southeastern Louisiana University | 500 W University Ave Hammond, LA 70402, (985) 549-5637 |
| Southern University and A&M College | 801 Harding Boulevard Baton Rouge, LA 70813, (225) 771-4500 |
| University of Louisiana at Monroe | 700 University Ave. Monroe, LA 71209, (318) 342-1640 |
Salary
On average, a nurse practitioner in Louisiana earns $104.835 per year.
The salary depends on location, experience, education level, employer, etc.
Annual Salary Range:
Annual Salary by Location:
| Location | Avg. Annual Salary |
| --- | --- |
| New Orleans | $108,637 |
| Baton Rouge | $101,749 |
| Shreveport | $100,611 |
| Lafayette | $100,542 |
| Lake Charles | $99,164 |
| Kenner | $108,578 |
| Bossier City | $100,611 |
| Monroe | $100,086 |
| Alexandria | $96,956 |
| New Iberia | $99,959 |
Nurse Practitioner by State
---