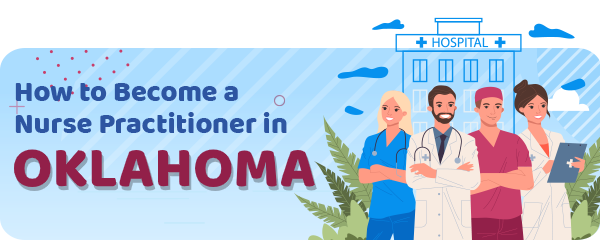 In Oklahoma, nurse practitioners and other advanced nursing roles are licensed as Advanced practice registered nurses – APRNs.
A few years ago, there have been significant changes in the Oklahoma Nurse Practice Act.
Therefore, the requirements increased for aspiring APRNs in Oklahoma since 2016, and it affects the endorsement applicant as well.
Also, APRNs in Oklahoma need to hold RN licenses first.
Nurses without an RN license need to apply for the endorsement first and apply separately for prescriptive authority.
APRN Educational Requirements in Oklahoma
In Oklahoma, futures APRNs are expected to pursue an education at the graduate level.
Moreover, the program needs to train and educate aspiring APRN for one of the four APRN roles recognized in Oklahoma.
Thus, the program needs to meet state standards and to be aligned with the Nurse Practice Act.
Also, the future nurse anesthetist needs to complete a program accredited by the American Association of Nurse Anesthetists' Council on Accreditation of Nurse Anesthesia Educational Programs.
Programs for nurse midwives are to be accredited through the Accreditation Commission for Midwifery Education.
The programs for clinical nurse specialist need to be accredited through one of the following organizations:
Commission on Collegiate Nursing Education (CCNE)
Accreditation Commission for Education in Nursing (ACEN)
Commission for Nursing Education Accreditation (CNEA)
Students who graduated from programs with proper education and students who graduated from programs that meet Oklahoma standards are eligible for the advance practice licensing.
Programs that are university-based and include both theoretical and practical courses, last at least one year and meet the standards of nursing practice according to the scope of practice are suitable for aspiring APRNs in Oklahoma.
Since January 1, 2016, the program should also hold national accreditation or be in the process of accreditation.
Additionally, since 2016 a Board require that programs have one of the following population foci:
Families and individuals across the lifespan
Neonatal
Pediatric
Adult-gerontology
Psychiatric/ mental health
Women's health/ gender
Certification Requirements
Aspiring APRNs in Oklahoma need to pass the certification examination.
The certification needs to be completed through one of the Board-recognized certifying agencies.
The agency selection depends on the role and population focus.
However, according to the Board, not all certifications are acceptable.
Also, not all certifications that were acceptable in the past are still available for new graduates; some are only subject to renewal.
Here is the shortlist of some of the Board approved certifying agencies:
American Midwifery Association
American Nurses Credentialing Center
National Certification Corporation
Pediatric Certification Board
American Academy of Nurse Practitioners
American Association of Critical-Care Nurses
National Board on Certification/Recertification of Nurse Anesthetists
The Board has the authority to change the list of approved agencies, thus make sure that you are familiar with the latest changes.
Also, check what certifications and examinations are available for endorsement candidates.
Application Process
You can find application instructions and materials on the website of the Oklahoma Board of Nursing.
Fortunately, the application can be submitted online, and the candidate can request a paper copy directly from the Board.
The application must include official transcripts.
Candidates who completed out-of-state programs may be asked to submit additional information.
Next, candidates need to provide certification verification.
Transcripts and certification verification need to be sent to the Board from primary sources – education institution and certification agency.
In the case of the American Association of Nurse Anesthetists, the American Midwifery Certification Board, or the National Certification Corporation, the Oklahoma Board can verify the certification status of the applicant directly.
Candidates with adverse legal, or professional disciplinary history, need to submit personal statements and additional documentation.
The application fee in Oklahoma is $70.
However, a nurse whose RN license is expiring soon needs to renew the RN licenses first, and then apply for the APRN credentials.
In Oklahoma, candidates are required to complete a fingerprint-based criminal background check.
Fingerprinting shouldn't be done more than 90 days before the application.
Out-of-State APRNs
Oklahoma requires an out-of-state applicant to complete programmatic accreditation.
The requirement applies to endorsement candidates as well.
In short terms, all candidates must meet the Oklahoma educational and certification standards to be authorized to work as APRN in the state of Oklahoma.
Luckily, there are ways to meet the requirements.
For example, an out-of-state candidate who has accrued 520 hours of work experience in the last two years is eligible.
Next, nurses who complete a refresher course or attained six credit hours of academic coursework are also qualified.
However, the coursework needs to include theoretical education as well as clinical practice related to the intended role.
Also, endorsement candidates can be granted a temporary permit.
A temporary permit in Oklahoma is valid for 90 days.
APRN Renewal
APRNs in Oklahoma renew their licenses (RN and APRN) at the same time, on even-numbered years.
Schools
Future APRNs in Oklahoma can choose between four in-state schools with appropriate advanced nursing programs.
For example, those interested in DNP programs can choose the University of Tulsa or Oklahoma City University.
The University of Oklahoma offers an MSN program with a Family nurse practitioner specialization track.
The University of Oklahoma Health Sciences Center has a high-quality graduate certificate program.
| School Name | Address |
| --- | --- |
| Oklahoma City University | 2501 N Blackwelder Oklahoma City, OK 73106, (405) 208-5000 |
| The University of Oklahoma | 1100 N Stonewall Ave Oklahoma City, OK 73117, (405) 325-0311 |
| The University of Tulsa | 800 S Tucker Dr Tulsa, OK 74104, (918) 631-2000 |
| University of Oklahoma Health Sciences Center | 1100 N Stonewall Ave Oklahoma City, OK 73117, (405) 271-2428 |
Salary
APRNs salaries vary across the state and depend on several factors, including certifications, education and experience level, employer, etc.
An average salary of a nurse practitioner in Oklahoma is $102.865 per year.
Annual Salary Range:
Annual Salary by Location:
| Location | Avg. Annual Salary |
| --- | --- |
| Oklahoma City | $103,774 |
| Tulsa | $104,988 |
| Norman | $103,117 |
| Lawton | $93,126 |
| Broken Arrow | $104,660 |
| Edmond | $103,445 |
| Muskogee | $104,003 |
| Enid | $102,789 |
| Mooreland | $97,301 |
| Stillwater | $102,789 |
Regional Salary in Oklahoma
| Region | Employed | Avg. Annual Salary | Avg. Hourly Pay | Top 10% Annual Salary | Bottom 10% Annual Salary |
| --- | --- | --- | --- | --- | --- |
| Lawton, OK | 60 | $126,300 | $60.72 | $159,160 | $102,760 |
| Oklahoma City, OK | 1,250 | $121,900 | $58.6 | $141,520 | $86,040 |
| Tulsa, OK | 660 | $121,420 | $58.37 | $142,100 | $98,590 |
* Salary information based on the May 2022 Occupational Employment Statistics (OES) Survey for Nurse Practitioners, OCC Code 29-1171, BLS.
* Employment conditions in your area may vary.
Nurse Practitioner by State
---