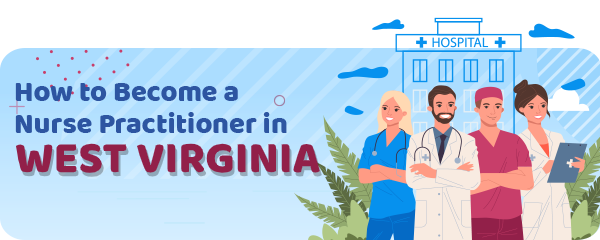 Registered nurses in West Virginia who want to take a step forward in their career, can become an advance-practice nurse.
There are plenty of opportunities in this state for education and licensing.
In West Virginia, West Virginia Board of Examiners for Registered Professional Nurses regulates the field of advanced-practice nurses.
The role of a nurse practitioner is by far the most common advanced role in the USA, including West Virginia state.
Other advanced practice roles in West Virginia are clinical nurse specialists, nurse anesthetists, and nurse-midwives.
The concentrations available in West Virginia are adult/gerontology, family, neonatal, pediatrics, psychiatric/mental health, and women's health gender-related.
Adult/gerontology nurses may be noted as acute or primary care.
Aspiring APRNs in West Virginia need to hold a registered nurse license,
Bear in mind that West Virginia isn't part of the nurse compact agreement which maintains the licensure for out-of-state nurses.
Out-of-state nurses who want to practice at the APRN level need to apply for a registered nurse license in West Virginia through endorsement.
The educational requirement for APRNs in West Virginia includes the completion of post-basic education programs and obtaining a national certification.
APRNs who want to obtain a prescriptive authority, need to complete clinical pharmacology coursework.
The requirements for the nurse-midwives include a formal collaborative agreement with obstetricians or other qualifying physicians.
APRNs who want to obtain prescriptive authority also need to file a collaborative agreement.
Educational Requirements
The primary educational requirement for aspiring APRNs is the competition of an accredited graduate program.
The Council for Higher Educational ACcreditation and/or the U.S. Department of Education needs to approve the school accreditor.
The American College of Nurse-Midwives approves the educational programs for nurse-midwives.
The required curriculum includes courses such as advanced health assessment, advanced physiology/pathophysiology, and advanced pharmacology.
The content and curriculum depend on the practice role and chosen population focus.
After the nurse completes the education, he or she needs to take the certification examination compatible with the role and population focus.
There are state-regulated criteria that all accredited programs need to meet as well as a methodology for the examination process.
Additionally, the organization needs to present a certification maintenance plan.
Currently, the American Midwifery Certification Board (AMCB) is in charge of the nurse-midwives certification process.
Prescriptive Authority
An advanced practice nurse needs to be at least 18 years old to apply for the prescriptive authority.
The educational requirement includes 45 contact hours of pharmacology/clinical management or drug therapy coursework.
There is a mandatory fee of $125 and a collaborative agreement requirement.
The Application Process
You can download all necessary forms on the West Virginia Registered Nurses Board website.
You can apply online on the same website.
However, you need to prepare supporting documentation from the primary sources.
Official transcripts and certifications need to be sent directly to the Board from the issuing agency.
Out-of-state applicants need to contact their state's Boards to send the verification.
Candidates with criminal background history need to provide supporting documentation about the issues.
If you have any questions related to the application process, you can contact the board.
All candidates need to pay a fee of $35.
With their signature on the application form, candidates verify that he or she is familiar with the state code.
Out-of-State Advanced Practitioners
All candidates who obtain their licenses in 2012 or earlier may earn their licenses without graduate degrees.
There are additional requirements for applicants who haven't been working in the recent time.
Candidates who have been out of practice in the last two years need to complete at 12 contact hours of coursework in pharmacotherapeutics and 12 hours in clinical management coursework.
Those who have been out of practice in the last five years need to complete a refresher course and 45 hours of pharmacotherapeutics coursework.
License Renewal
To renew their license, APRNs in West Virginia need to submit proof of continuing education and current certification.
Schools
Aspiring APRNs in West Virginia has plenty of opportunities for proper advanced practice education.
For example, Shepherd University in Shepherdstown has a high-quality DNP Family Nurse Practitioner education program.
The program is available in hybrid form.
Next, aspiring APRNs can choose graduate certificate programs or MSN programs at West Virginia University.
Graduate programs are conducted online, and the MSN programs are in the hybrid form.
West Virginia Wesleyan College offers an online graduate certificate program with family nurse concentration.
The college is located in Buckhannon and there are two MSN options – Family Nurse Practitioner and Psychiatric Mental Health Nurse Practitioner.
Wheeling Jesuit University in Wheeling has a DNP option for aspiring family nurse practitioners and MSN bridge programs.
| School Name | Address |
| --- | --- |
| Shepherd University | 301 N King St Shepherdstown, WV 25443, (304) 876-5000 |
| West Virginia University | 6700 Health Sciences South Morgantown, WV 26506, (304) 293-0111 |
| West Virginia Wesleyan College | 59 College Avenue Buckhannon, WV 26201, (304) 473-8000 |
| Wheeling Jesuit University | 316 Washington Ave Wheeling, WV 26003, (304) 243-2072 |
Salary
The average annual salary of a nurse practitioner in West Virginia is $96,956.
However, many factors affect salary.
For example, some roles, such as nurse anesthetists have higher salaries.
Other factors include location, employers, certificates, education level, experience, etc.
Annual Salary Range:
Annual Salary by Location:
| Location | Avg. Annual Salary |
| --- | --- |
| Charleston | $99,681 |
| Huntington | $96,650 |
| Parkersburg | $97,175 |
| Wheeling | $107,133 |
| Morgantown | $107,133 |
| Weirton | $106,748 |
| Fairmont | $107,133 |
| Beckley | $98,805 |
| Clarksburg | $96,300 |
| Martinsburg | $120,560 |
Nurse Practitioner by State
---