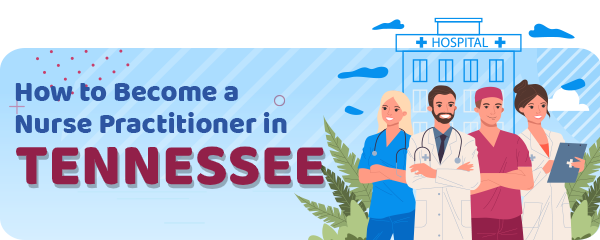 In Tennessee, the Board of Nursing is in charge of issuing certificates to advanced practice nurses.
To earn the certificate, a nurse must complete an appropriate graduate-level program and obtain certification in the chosen specialty area.
Tennessee Board of Nursing recognized all four roles of APRNs.
Those are nurse practitioners, clinical nurse specialists, nurse anesthetists, and nurse-midwives.
The commonly used term for the roles in Tennessee is Advanced Practice Nurse (APN).
The first requirement for aspiring APNs in Tennessee is holding a valid RN license.
Out-of-state nurses, who are citizens of the states that participate in nurse license compact don't need to apply for the RN license in Tennessee.
However, those who need a certificate and clearness to prescribe and issue drugs, need to apply to the Tennessee Board for APN status.
APN Education and Certification Requirements in Tennessee
Educational requirements for APNs include the completion of post-basic advanced practice programs.
The minimum degree requirements are MSN or Ph.D. in some of the specialty nursing areas.
However, advanced practice nurses who earn their national certificates by July 1, 2005, don't need to hold a master's degree to maintain their title.
This Tennessee practice privilege only applies to RNs who earned their registered nurse's license before the mentioned date.
The educational and clinical requirements are different for nurses with a different population focus.
The certifying agency determines the clinical and academic prerequisites.
Typically, nurses need to complete at least 500 hours in the chosen practice area.
Aspiring ADN who seek prescriptive authority, will need to complete a pharmacology course.
There are several certification agencies approved by the Tennessee Board of Nursing.
For example, those are the American Nurses Credentialing Center (ANCC), the American Academy of Nurse Practitioners (AANP), and the National Board of Certification & Recertification for Nurse Anesthetists.
The AANP is the most common choice for a variety of aspiring APNs, and ANCC is suitable for nurse practitioners and clinical nurse specialists.
Nurse-midwives get certified through the national certification agency – the American Midwifery Certification Board (AMCB).
The Tennessee Board of rule, chapter 1000-03 holds all necessary information about APN requirements, certification, agencies, etc.
Application
You can download all application materials from the Tennessee Board of Nursing website.
Nurses from other states, part of the compact agreement, have to submit a copy of his or her multi-state license.
All applicants need to fill out a Mandatory Practitioner Profile Questionnaire.
The information you provide in the questionnaire will be public after the Board grants you licensure.
The questionnaire includes basic information, credentials, experience, etc.
Volunteering information, including community service, can be also be noted in the questionnaire, as well as adverse legal of professional history.
If you had a recent disciplinary history or criminal history, you have to provide additional information.
You have to mail all the necessary information to the Board of Nursing in Nashville.
You can also easily verify your education and credentials as part of the Board requirements.
The program director or dean can directly verify your education to the board, and identify your degree, and role.
If you seek prescribing authority, the officials need to review your education for at least three-quarter hours in pharmacology.
The fee for first-time applicants is $200.
Those who need a prescribing authority pay an extra $10.
You will need to provide a professional passport-style photo and notarize all the application forms, including citizens' ship attestation.
The application review can take from four to six weeks.
When your license is issued, you can verify your status online.
If the review process lasts more than six weeks you can contact the Board.
APN Renewal
All APNs need to review their certificates biennially.
The national certification is a requirement in Tennessee.
Since June 2015, APNs who are allowed to prescribe drugs, need to complete at least two hours of continuous education in prescribing controlled substance discipline.
Because regulations can change, you should always keep track of the latest trends in nursing in your state, and on a national level.
Schools
There are plenty of school options for aspiring APNs in Tennessee.
For example, East Tennessee State University hybrid and campus graduate programs, as well as a variety of DNP and MSN programs.
Those include, for instance, BSN to DNP bridge program for aspiring pediatric nurse practitioners.
All DNP programs on the East Tennessee State University features hybrid form, which means that there are both classroom and online courses.
If you are interested in part-time studying, you can choose Tennessee Tech University, as it offers high-quality, part-time BSN to DNP program for aspiring psychiatric/mental health nurse practitioners.
For example, Middle Tennessee State University offers an online MSN program with a Family nurse practitioner concentration.
Check the table for more information.
| School Name | Address |
| --- | --- |
| Austin Peay State University | P.O. Box 4458 Clarksville, TN 37044, (931) 221-7662 |
| Belmont University | 1900 Belmont Boulevard Nashville, TN 37212, (615) 460-6000 |
| East Tennessee State University | 365 Stout Drive Johnson City, TN 37614, (423) 439-4578 |
| Tennessee Tech University | 1 William L Jones Dr. Cookeville, TN 38505, (931) 372-3101 |
| King University | 350 King College Road Bristol, TN 37620, (800) 362-0014 |
| Lincoln Memorial University | 6965 Cumberland Gap Parkway Harrogate, TN 37752, (423) 869-3611 |
| Middle Tennessee State University | 1301 East Main Street Murfreesboro, TN 37132, (615) 898-2300 |
| Tennessee State University | 3500 John A. Merritt Boulevard Nashville, TN 37209, (615) 963-5000 |
| The University of Tennessee at Chattanooga | 615 McCallie Ave Chattanooga, TN 37403, (423) 425-4416 |
| The University of Tennessee Health Science Center- Memphis | 910 Madison Ave Memphis, TN 38163, (901) 448-5500 |
| The University of Tennessee, Knoxville | 1200 Volunteer Blvd. Knoxville, TN 37996, (865) 974-4151 |
| Union University | 1050 Union University Drive Jackson, TN 38305, (731) 661-6545 |
| University of Memphis | 101 Wilder Tower Memphis, TN 38152, (190) 167-8200 x3 |
Salary
The average annual salary of the nurse practitioner in Tennessee is $99.418.
The salary depends on several factors such as role, specialty practice area, employer, additional certifications, location, etc.
Annual Salary Range:
Annual Salary by Location:
| Location | Avg. Annual Salary |
| --- | --- |
| Memphis | $101,410 |
| Nashville | $101,480 |
| Knoxville | $101,169 |
| Chattanooga | $98,661 |
| Clarksville | $98,368 |
| Murfreesboro | $100,714 |
| Jackson | $100,644 |
| Johnson City | $95,241 |
| Kingsport | $95,599 |
| Franklin | $101,122 |
Nurse Practitioner by State
---