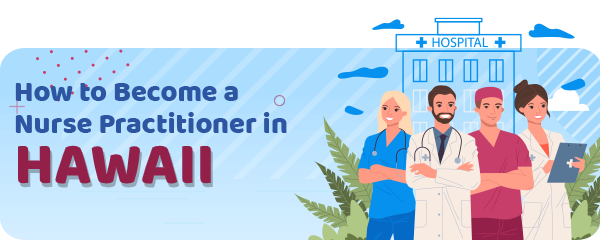 Hawaii's Board of Nursing regulates the practice of advanced practice nurses.
In Hawaii, advanced practice nurses are dually licensed, they hold registered nurse license (RM) and Advance Practice Registered Nurse (APRN) license.
The Hawaii Professional and Vocation Licensing (PVL) institution grant them an RN license.
Hawaii isn't part of the nurse license compact, so there is a different procedure for out-of-state nurses.
There are four recognized roles of advanced practice nurses in Hawaii:
Nurse Practitioner (NP)
Clinical Nurse Specialist (CNS)
Certified Nurse Midwife (CNM)
Certified Registered Nurse Anesthetist (CRNA)
Additionally, nurse practitioners and clinical nurse specialties can also choose subspeciality based on population focus.
APRNs in Hawaii need to submit a separate application for the prescriptive authority.
Education and Certification Requirements
To become an APRN, a student needs to complete an accredited graduate degree program.
The next step after the program completion is pursuing an examination-based national certification.
The program of choice needs to include training for providing direct care in the scope of practice of a chosen role – NP, CNS, CNM, or CRNA.
For the APRN license, the Board doesn't accept master's programs such as administration, public health, nursing education.
Therefore, a program must be focused on direct patient care and approved by Hawaii's Board of Nursing or the American Board of Nursing Specialties.
According to the state Board of Nursing, there are several approved certifying agencies.
American Academy of Nurse Practitioners
American Nurses Credentialing Center
Council on Certification of the American College of Nurse-Midwives
National Board of Certification and Recertification for Nurse Anesthetists
National Certification Corporation for Obstetric, Gynecologic, and Neonatal Nursing Specialties
Pediatric Nurses Certification Board
The American Association of Critical-Care Nurses
NP and CNS Sub-Specialties
Nurse practitioners can subspecialize in a different field, as well as clinical nurse specialists.
According to the current application, there are 12 subspecialties available for the nurse practitioners, and 16 for clinical nurses.
Some of the specialty areas available for the NPs are:
Adult
Family
Pediatric
Neonatal
School
Acute care
Psychiatric mental health
Some of the additional specialty areas for CNSs include:
Adult psychiatric/ mental health
Child and adolescent psychiatric/ mental health Oncology
Advanced diabetes management
Pain management
Community health
Medical-surgical
Gerontological
Out-of-State APRNs
Out-of-state APRNs who earn their license in another state and before October 1, 2009, have different procedures.
Hawaii's Board of Nursing may recognize them because of their education (appropriate Master's degree in nursing) or by advanced practice specialty certification issued by the organization approved by Hawaii's Board.
To practice in Hawaii, all out-of-state APRNs need to hold valid and unencumbered RN and APRN licenses.
Out-of-state RN licenses and APRN recognition must be unencumbered.
The Application Process
You can download all application forms from the PVL website.
Additionally, the agency for licensing needs primary source verification of applicant qualifications.
It means that you need your transcripts to be sent directly from your school.
Also, your certification verification needs to be delivered to the licensing agency directly from the certification agency.
Those who apply simultaneously for two APRN designations need to submit a qualifying proof for both of them.
There is no additional fee for the additional APRN designation.
Additionally, applicants need to request verification of all RN licenses and APRN specifications.
The application fee depends on the renewal cycle.
You can mail your application documents, or deliver them directly to the PVL office in Honolulu.
Prescriptive Authority
In Hawaii, to be granted with the prescriptive authority, a nurse needs to hold a master's degree and certification in a certain specialty area.
Besides, the nurse needs to complete 30 contact hours of advanced pharmacology and pharmacotherapeutics coursework.
In the state of Hawaii, a prescriptive authority isn't granted on reciprocity.
It means, retaking of advanced pharmacology coursework is mandatory for individuals who are not a recent graduate of master's program.
The coursework can be completed through the accredited institution approved by the Board of Nursing, or as part of the continuing education.
If the coursework is done in the past three years, there is no need for additional education.
Also, when applying for the prescriptive authority, a candidate needs to provide course descriptions.
Bear in mind that prescriptive authority and APRN license are two separate applications in Hawaii, and you might need to submit the same documents twice.
Those can include transcripts, certification, etc.
The fee for prescriptive authority is $50.
However, there are additional fees that might apply, according to the renewal cycle.
All nurses need to renew their prescriptive authority every two years.
However, registered nurse anesthetist doesn't need to apply for prescriptive authority to administer anesthesia.
APRN Renewal
APRNs in Hawaii need to renew their licenses biennially on odd-numbered years.
Schools
There are two schools with appropriate advanced nursing programs in Hawaii.
The first one is Hawaii Pacific University in Honolulu.
There are graduate certificate and MSN programs at this University, with specialization track Family nurse practitioners and Adult/Gerontology.
All programs are available as an on-campus program.
| School Name | Address |
| --- | --- |
| Hawaii Pacific University | 1 Aloha Tower Drive Honolulu, HI 96813, (180) 854-4020 x0 |
| University of Hawai'i at Manoa | 2528 McCarthy Mall, Webster Hall Honolulu, HI 96822, (202) 887-6791 |
Salary
An average annual salary of a nurse practitioner in Hawaii is $114.815.
However, salary depends on factors such as education level, certifications, experience, facility, etc.
Annual Salary Range:
Annual Salary by Location:
| Location | Avg. Annual Salary |
| --- | --- |
| Honolulu | $114,093 |
| Hilo | $113,327 |
| Kailua | $114,093 |
| Kaneohe | $114,093 |
| Waipahu | $114,042 |
| Pearl City | $114,093 |
| Kapolei | $113,838 |
| Mililani | $113,888 |
| Kahului | $113,327 |
| Kihei | $113,327 |
Nurse Practitioner by State
---