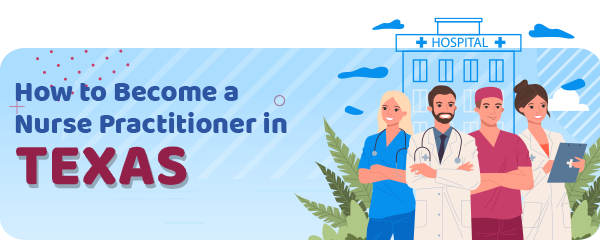 All educational and licensing issues are addressed on the state level, but there are national standards as well.
Boards are creating uniform requirements and more states are adjusting their laws to comply with the National Council of State Boards of
Nursing Advanced Practice Registered Nurses (APRN) Consensus Model.
Also, there are more programs nation-wide for nurse practitioners education and third-party certification.
Texas Board of Nursing maintains the licensing and education for advanced practice nurses on the state level.
The primary requirement for aspiring nurse practitioners in Texas is a valid nursing license in Texas, or in some other state that is part of the licensure compact.
Graduation education and certificate are additional requirements.
Only nurse anesthetists license include limited prescriptive authority, while other APRNs need to apply for it.
APRN Roles in Texas
Texas Board on Nursing recognizes four roles of APRNs.
Roles are nurse practitioners, clinical nurse specialists, nurse midwives, and nurse anesthetists.
There are several population foci available for clinical nurse specialists and nurse practitioners in Texas.
Nurse practitioners can specialize in Acute Care Adult/Gerontology, Acute Care Pediatric, Adult, Family, Gerontological, Pediatric, Psychiatric/Mental Health, Women's Health, and Neonatal.
Clinical nurse specialists have several population foci as well – Adult Health/Med/Surg Nursing, Adult/Gerontology Nursing, Critical Care Nursing, Gerontological Nursing, Pediatric Nursing, and Psychiatric/Mental Health Nursing.
However, APRNs who haven't specialized in any field are also eligible for a license.
Some nurses are eligible to sit for the exam in a chosen specialty or to obtain a license without certification.
Nurse Practitioners Requirements
To become an advanced practice nurse, one must complete a Master's program or higher degree program.
To be approved by state institutions, a program needs to have the appropriate preparation for role and population focus.
There is also a set of clinical hours that students need to fulfill, sometimes it includes 500 clinical hours.
Only programs that are accredited through the Texas Board of Nursing are suitable, as well as nationally accredited schools, which are suitable for APRN's education.
You can find the partial list of appropriate accreditor in the application packet.
If the state is accredited of the school, the state needs to have its standards compatible with the national nursing education standards.
In Texas, there are additional standards for NP and CNS programs.
The program curriculum must include role preparation and courses such as pharmacotherapeutics, advanced assessment, and path-psychology.
If the program offers mental health foci, it must include psychopathology.
If you decide to enroll in APRN programs, you have to choose the clinical major.
According to the board, a clinical major is a course in a specialty or practice area.
CNS needs to complete a minimum of nine semester hours in their clinical major.
The Board also requires CNS to have a minimum of a Master's degree.
Certification
After the program completion, aspiring APRN needs to be certified in the chosen role and according to their certification.
You can find the complete list of certification suitable for different roles and population foci in Texas in the application process.
The American Midwifery Certification Board maintains the certification process for Certified Nurse-Midwives.
To be certified in some of the most common practice areas, you get to choose the certification agency.
For example, Family NPs can choose between the American Nurses Credentialing Center and the American Academy of Nurse Practitioners.
Pediatric NPs can be certified through the American Nurses Credentialing Center or the Pediatric Nursing Certification Board.
There are several other accrediting agencies in Texas – National Certification Corporation, the American Association of Critical-Care Nurses, and the National Board of Certification & Recertification for Nurse Anesthetists.
The application package might not include all suitable agencies, so if your certification isn't on the list, you can contact the APRN office to get more information.
Requirements Related to Date of Program Completion
In Texas, some requirements don't apply for NPs who completed programs before January 2003, and others to those completed before January 1998.
Also, nurse midwives and women's health practitioners who completed their education before 2003 and 2006 may get MSN waivers.
Additionally, those who graduated before 2010 and got their licenses might not be formally recognized in Texas.
To get your license, a candidate will have to provide proof of at least 400 hours of clinical practice but conducted in the recent past.
Application
You can find all the application materials on the Board website.
After you complete the forms, you can submit them online or mail them to APRN Application Office in Austin.
An education verification form is a mandatory form, and you can get more information about accredited from school officials.
There are several national accrediting institutions accepted in Texas.
Those are Commission on Collegiate Nursing Education National League for Nursing Accrediting Commission National Association of Nurse Practitioners in Women's Health Accreditation Commission for Midwifery Education Council on Accreditation of Nurse Anesthesia Educational Programs.
The applicants need to provide proof of current certification and out-of-state RNs need to submit a copy of the license.
All transcripts from previously finished schools are also required.
The fee depends on the prescriptive authority.
Nurses without prescriptive authority requirement pay $100, and if the authority is required, the fee is $150.
License Renewal
Obtaining a national certification requires maintenance, continuous education, and active practice.
Currently, for license renewal candidates need to have at least 400 practice hours in the recent past.
Schools
There is a large number of schools that offer suitable programs for APRNs.
Some are traditional, on-campus program, some are conducted fully online, but there are also online programs.
For example, Angelo State University has an online MSN program for aspiring Family NPs.
Patty Hanks Shelton School of Nursing offers MSN and graduation programs, conducted on-campus.
The largest range of different programs you can find at Texas Tech University.
There are also suitable bridge programs, different population foci programs, in hybrid or on-campus form.
The University of Texas at Austin offers graduate certificate programs as well as MSN programs for aspiring Family Nurse Practitioner, Adult-Gerontology Clinical Nurse Specialist, Psych/Mental Health Nurse Practitioner Program (PMHNP) and MSN – Psychiatric Mental Health Nurse Practitioner.
All programs are conducted on-campus.
Check the table for more information.
| School Name | Address |
| --- | --- |
| Angelo State University | 2601 W. Avenue N San Angelo, TX 76909, (180) 094-6862 x7 |
| Baylor University | 1301 S University Parks Dr Waco, TX 76798, (800) 229-5678 |
| Midwestern State University | 3410 Taft Blvd Wichita Falls, TX 76308, (940) 397-4000 |
| Patty Hanks Shelton School of Nursing | 2149 Hickory St Abilene, TX 79601, (325) 671-2399 |
| Prairie View A&M University | P.O. Box 519 Prairie View, TX 77446, (936) 261-3311 |
| Texas A&M University | 400 Bizzell St College Station, TX 77843 (979) 845-3211 |
| Texas A&M University-Commerce | 2200 Campbell St Commerce, TX 75428, (903) 886-5102 |
| Texas A&M University-Corpus Christi | 6300 Ocean Drive, Unit 5774 Corpus Christi, TX 78412, (361) 825-2753 |
| Texas Christian University | 2800 S University Dr Fort Worth, TX 76129, (817) 257-7000 |
| Texas State University | 1555 University Blvd. Round Rock, TX 78665, (512) 716-2900 |
| Texas State University | 1555 University Blvd. Round Rock, TX 78665, (512) 716-2900 |
| Texas Tech University | 3601 4th St. Lubbock, TX 79430 (806) 743-2730 |
| Texas Woman's University | 304 Administration Dr. Denton, TX 76204, (940) 898-2000 |
| The University of Texas at Arlington | 701 S Nedderman Dr Arlington, TX 76019, (817) 272-2011 |
| The University of Texas at Austin | 110 Inner Campus Drive Austin, TX 78712, (512) 471-3434 |
| The University of Texas at El Paso | 500 West University Avenue El Paso, TX 79968, (915) 747-5000 |
| The University of Texas at Tyler | 3900 University Blvd Tyler, TX 75799, (903) 566-7000 |
| The University of Texas Medical Branch at Galveston | 301 University Blvd Galveston, TX 77555, (409) 772-1011 |
| The University of Texas Rio Grande Valley | 1201 W University Dr Edinburg, TX 78539 (888) 882-4026 |
| University of Houston | 4800 Calhoun Rd Houston, TX 77004, (713) 743-2255 |
| University of Texas Health Science Center at San Antonio - UT Health San Antonio | 7703 Floyd Curl Dr San Antonio, TX 78229 (210) 567-7000 |
| University of Texas School of Nursing at Houston | 6901 Bertner Houston, TX 77030 (713) 500-2000 |
| West Texas A&M University | 2501 4th Ave Canyon, TX 79016 (806) 651-0000 |
Salary
Salary depends on population foci, role, location, education, experience, employer, etc.
An average annual salary of a nurse practitioner in Texas is $107,458.
Annual Salary Range:
Annual Salary by Location:
| Location | Avg. Annual Salary |
| --- | --- |
| Houston | $112,167 |
| Dallas | $108,375 |
| San Antonio | $106,411 |
| Austin | $107,626 |
| El Paso | $95,716 |
| Fort Worth | $106,631 |
| Arlington | $106,456 |
| Corpus Christi | $101,487 |
| Plano | $107,908 |
| Garland | $108,142 |
Nurse Practitioner by State
---