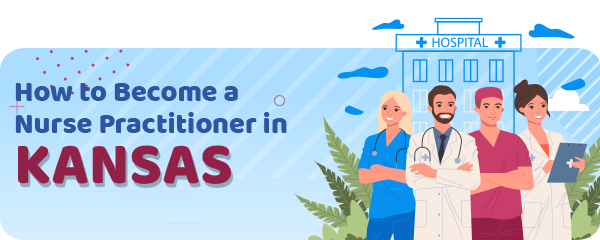 In Kansas, the State Board of Nursing regulates the licensing process for the Advanced Practice Registered Nurse (APRNs).
There are four recognized roles of APRNs in Kansas: Nurse Practitioner, Certified Nurse Midwife, Clinical Nurse Specialist, and Registered Nurse Anesthetist.
APRNs get their licenses according to their education, and only nurse anesthetists in Kansas need to obtain national certification.
However, all APRNs need to hold an RN license in Kansas.
The same applies to the out-of-state RNs because Kanas isn't the part of the nurse license compact agreement.
Educational Requirements
To become an advanced practice nurse, an RN needs to complete a formal post-basic program with required coursework.
Nurse practitioners, nurse anesthetists, and clinical nurse specialists need to complete at least a master's level program.
For all roles, the three-credit hour course in advanced pharmacology and advanced health assessment is required.
Additionally, only programs approved by the State Board of Nursing are appropriate.
You can find the complete list of approved programs on the website of the Board.
For out-of-state programs, the Board is to determine whether the program meets the Kansas educational standards at the time of the application.
However, APRNs who have completed their education in the past have different standards.
For example, those who finished their studies before July 1, 2002, don't have to hold a master's degree.
Clinical nurse specialists and nurse practitioners who completed educational programs after July 1, 1994, need to hold at least a baccalaureate degree.
The same applies to nurse-midwives who completed their programs after July 1, 2000.
Additional Requirements for Nurse Anesthetists
Nurse Anesthetists in Kansas need to obtain certification issued by the Council on Certification of Nurse Anesthetists.
In Kansas, all nurse anesthetist need to hold liability insurance.
Additionally, nurse anesthetists are the only APRNs who allowed to have independent practice in Kansas.
Certification Options
Nurse practitioners, nurse midwives, and clinical nurse specialists in Kansas aren't required to take the certification exam.
However, if an individual wants to obtain certification, he or she can be certified by an organization approved in Kansas.
The application packet includes the list of appropriate organizations.
Kansas, unlike the majority of U.S. states, does not currently require nurse practitioners, nurse midwives, or clinical nurse specialists to take certification exams. However, Board regulation states that an individual can be licensed in Kansas if he or she has been certified by an organization that has been judged to have standards that are at least equivalent.
Recognized certifications are listed in the application packet.
Those are the American Nurse Credentialing Center (ANCC), American Association of Critical-Care Nurses (AACN), American Association of Nurse Practitioners (AANP), etc.
Nurse practitioners can be certified in several categories including Acute care, Adult, Family, Pediatric, Mental Health, Gerontology, Neonatal, Women's Health, etc.
Clinical Nurse Specialists can earn certification in Psychiatric/ Mental Health, Public/ Community Health, Acute/Critical Care.
Nurse-midwives earn their certification in Midwifery.
The Application Process
In Kansas, all applicants are required to pass the fingerprint-based background checks.
For this procedure, applicants are allowed to use fingerprint cards from the Board, or make their fingerprints in any law enforcement agency and mail them to the Board.
Those who have completed the background check in the past six months for the nursing licensure are exempt from the requirement.
You can download all application packet on the website of the State Board of Nursing.
Additionally, the Board requires official transcripts.
In the case of nurse anesthetists, the Board needs to verify their certification examination.
The fee for the nurse anesthetists is $75, and for other APNs the fee is $50.
The costs for temporary nurse anesthetist permit is $110 and other APRNs temporary permits are $100.
The Board can require additional documentation for out-of-state candidates to make sure that all standards are satisfied.
Out-of-state candidates need to submit an RN endorsement alongside APRN application.
Temporary Permits
Applicants who are waiting for the review of their credentials, or are in the process for RN endorsement may apply for the temporary permit.
Nurses anesthetist may be granted temporary licenses pending certifications.
Only applicants with criminal or disciplinary history can be denied a temporary permit.
Also, having a temporary permit doesn't guarantee that a candidate will earn the license.
APRN License Renewal
All nursing roles need to complete 30 hours of continuing education at the advanced practice level to renew their license.
Schools
There are two appropriate schools in Kansas for aspiring advanced practice nurses.
Those are the University of Kansas in Lawrence and Washburn University in Topeka.
The University of Kansas offers online and on-campus  Graduate certificate and DNP programs with specializations such as Adult/Gerontology, Family, and Mental Health.
Adult-Gerontology Primary Care Nurse Practitioner Certificate program and Adult-Gerontology Acute Care Nurse Practitioner Certificate program are available in both campus and online form.
Washburn University offers bridge BSN to DNP programs and Post-Graduate Certificate programs.
All programs are conducted fully online.
| School Name | Address |
| --- | --- |
| University of Kansas | 1246 West Campus Road Room 153A Lawrence, KS 66045, (785) 864-6414 |
| Washburn University | 1700 SW College Ave Topeka, KS 66621, (785) 670-1010 |
Salary
An average salary of a nurse practitioner in the state of Kansas is $103.850.
The salary depends on the healthcare facility, education level, certifications, experience, and location.
Annual Salary Range:
Annual Salary by Location:
| Location | Avg. Annual Salary |
| --- | --- |
| Wichita | $105,382 |
| Overland Park | $107,100 |
| Kansas City | $107,429 |
| Topeka | $102,307 |
| Olathe | $106,808 |
| Lawrence | $103,956 |
| Shawnee | $107,100 |
| Salina | $104,288 |
| Manhattan | $101,213 |
| Hutchinson | $104,288 |
Nurse Practitioner by State
---