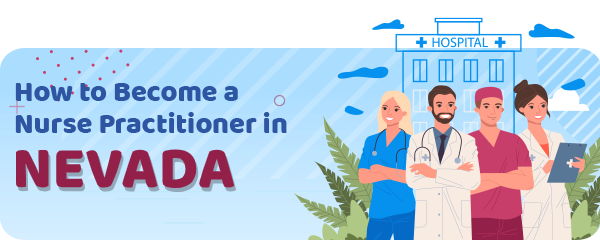 In Nevada, the regulations related to the advanced practice nursing law change to be aligned with other states.
The title for the advanced nurses is now the Advanced Practice Registered Nurses (APRNs).
According to the new law, there are some additional requirements that nurses need to fulfill to practice at the full extend scope of practice.
There are four roles of advanced practice nurses in Nevada:
Nurse practitioner
Nurse midwife
Clinical nurse specialist
Nurse Anesthetist
The requirements are slightly different for the nurse anesthetists.
You can find more information about requirements for a nurse anesthetist in Nevada State administrative code.
APRNs have a population focus.
They can focus on families and people across the lifespan.
Also, APRNs may have a narrow focus, for example, neonatal, pediatrics, adult-gerontology, women's health, or psychiatric health.
However, to be able to practice with a focus, APRNs need to document competency.
APRNs in Nevada need to hold RN licenses as well.
Both APRN and RN licenses are state-specific because Nevada isn't a part of the Nurse Licence Compact Agreement.
Requirements for Nurse Practitioners, Clinical Nurse Specialists, and Nurse-Midwives.
The educational requirements for APRNs in Nevada include holding a master's or doctoral degree.
To qualify for the APRN license, a nurse needs to complete a program that is at least one year long and to earn clinical experience.
Further, the program needs to be accredited by a nationally recognized agency.
Those are the Commission on Collegiate Nursing Education and the Accreditation Commission for Education in Nursing.
Additionally, programs may be accepted if the nursing board approves it.
Also, the program needs to include courses related to role and population focus.
Therefore, students will have to complete coursework in health assessment, role preparation, pathophysiology.
Those who need prescriptive authority need to complete a pharmacology course as well.
Nevada APRNs need to hold national certification issued by some nationally approved agency.
In Nevada, the temporary license is also enabled for students who wait for the examination date.
Additionally, APRNs need to hold liability insurance.
Out-of-State Advanced Practice Applicants
Nurse practitioners, clinical nurse specialists, and nurse midwives who have graduated in the past need to hold license or certification in other states.
Additionally, they need to have recent experience, during the last five years.
The certification and education requirements apply based on the graduation date.
Therefore, national certification isn't required for advanced practice nurses who graduated before July 1, 2004.
However, these nurses are encouraged to pursue certification.
Likewise, the requirement related to the master's degree doesn't apply to candidates who completed their education by June 1, 2005.
Next, candidates who graduated before July 1, 1991, or later, need to hold a degree of a baccalaureate level or higher or have a national certification.
In all cases, the programs need to be accredited to make the students eligible for the credentialing process.
The requirements for out-of-state APRNs who apply for the prescriptive authority include having 1000 hours of active prescriptive practice completed in the last two years.
Requirements for Nurse Anesthetists
Nurse anesthetists in Nevada also need to complete graduate education and pursue national certification.
The temporary permit for the nurse anesthetists is also allowed.
All nurse anesthetist need to submit proof of national certification.
All nurse anesthetists are expected to show evidence of national certification, even those who graduated in the past and have been practicing out-of-state.
However, nurse anesthetists who completed their studies after June 1, 1988, need to have at a baccalaureate level degree.
Those who graduated after June 1, 2005, must hold a master's degree.
Application Process
In Nevada, aspiring APRNs need to pass the fingerprint-based criminal background check if they haven't submitted it in the past six months.
There is the same application packet available on the Nevada Board of Nursing website for nurse practitioners, nurse midwives, and clinical nurse specialists.
Moreover, the official school transcripts need to be sent directly from the primary source.
APRNs interested in prescriptive authority for Level II controlled substances need to document two years (equivalent to 2000 hours) of practice.
Out-of-state applicants need to submit a copy of their current credentials.
All candidates pay a nonrefundable fee of $200.
Further, nurse anesthetists have a separate application available for download.
Future CRNAs need notarize a copy of their certificate/diploma or have official transcripts sent to the Board of Nursing.
License Renewal
In Nevada, APRN and RN license expire the same date.
To renew the license, APRNs need to complete 45 hours of continuing education.
The active practice requirement for license renewal means having at least 800 hours of practice every five years.
The renewal process can be completed online.
Schools
There is a growing need for advanced practice registered nurses across the USA.
That is why there are more programs available for the aspiring APRNs.
Currently, there are three schools with proper nursing programs.
Some are offered online, such as the Family Nurse Practitioner MSN program at the Touro University of Nevada.
Campus programs are available at the University of Nevada in Reno.
The University of Nevada in Reno offers DNP programs as well.
The University of Nevada, Las Vegas has MSN programs conducted online.
| School Name | Address |
| --- | --- |
| Touro University Nevada | 874 American Pacific Drive Henderson, NV 89014, (702) 777-8687 |
| University of Nevada, Las Vegas | 4505 S. Maryland Pkwy. Las Vegas, NV 89154, (702) 895-3011 |
| University of Nevada, Reno | 1664 N. Virginia Street Reno, NV 89557, (775) 784-1110 |
Salary
An average yearly salary of a nurse practitioner in Nevada is $112.167.
The salary depends on the location, experience, education, healthcare facility, etc.
Annual Salary Range:
Annual Salary by Location:
| Location | Avg. Annual Salary |
| --- | --- |
| Las Vegas | $113,425 |
| Reno | $109,869 |
| Henderson | $112,988 |
| North Las Vegas | $113,425 |
| Sparks | $109,869 |
| Carson City | $110,307 |
| Elko | $93,126 |
| Boulder City | $111,893 |
| Mesquite | $111,784 |
| Fallon | $108,446 |
Nurse Practitioner by State
---