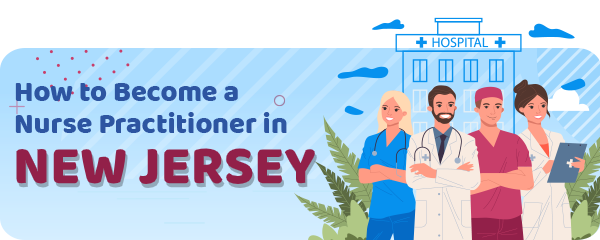 In the state of New Jersey, the Division of Consumer Affairs recognizes four roles of advanced practice registered nurses:
Nurse practitioners
Clinical nurse specialists
Nurse anesthetists
Nurse-midwives
The Board of Nursing in New Jersey certifies nurse practitioners, clinical nurse specialists, and nurse anesthetists.
The tittle they get is Advanced Practice Nurses or APNs.
The Midwifery Liaison Committee certifies nurse-midwives.
Their tittle is Certified Nurse-Midwives (CNMs).
All APNs and CNMs need to hold an RN license in New Jersey.
However, midwives without an RN license may earn a Certified midwife or Certified Professional Midwife licensee, but cannot be certified as Certified Nurse Midwife.
Nurse practitioners, Clinical Nurse Specialists, and Nurse Anesthetist – Requirements
Future APNs need to complete a graduate educational program and pursue national certification.
Additionally, aspiring APNs may be granted temporary permit pending national certification.
There are a few options for education.
A nurse is eligible for the APN licensing after the completion of a graduate degree program focused on advanced practice roles.
Next, a nurse can complete a master or post-master program in the nursing field and become eligible for the role.
Moreover, the Board requires aspiring APNs to complete a three-semester hour pharmacology course or 45 hours of integrated coursework in pharmacology.
However, those who meet these requirements but have completed in more than five years ago, need to complete another course or have 30 hours of related education.
The related continuing education needs to include pharmacodynamics, pharmacokinetics, practical application.
Also, it needs to prepare APNs to use pharmacological agents to prevent illness and restore health in the related practice area.
APN Certification
In New Jersey, APNs can choose among multiple certifying agencies, and choose the one based on their specialty.
The Board of Nursing in New Jersey accepts certifications issued by organizations accredited through the American Board of Nursing Specialties or the National Commission for Certifying Agencies.
According to the Board, certification should be the highest examination available for the chosen practice.
Therefore, there should be examinations for clinical nurse specialists, nurse practitioners, and nurse anesthetists.
Some of the accredited agencies are:
American Academy of Nurse Practitioners
American Nurses Credentialing Center
Pediatric Nursing Certification Board, Inc.
National Board of Certification and Recertification for Nurse Anesthetists
Future APNs have two attempts to pass the exam while they hold a temporary permit.
Moreover, while practicing under a temporary permit, a nurse has a limited scope of advanced practice and isn't granted prescriptive authority.
The state administrative code 13:37-7.6 states tat out-of-state nurses who hold advanced practice certificate, can be endorsed in New Jersey.
The endorsement is available for the nurses who come from the state with similar educational requirements for advanced practice nurses.
Out-of-state APNs need to show proof of national certification.
The APNs certificates in New Jersey need to be renewed biennially.
Certified Nurse Midwife Requirements and Application Process
The Midwifery Liaison Committee is in charge of the licensing process of nurse-midwives.
But there are some differences.
Nurse-midwives who want to advance their status need to complete a program accredited by the Accreditation Commission for Midwifery Education (ACNE).
Next, they need to be certified through the American College of Nurse-Midwives.
Those who want to get prescriptive authority need to complete at least 30 contact hours of pharmacology coursework.
The coursework may be part of the educational program or completed at an accredited college.
To be accepted, coursework needs to be completed in the last two years.
Candidates, who submitted their fingerprints for the RN licensing process, don't need to repeat the process again.
However, those candidates need to pay a fee for the background check.
You can download all application forms on the Committee website.
Bear in mind that the Midwifery Liaison Committee requires official transcripts and certification verification.
They need to be sent from the primary source.
In New Jersey, future nurse midwives need to verify all their professional licenses.
The application fee for nurse midwives is $125, and an additional $50 for the prescriptive authority.
Certified nurse-midwives need to renew their licenses biennially.
Schools
Across the US, there is a growing need for advanced nurse practitioners in all specialty fields.
Therefore, nurses in New Jersey have a lot of options for proper education.
Fairleigh Dickinson University in Teaneck has DNP, MSN, and graduate certificate programs.
All programs are available as on-campus education.
Online programs can be found at Seton Hall University in South Orange.
The College of New Jersey in Ewing offers an RN to MSN bridge program with the Family Nurse Practitioner specialization track, as well as other programs.
William Paterson University in Wayne has two post-masters programs.
Those are Post Masters Adult Family Nurse Practitioner and Post Masters Adult-Gerontology.
Additionally, you can choose the MSN program with the Family nurse practitioner specialization track or Adult-Gerontology Specialization track.
Rutgers School of Nursing in Newark has the largest number of DNP programs.
Check the table for more information.
| School Name | Address |
| --- | --- |
| Fairleigh Dickinson University | 1000 River Rd Teaneck, NJ 07666, (201) 692-2000 |
| Felician University | One Felician Way Rutherford, NJ 07070, (201) 559-6000 |
| Monmouth University | 400 Cedar Avenue West Long Branch, NJ 07764, (732) 571-3400 |
| Ramapo College | 505 Ramapo Valley Road Mahwah, NJ 07430, (201) 684-7500 |
| Rutgers School of Nursing | 180 University Avenue Newark, NJ 07102, (973) 972-4307 |
| Saint Peter's University | 2641 John F. Kennedy Boulevard Jersey City, NJ 07306, (201) 761-6000 |
| Seton Hall University | 400 South Orange Ave South Orange, NJ 07079, (973) 761-9000 |
| Stockton University | 101 Vera King Farris Drive Galloway, NJ 08205, (609) 652-1776 |
| The College of New Jersey | 2000 Pennington Rd. Ewing, NJ 08628, (609) 771-2591 |
| William Paterson University | 300 Pompton Rd Wayne, NJ 07470, (973) 720-2000 |
Salary
On average, a nurse practitioner in New Jersey earns $120.987 per year.
Therefore, New Jersey is one of the top-paying states for nurse practitioners.
The salary depends on different factors, such as education level, experience level, specialization, healthcare facility, etc.
Annual Salary Range:
Annual Salary by Location:
| Location | Avg. Annual Salary |
| --- | --- |
| Newark | $124,970 |
| Jersey City | $132,412 |
| Paterson | $126,174 |
| Elizabeth | $124,970 |
| Edison | $122,782 |
| Woodbridge | $122,782 |
| Dover | $125,775 |
| Atlantic City | $117,766 |
| Trenton | $123,657 |
| Camden | $117,551 |
Nurse Practitioner by State
---