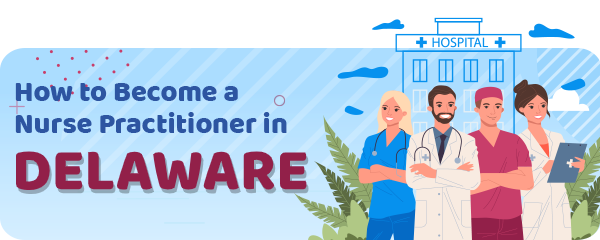 The Board of Nursing in Delaware holds the jurisdiction over advanced practice nurses (APNs) in this state.
There are different roles of APNs, and some of them have a population foci.
The APNs recognized roles in Delaware are nurse practitioners, certified nurse midwives, certified registered nurse anesthetists, and clinical nurse specialists.
Clinical nurse specialists as well as nurse practitioners can choose population foci.
For example, the Board recognizes maternal-child, pediatric, gerontology, and psychiatric-mental health foci for clinical nurse specialists.
The prerequisite for an APN license is having an RN license in Delaware or another nurse compact license state.
Advanced practice nurses in Delaware need to meet certain educational and certification requirements.
However, sometimes there isn't a suitable certification agency, so the APN earns the license based on education alone.
Educational Requirements
To become eligible for the APN license in Delaware, one must complete an accredited master's degree or post basic educational program.
According to the Board of Nursing, a post-basic program is a program that you complete after gaining licensure and lasts for one academic year.
Additionally, the program needs to include at least 400 clinical hours.
The Council for Higher Education Accreditation (CHEA) or the Secretary of Education accredit the educational programs in Delaware.
Certification Requirements
There are several requirements for aspiring APNs in Delaware.
In this state, the Board approves certifying agencies, such as:
The American Association of Critical-Care Nurses
The American Association of Nurse Practitioners
The American Midwifery Certification Board
The American Nurses Credentialing Center
The National Board of Certification and Recertification for Nurse Anesthetists
The National Certification Corporation for the Obstetric, Gynecologic and Neonatal Nursing Specialties, and
The Pediatric Nursing Certification Board
The Board may accept an additional certifying body that isn't initially on the list, but only if it meets the criteria noted in administrative code.
You can check the state administrative code on the State of Delaware official website.
All certifying agencies have similar processes – credential review and examination.
Collaborative Practice Requirement
In Delaware, advanced practice nurses are required to have collaborative agreements with physicians, podiatrists, or dentists.
If a nurse works in more than one place, he or she can hold only one collaborative agreement.
Also, bear in mind that you don't need a collaborative agreement to earn the license but it is required for employment.
Prescriptive Authority
To earn a prescriptive authority, the nurse needs to hold a collaborative agreement and proof of recent coursework in four fields.
Those are:
Advanced health assessment
Advanced pathophysiology
Diagnosis and management of conditions within the particular APN specialty
Advanced pharmacology/ pharmacotherapeutics
Out-of-state APNs don't need to demonstrate coursework if they have completed the advanced nursing program in the last two years.
If the nurse needs controlled substance registration, he or she needs to apply for the Delaware CSR after being granted prescriptive authority.
Recency Requirement
In Delaware, there is an additional, recency requirement which means that an APN needs to have a recent active practice in the role.
It is applied to the nurses who graduated before two years.
In that sense, the Board accepts 1.500 hours of active practice in the last five years or 600 hours in the last two years.
The Application Process
You can download al application forms on the Board of Nursing website.
Additionally, aspiring Delaware APNs need to pass fingerprint-based state and federal background checks.
Those who apply for RN and APN license simultaneously need to pass only one check.
For this process, applicants to sign a release form and submit a copy of the ID od driver's license.
The verification form needs to be sent to the licensing agency and a copy of the certification is included in the application package.
Additionally, all previous transcripts need to be sent directly from an educational institution to the licensing agency.
Those who apply for prescriptive authority have to submit proof of successful completion of four required courses.
Sometimes, the Board may require additional documentation.
All candidates need to pay a fee of $132.
You need to submit your application at least ten business days before a Board meeting to make it on the meeting agenda.
Temporary Permits
APNs may be granted a temporary permit for practice while they wait for the national certification.
A temporary permit expires after 90 days and becomes invalid if a person fails the exam.
However, failing the exam only affects the APN license, and doesn't affect RN license.
You can receive your temporary license within seven days of application if you provide all necessary documents on time, including a criminal background check.
APN Renewal
Both RN and APN licenses need to be renewed every two years.
Schools
There are three schools in Delaware that offer advanced nursing programs.
Students can choose between on-campus and half-classroom, half-online (hybrid) programs.
For example, the University of Delaware in Newark has a hybrid DNP program with a concentration on Family nurse practitioner, Adult-Gerontology, and Psychiatric/Mental Health Nurse Practitioner.
On-campus programs are available at Wesley and Wilmington University.
Students at Wesley University can complete a Post Master's Certificate in Adult-Gerontology for the CNS program.
| School Name | Address |
| --- | --- |
| University of Delaware | 25 North College Newark, DE 19716, (302) 831-1253 |
| Wesley University | 120 North State Street Dover, DE 19901, (302) 736-2300 |
| Wilmington University | 320 N. DuPont Hwy New Castle, DE 19720, (877) 967-5464 |
Salary
On average, a nurse practitioner in Delaware makes $114.903 per year.
However, the specialization and location, as well as certifications, skills, and the facility are determining factors for the salary.
Annual Salary Range:
Annual Salary by Location:
| Location | Avg. Annual Salary |
| --- | --- |
| Wilmington | $116,654 |
| Dover | $116,476 |
| Newark | $116,566 |
| Milford | $116,763 |
| Seaford | $114,356 |
| Middletown | $116,297 |
| Smyrna | $116,347 |
| New Castle | $116,654 |
| Georgetown | $116,763 |
| Lewes | $116,763 |
Nurse Practitioner by State
---