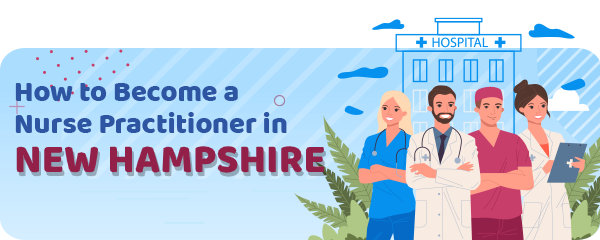 In New Hampshire, the Board of Nursing holds the jurisdiction over Advanced Practice Registered Nurses (APRNs).
There are three roles of APRNs, recognized by the Board:
Nurse Practitioner
Nurse Midwife
Nurse Anesthetist
All APRNs earn their credentials due to their education and role-related training.
Moreover, the basic requirement for all roles is an RN license first in New Hampshire or another compact state.
APRN Educational Requirements
The educational requirements in New Hampshire include completing a graduate-level education program.
The program must include a minimum of 228 hours of theory and 480 hours of clinical practice.
Additionally, clinical requirements include pharmacology praxis.
Aspiring APRNs need to hold a degree at least of the master's level.
The requirement related to a graduate degree doesn't apply to the APRNs who complete their education before July 1, 200
The licensing agency can accept a certificate in that case.
APRN Certification Requirements
The requirements for the full APRN licensure include holding a national certification and certification maintenance.
APRNs get their initial certification based on credential review and successful pass on the examination.
Additionally, applicants need to enroll in continuing education and to meet the standards set by the certifying agency.
The American Midwifery Certification Board is in charge of the certification process of the nurse-midwives in New Hampshire.
Further, the National Board of Certification and Recertification for Nurse Anesthetists certify nurse anesthetists.
Nurse practitioners have the largest number of organizations approved for the certifying process.
Each organization has certificates available for nurse practitioners interested in different specialty areas.
For example, the American Nurses Credentialing Center has certifications for acute care, gerontological, and adult or family psychiatric nurse practitioners.
The National Certification Corporation for the Obstetric, Gynecologic, and Neonatal Nursing Specialties certify women's health and neonatal nurse practitioners.
Adult and family nurse practitioners can be certified through two organizations.
Those are:
American Nurses Credentialing Center
American Academy of Nurse Practitioners
The information and requirements can change.
Therefore, make sure to have the latest information on requirements and approved organizations.
All relevant information is available on the Board of Nursing website and gets regular updates.
Application Process
The license requirements for the APRNs include state and federal criminal background check.
New Hampshire residents can have their fingerprints made electronically.
For example, you can complete the process at the Department of Public Safety in Concord, or in other Livescan sites approved by the Board.
Remember to make an appointment first.
Out-of-state candidates can mail their fingerprint cards.
The fee for the background check is $49.75.
All application forms are available for download on the New Hampshire Board of Nursing website.
Further, the applicants need to note the chosen nurse practitioner category – adult, pediatric, nurse-midwife, or nurse anesthetist.
The application needs to have a copy of the current certification and official transcripts.
APRNs who completed their studies two or more years in the past need to show proof of continuing education.
According to the Board, APRNs need to complete at least 30 continuing education hours.
At least five hours need to in pharmacology.
Furthermore, the applicants need to have active practice status and have a minimum of 400 hours in the last four years.
Candidates with criminal or professional disciplinary history need to provide supporting documents and more details about issues.
Applicants need to pay a fee of $100.
Temporary Licensure
Fresh graduates in New Hampshire need to sign up for the first available examination date for the chosen specialty.
In New Hampshire, new graduates may be granted a temporary license pending examination.
The temporary licensee in Hew Hampshire is known as a TARPN.
A TARPN works under the supervision of licensed APRNs in the same specialty area.
Graduates need to submit standard APRN applications alongside temporary application and supporting documentation.
The additional fee for the temporary permit is $20.
The temporary license expires after the examination in both cases – success or examination failure.
APRNs can use temporary license for a maximum of 120 days.
Renewal and Reinstatement
In New Hampshire, APRNs need to renew their licenses every two years.
The renewal requirements include completion of 30 hours in the APRN specialty area.
Additionally, a similar 30 hours requirement is applied for the RN license renewal.
The Board states that an APRN needs to enroll in 400 hours over four years to fulfill the continuing competency requirement.
APRNs who fail to complete the requirement, need to enroll in the re-entry process offered by universities or certification organizations.
Schools
In the USA, there is a growing need for advanced practice nursing professionals.
However, two schools in New Hampshire offer advanced nursing programs.
River University in Nashua offers graduate certificate programs as well as MSN programs for nurse practitioners.
Education is available as online and campus education.
The University of New Hampshire in Durham has three programs, all traditional classrooms of MSN and graduate certificate type.
| School Name | Address |
| --- | --- |
| Rivier University | 420 South Main Street Nashua, NH 03060, (603) 888-1311 |
| The University of New Hampshire | Hewitt Hall, 4 Library Way Durham, NH 03824, (603) 862-1177 |
Salary
A salary of a nurse practitioner in New Hampshire is $111.073 per year.
It is a result of various calculations including education level, experience level, certifications, location, healthcare facility, etc.
Annual Salary Range:
Annual Salary by Location:
| Location | Avg. Annual Salary |
| --- | --- |
| Manchester | $115,559 |
| Nashua | $118,623 |
| Concord | $112,933 |
| Derry | $116,963 |
| Rochester | $111,598 |
| Salem | $115,997 |
| Dover | $112,058 |
| Merrimack | $118,623 |
| Londonderry | $118,623 |
| Hudson | $118,623 |
Nurse Practitioner by State
---