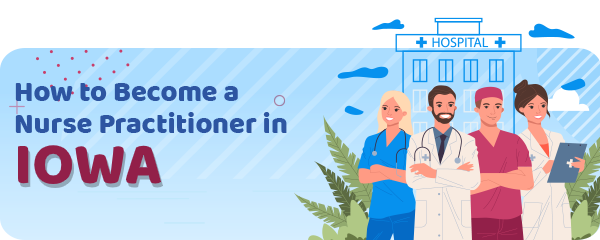 Advanced Registered Nurse Practitioner (APRNs) in Iowa are regulated by the state's Board of Nursing.
Similar to other states, Iowa's Board of Nursing recognizes four roles of APRNs.
Those are Certified Nurse Practitioners, Certified Clinical Nurse Specialist, Certified Registered Nurse Anesthetist, and Certified Nurse Midwife.
The prerequisite for becoming an APRN is to hold a registered nurse license in Iowa.
Additionally, because Iowa is part of the nurse compact agreement that regulates licensing for the out-of-state nurse, the procedure is slightly different.
The nurse needs to provide evidence of his or her education to the Board to be recognized as an ARNP since 2015.
APRN Categories
Some ARNP roles, such as clinical nurse specialists and nurse practitioners, can focus on the specific population.
There are many categories in Iowa for both roles.
For example, a clinical nurse specialist may specialize in oncology, home health, gerontology, orthopedics, etc.
Nurse practitioners have several categories as well.
For example, they can specialize in perinatal, school, acute care nursing, etc.
However, the nursing field is changing and some of the categories that were available in the past aren't available nowadays.
Ambitious APRNs need to recognize which roles and categories are in higher demand.
Also, in Iowa, some certifications belong to the broader categories.
That is the case with Certified Psych/Mental Health Nurse Practitioner' and 'Psychiatric Mental Health Across the Lifespan CNP who belong to Category G.
APRN Educational Requirements
The educational requirements for ARNPs in Iowa include finishing the appropriate program focused on developing nurse practitioner skills in specialty areas, and earning a master's degree.
Additionally, all students are required to complete clinical requirements and finish a certain number of supervised clinical hours.
You can find the list of approved schools on the websites of appropriate licensing agencies.
Also, the list is available on the Board website and includes programs from other states, as well.
Bear in mind that DNP programs are also suitable for APRNs roles.
ARNP Certification Requirements
The next step after finishing the appropriate educational program is to seek an advanced certification.
The certification must go through a Board-approved agency, and the choice of the certifying agency depends on the chosen specialty and role.
However, some agencies, such as the American Nurses Credentialing Center is suitable for several roles.
Other appropriate certifying agencies include American Midwifery Certification Board, American Academy of Nurse Practitioners, American Association of Critical Care Nurses, Council of Certification of Nurse Anesthetists or Re-Certification of Nurse Anesthetists/ National Board of Certification and Recertification for Nurse Anesthetists, etc.
Temporary permits for individuals who are in the process of earning certification are not available in Iowa.
However, candidates who completed advanced nursing training can practice in their defined scope of practice but without the use of the title and without prescriptive authority.
The APRN Application Process
Once a candidate meets all requirements, he or she must apply to the Iowa Board of Nursing, by downloading the forms, filling them out and mailing them back to the Board office.
Additionally, applications can be submitted online through IBON Online Service.
The schools need to send official transcripts directly to licensing agencies.
All candidates need to include a copy of their national certifications.
Residents of other states, that are part of the nursing compact agreement, need to submit the verification of licenses.
Candidates with criminal or disciplinary history need to provide supporting documents to describe past issues.
The application fee is $81.
During the peak season, the application review deadline can extend to a year.
ARNPs who need a DEA number is referred to the Pharmacy Board to get all application materials and additional information.
License Renewal
The requirements for license renewal include continuing education.
A nurse seeking license renewal needs to show evidence of national certification to the Iowa Board and first renew the RN license, and then ARNP license.
Out-of-state nurses from the compact states don't need to go through separate RN licensing.
You can find more information on the Iowa Board of Nursing website regarding license renewal.
Schools
Aspiring APRNs in Iowa have multiple schools to choose for their education.
There are MSN, DNP, and Graduate Certification programs at various schools across Iowa.
Some of the programs are conducted online and others are traditional on-campus courses.
For example, Allen College in Waterloo has several online MSN programs.
The available programs are Family Nurse Practitioner, Adult/Gerontology, Psychiatric/Mental Nurse Practitioner.
Hybrid DNP programs are available at Clarke University in Dubuque.
If you are interested in Graduate Certification programs, you can complete a program at Graceland University in Lamoni.
Programs are created for online education.
The University of Iowa has a wide offer of suitable MSN and DNP programs.
All programs are available online.
Some of the specializations are Family Nurse Practitioner, Pediatric Nurse Acute Care Practitioner, Adult/Gerontology, etc.
Salary
An average yearly salary of a nurse practitioner in Iowa is $104.726.
Different factors such as education level, experience, specialization, location, facility affect the final paycheck.
Annual Salary Range:
Annual Salary by Location:
| Location | Avg. Annual Salary |
| --- | --- |
| Des Moines | $105,863 |
| Cedar Rapids | $103,828 |
| Davenport | $103,357 |
| Sioux City | $91,047 |
| Waterloo | $98,926 |
| Iowa City | $102,975 |
| Council Bluffs | $103,461 |
Regional Salary in Iowa
| Region | Employed | Avg. Annual Salary | Avg. Hourly Pay | Top 10% Annual Salary | Bottom 10% Annual Salary |
| --- | --- | --- | --- | --- | --- |
| Ames, IA | 70 | $119,730 | $57.56 | $145,620 | $101,670 |
| Cedar Rapids, IA | 200 | $122,140 | $58.72 | $133,740 | $100,180 |
| Davenport-Moline-Rock Island, IA-IL | 270 | $123,550 | $59.4 | $165,190 | $97,210 |
| Des Moines-West Des Moines, IA | 520 | $130,670 | $62.82 | $158,690 | $102,480 |
| Dubuque, IA | 80 | $122,720 | $59 | $151,650 | $96,810 |
| Iowa City, IA | 270 | $122,640 | $58.96 | $137,870 | $104,960 |
| Sioux City, IA-NE-SD | 180 | $137,160 | $65.94 | $184,260 | $95,960 |
| Waterloo-Cedar Falls, IA | 260 | $126,190 | $60.67 | $162,560 | $90,810 |
* Salary information based on the May 2022 Occupational Employment Statistics (OES) Survey for Nurse Practitioners, OCC Code 29-1171, BLS.
* Employment conditions in your area may vary.
Nurse Practitioner by State
---