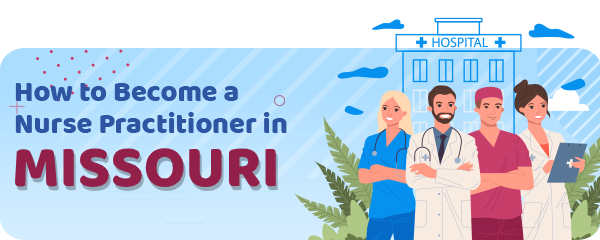 Advanced practice nurses in the state of Missouri are licensed as Registered nurses (RNs) first, and then recognized by the Board as an advance practice registered nurses (APRNS).
They qualify for the APRNs status using the Document of Recognition.
Because Missouri is part of the Nurse Licensure Compact, RN licenses are accepted for the nurses coming from other states part of the Compact, but APRN recognition is state-specific.
The APRNs earn their status due to national certification.
Further, to be eligible for the certification process, APRN candidates need to meet educational requirements.
In Missouri, there is also an option for temporary permits, after completion of the program.
According to the current definition, a graduate program in the APRN specialty area with 500 hours of supervised clinical practice is an advanced nursing program.
In Missouri, the Board of Nursing recognizes four APRN roles:
Nurse Anesthetist
Nurse Midwife
Nurse Practitioner
Clinical Nurse Specialist
Additionally, nurse practitioners and clinical nurse specialists have a specialty area such as family practice, acute care, women's health, etc.
APRN Certification Requirements and Options
Future APRNs in Missouri need to earn their certifications through approved national organizations.
There are many certifying organizations that maintain the certifying process of different roles and specialty areas.
Therefore, nurse anesthetists get certified through the National Board of Certification & Re-certification for Nurse Anesthetists.
The American Midwifery Certification Board is in charge of certifying  Nurse-Midwives.
Next, the American Association of Critical-Care Nurses certifies Clinical nurse specialists.
Additionally, the American Nurses Credentialing Center also offers various certifications for the CNS.
Nurse practitioners have multiple suitable certifying organizations, offering different certifications based on their population focus and specialty areas.
Those are:
National Certification Corporation certifies Neonatal and women's health nurse practitioners
American Nurses Credentialing Center certifies Psychiatric and mental health nurse practitioners
American Academy of Nurse Practitioners suitable for Family, adult, and adult-gerontological nurse practitioners
American Nurses Credentialing Center suitable for Family, adult, and adult-gerontological nurse practitioners
Pediatric Nursing Certification Board certifies Pediatric nurse practitioners
American Association of Critical-Care Nurses certifies Acute care nurses
You can find the document – Nationally Recognized Certifying Bodies Acceptable to the Missouri Board, on the Board website.
Temporary Recognition
In Missouri, fresh graduates may be granted temporary permission to work pending certification.
The permission can last up to four months from the date of graduation.
The requirement for permission is holding an active RN license and taking the first available examination date.
Also, aspiring APRNs need to notify the Board about the examination results.
Application Process
All application materials are available for the download on the Board of Nursing website.
The required documentation includes a copy of the certification.
Furthermore, the authorization form sign by the certifying agency and the Missouri Board is required.
Candidates who have criminal or professional disciplinary history are required to submit supporting documentation about the issues.
Also, nurses who have experience in advanced practice need to provide notarized statements about their duties and practice.
The application needs to be notarized.
All candidates are required to pay a fee of $150.
The verification of the Document of Recognition is available online.
Controlled Substance Prescriptive Authority
In Missouri, there is an additional set of requirements for prescription authority.
Those include evidence of education and training in pharmacology.
In cases when the pharmacology coursework was included in the education program, it can be accepted.
Moreover, the Board accepts a three-semester hour advanced pharmacology course completed in an accredited course in the recent time.
Additionally, 45 hours of recent continuing education are accepted.
Also, all students interested in prescriptive authority need to have at least 300 hours of preceptorship which includes medicine, drugs, and therapeutics devices training.
Lastly, the APRN needs to sign a collaborative agreement with licensed physicians with a DEA number from the same specialty field.
Only after a nurse gains 1.000 hours of active experience, he or she may apply for the prescriptive authority.
You can download all forms required for prescriptive authority on the Board of Nursing website.
Maintaining APRN Status
In Missouri, APRNs need to maintain RN license and certification.
APRNs with national certifications don't need to renew their APRN status, but they need to renew RN licenses.
The certification agency is in charge of setting requirements, which usually include continuing competency.
APRNs who earned their advanced credentials in Missouri before 2010, may not hold a national certification.
The requirements in those cases include continuing education and reporting to the Missouri Board at set intervals.
Schools
Future APRNs in Missouri have multiple schools and programs available for advanced nursing education.
For example, Barnes Jewish College offers two graduate certificate programs for nurse practitioners with Acute care and Primary care specializations.
The Maryville University in St. Louis has multiple DNP, and BSN to DNP bridge programs.
Some of the available specializations are Psychiatric/Mental Health, Family, Adult, Gerontology, etc.
MSN programs are also available at this university, as well as graduate certificate programs.
University Of Missouri Kansas City also offers a variety of DNP and MSN programs.
All programs are conducted in hybrid form.
Check the table for more information on the schools in Missouri.
| School Name | Address |
| --- | --- |
| Barnes Jewish College | 4483 Duncan Avenue St. Louis, MO 63110, (314) 454-7055 |
| Barnes-Jewish College Goldfarb School of Nursing | 4483 Duncan Avenue St. Louis, MO 63110, (314) 454-7055 |
| Maryville University | 650 Maryville University Drive St. Louis, MO 63141, (314) 529-9300 |
| Missouri State University | 901 S National Ave Springfield, MO 65897, (417) 836-5000 |
| Mizzou Online- University of Missouri | 136 Clark Hall Columbia, MO 65211, (573) 882-2491 |
| Saint Louis University | 3525 Caroline Mall Saint Louis, MO 63104, (314) 977-8909 |
| Southeast Missouri State University | One University Plaza Cape Girardeau, MO 63701, (573) 651-2000 |
| University of Central Missouri | P.O. Box 800 Warrensburg, MO 64093, (877) 729-8266 |
| University of Missouri - St. Louis | 1 University Blvd. St. Louis, MO 63121, (314) 516-5000 |
| University of Missouri Health | S235 School of Nursing Columbia, MO 65211, (573) 882-0277 |
| University Of Missouri Kansas City | 5100 Rockhill Rd Kansas City, MO 64110, (816) 235-1000 |
Salary
The annual median salary of a nurse practitioner in Missouri is $104.288.
Bear in mind that the salary of nurse practitioners depends on multiple factors, including education level, certification, employer, experience, and location.
Annual Salary Range:
Annual Salary by Location:
| Location | Avg. Annual Salary |
| --- | --- |
| Kansas City | $107,429 |
| Saint Louis | $107,746 |
| Springfield | $105,637 |
| Independence | $107,312 |
| Columbia | $106,586 |
| Saint Joseph | $106,408 |
| Lee's Summit | $107,020 |
| St. Charles | $107,163 |
| St. Peters | $106,929 |
| Florissant | $107,571 |
Nurse Practitioner by State
---