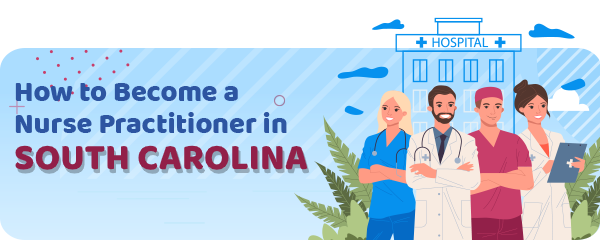 The state's Board of Nursing regulates the practice of Advanced Practice Registered Nurse (APRNs).
There are four recognized roles of APRNs in South Carolina, similar to other states.
Those are Nurse Practitioner (NP), Certified Nurse Midwife (CNM)
Clinical Nurse Specialist (CNS), and Certified Registered Nurse Anesthetist (CRNA).
The mandatory requirement for all aspiring APRNs is holding a Registered nurse license.
The educational requirement for APRNs includes a competition of graduate nursing programs.
Aspiring APRNs need to pass the national certification examination.
However, the requirements are different for nurses who completed their studies in the more distant past.
Educational Requirements for APRNs in South Carolina
If you want to improve your career options and salary and become an APRN, you need to complete the MSN program or post-master programs, or doctoral level program.
However,  CRNAs who have complete their studies at accredited programs before December 31, 2003, can earn their licenses without an MSN degree.
Nurses who are specialized in other roles can be excused from the MSN degree requirement, if they completed their studies before December 31, 1994.
Certification Requirements for APRNs
The state's Board of Nursing approves third-parties certifying agencies that are in charge of APRNs certification process.
There is a deadline of one year for fresh graduates to complete the examination and earn the certification.
However, psychiatric clinical nurse specialists have two years from graduation date to earn certification.
You can find the complete list of the approved certifying organization on the website of South Carolina's Board of Nursing.
Different agencies are in charge of the certification process of different APRN roles.
For example, nurse midwives get certified through the American Midwifery Certification Board (ANMC).
CRNAs seek certification through National Board of Certification & Recertification for Nurse Anesthetists (NBCRNA)
In South Carolina, nurse practitioners can choose among five approved certification organizations.
Those are the American Nurses Credentialing Center (ANCC), the American Academy of Nurse Practitioners (AANP), the American Association of Critical-Care Nurses (AACN), the National Certification Corporation (NCC), and the Pediatric Nurses Certification Board (PNCB).
The Board lists note that ANCC is suitable for a variety of specialty certification based on population focus.
For example, nurses focused on Adult, Family, Acute Care, Pediatric Primary Care, etc., can get their certifications through ANCC.
AACN offers certification for Adult Acute Care and Adult/Gerontology Acute Care nurses.
The NCC offers certifications for Neonatal and Women's Health Care.
PNCB on the other hand is suitable for pediatric nurses.
Clinical nurse specialists in South Carolina are certified through the American Nurses Credentialing Center or the American Association of Critical-Care Nurses.
The examination can change occasionally, so make sure you hold fresh information on examination requirements.
Prescriptive Authority Requirements
All roles, except CRNAs, who seek prescriptive authority need to complete 45 contact hours of pharmacotherapeutics.
Suitable coursework needs to be done in the last two years.
Out-of-state APRNs who hold prescriptive authority need to complete 20 hours.
To maintain the prescriptive authority, APRNs need to complete 20 hours of continuing education every two years.
CRNAs don't have to earn the prescriptive authority to be able to administer anesthesia.
Background Check
All applicants need to pass the fingerprint-based criminal background checks.
The in-state applicants and out-of-state applicants have different procedures for background checks.
South Carolina candidates need to schedule electronic fingerprinting, and out-of-state instructions are available on the South Carolina page of the Identogo website.
The Application Process
All candidates need to be familiar with the Nurse Practice Act.
Furthermore, you can find and download all application forms on the Board website.
If you prefer, you can submit your application online.
Registered nurses with a valid South Carolina RN license can file an update application, while out-of-state nurses need to file an endorsement application.
All candidates need to submit proves of proper education and certification.
Your transcripts need to be sent directly to the Board of Nursing from your school.
Additionally, you need to submit a copy of appropriate-size photography as well as a copy of the South Carolina RN license.
Candidates coming from the NURSYS states can complete the application process online.
The endorsement fee is $130, and candidates who seek temporary licenses need to pay an additional fee of $10.
Applicants who need to upgrade their licenses have to pay $30 for a temporary permit, and those who need temporary advanced practice licensure pay $40.
The fee for obtaining prescriptive authority is $20.
The average duration of the upgrade application review is ten business days.
All licenses need to be renewed every two years.
Schools
Aspiring APRNs in South Carolina has multiple options for appropriate advanced nursing education.
For example, Anderson University offers high-quality MSN and DNP programs that are available in the online form.
Clemson University offers a Family Nurse Practitioner MSN program and Adult/Gerontological Nurse Practitioner specialization.
Hybrid programs, conducted partially online are available at the University of South Carolina in Columbia.
Check the table for more schools in South Carolina.
| School Name | Address |
| --- | --- |
| Anderson University | 316 Boulevard Anderson, SC 29621, (864) 231-2000 |
| Clemson University | 508 Edwards, Clemson University Clemson, SC 29634, (864) 656-7622 |
| Francis Marion University | PO Box 100547 Florence, SC 29502, (800) 368-7551 |
| University of South Carolina | 1601 Greene Street Columbia, SC 29208, (803) 777-7412 |
Salary
An average salary of a nurse practitioner in South Carolina is $102.428.
Salary of all health care workers is calculated using different factors such as education level, experience, certificates, location, facility, etc.
Annual Salary Range:
Annual Salary by Location:
| Location | Avg. Annual Salary |
| --- | --- |
| Columbia | $102,778 |
| Charleston | $103,920 |
| North Charleston | $103,920 |
| Greenville | $106,766 |
| Rock Hill | $107,713 |
| Mount Pleasant | $103,920 |
| Spartanburg | $101,508 |
| Sumter | $97,853 |
| Hilton Head Island | $101,631 |
| Florence | $98,401 |
Nurse Practitioner by State
---