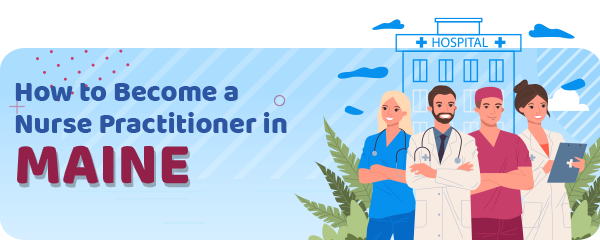 The Maine State Board of Nursing issues licenses to the advanced practice nurses.
The majority of the US states, including Maine, have four roles of the advanced practice nurse.
Those are Nurse Practitioners, Certified Nurse-Midwives, Clinical Nurse Specialists, and Nurse Anesthetists.
Nurse practitioners and clinical nurse specialists can specialize in different areas based on population.
The prerequisite for APRN license is having a registered nurse license in Maine or in another state that is part of the compact agreement.
Different specialties include different requirements.
Also, the prescriptive authority is granted to nurse practitioners and certified midwives, but they need to meet some standards.
The procedure for obtaining an APRN license in Maine includes completing the graduate certificate program and passing the certification examination.
Nurses in Maine may be granted a permit to practice during the short period before they achieve certification.
Additionally, nurse practitioners need to complete a certain number of supervised practice.
Nurse Practitioners Requirements
To become a nurse practitioner, one must complete an accredited nursing program in the chosen area of practice.
Also, all nurse practitioners need to complete 45 contact hours (or three credit hours) in the pharmacology coursework.
The next step for aspiring nurse practitioners is pursuing national credentialing.
In Maine, there are several certifying agencies.
Those are the American Nurses Credentialing Center, the American Academy of Nurse Practitioners, the National Board of Pediatric Nurse Associates and Practitioners, and the National Certification Corporation for the Obstetric, Gynecologic and Neonatal Nursing Specialties.
Moreover, there are other certifying organizations that Board can accept, but the candidate should first contact the Board to determine the eligibility of the agency.
In Maine, candidates have two attempts to pass the examination.
The deadline to complete the test is 24 months.
Additionally, nurse practitioners in Maine need to complete 24 months of supervised practice.
Nurse practitioners who start their job in hospitals or clinics may complete the requirements this way, but only if the director of the facility is licensed, physician.
Otherwise, nurse practitioners need to find an appropriate, compatible licensed nurse practitioner or physician to act as a supervisor.
Nurse Midwife Requirements
There are similar requirements for nurse-midwives.
They need to complete a graduate or post-graduate program in the midwifery.
Aspiring nurse midwives need to complete three credit hours (equal to 45 contact hours) of pharmacology coursework.
The American College of Nurse-Midwives Certification Council (now goes under the name of American Midwifery Certification Board) is in charge of nurse-midwives certification.
To maintain the license, nurse midwives need to enroll in continuing education.
Clinical Nurse Specialist Requirements
Aspiring clinical nurse specialists have to complete appropriate programs designed to train the candidates for the role.
Only programs accredited through the American Association of Colleges of Nursing or the National League for Nursing are appropriate.
Bear in mind, that the National League for Nursing now goes under the name of the Accreditation Commission for Education in Nursing.
The next step for CNSs, after program completion, is passing a national certification examination.
There are a few appropriate certifying agencies for CNSs in Maine.
Those are the American Nurses Credentialing Center (ANCC), the American Association of Critical-Care Nurses (AACN), etc.
Also, CNS graduates may work up to 12 months while they are in the process of earning credentials.
Failing the exam means losing the authorization to practice under the title Clinical nurse specialist, but doesn't affect the RN licenses.
Certified Registered Nurse Anesthetists Requirements
In Maine, aspiring nurse anesthetist need to complete at least a master's degree in any of the programs accredited through the Council on Accreditation of Nurse Anesthesia.
Nurse Anesthetists also need to pass the national certification.
According to Administrative Rules, nurse anesthetists in Maine gain their certifications through the Council on Certification of Nurse Anesthetists.
Additionally, the Board accepts recertification by the Council on Recertification of Nurse Anesthetists.
You can find more information on the website of the National Board of Certification & Recertification for Nurse Anesthetist.
During the certification procedure, nurse anesthetists may practice, but only under the supervision and he or she will have graduate status.
The supervisor, in this case, must be an anesthesiologist or licensed nurse anesthetist.
Renewal Requirements
All advanced practice nurses in Maine need to renew their licenses every two years.
The renewal requirement is to complete 75 CEUs.
Schools
There are a few schools in Maine suitable for aspiring APRNs.
For example, Husson University in Bangor offers a graduate certificate program with a concentration on Family & Community nurse practitioners.
The same program is available as an MSN program, and both are conducted fully online.
Next, the University of Maine in Orono offers a Family Nurse Practitioner graduate certificate program as an online course.
Additionally, if you choose the MSN program at this University, you can expect hybrid form – a combination of campus and online courses.
Lastly, the University of Southern Maine has three programs for aspiring APRNs.
| School Name | Address |
| --- | --- |
| Husson University | 1 College Circle Bangor, ME 04401, (207) 941-7000 |
| University of Maine | 5724 Dunn Hall Orono, ME 04469-5724, (207) 581-2592 |
| University of Southern Maine | PO Box 9300 Portland, ME 04104, (180) 080-0487 x6 |
Salary
An average salary of a nurse practitioner in Maine is $105.492 per year.
However, salary tremendously depends on location, experience, and healthcare facility.
Check the table for more information on salaries across Maine.
Annual Salary Range:
Annual Salary by Location:
| Location | Avg. Annual Salary |
| --- | --- |
| Portland | $109,505 |
| Lewiston | $108,410 |
| Bangor | $100,006 |
| South Portland | $109,505 |
| Auburn | $108,410 |
| Brunswick | $108,556 |
| Biddeford | $108,994 |
| Sanford | $110,716 |
| Augusta | $103,661 |
| Scarborough | $109,505 |
Nurse Practitioner by State
---