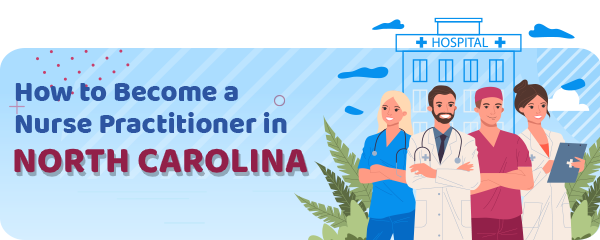 Advanced practice nurses in North Carolina are licensed as registered nurses (RNs) and registered as Advanced practice registered nurses (APRNs).
North Carolina is a party to the Nurse Compact Agreement, so the RN license may be issued in North Carolina or in another state that participates in the agreement.
However, the APRN registration is state-specific.
In North Carolina, there are four roles of APRNs:
Nurse Practitioner (NP)
Certified Nurse Midwife (CNM)
Clinical Nurse Specialist (CNS)
Certified Registered Nurse Anesthetist (CRNA)
Since July 2015, the CNS requirements slightly changed, and now all four roles need to register with the Board.
The requirements include graduate degree, and national certification, license maintenance, etc.
Popular Programs
Nurse Practitioner Requirements
Aspiring nurse practitioners in North Carolina need to complete a Master's program in the nursing field.
Additionally, a program needs to be nationally accredited and approved by the Board.
There are several certification agencies suitable for nurse practitioners:
The American Academy of Nurse Practitioners (AANP)
The American Association of Critical-Care Nurses (AACN)
The American Nurses Credentialing Center (ANCC)
The National Certification Corporation of the Obstetric Gynecological and Neonatal Nursing Specialties (NCC)
The Pediatric Nursing Certification Board (PNCB)
The North Carolina Board of Nursing and the North Carolina Medical Board share jurisdiction over nurse practitioners in this state.
You can find more information about laws and rules in place in the state on the website of the Board of Nursing.
Besides, nurse practitioners in North Carolina work under physician approval, which needs to be renewed annually.
Certified Nurse Midwife Requirements
Aspiring nurse-midwives in North Carolina need to complete qualifying programs that will make them eligible for the suitable certifications.
Nurse-midwives in North Carolina are certified through the American Midwifery Certification Board (AMCB).
After they complete the education, aspiring nurse-midwives apply for the certification and maintain it.
The Join Midwifery Committee holds the jurisdiction over nurse-midwives in North Carolina.
You can find more rules and regulations on the website of the Board of Nursing.
Similar to nurse practitioners, nurse midwives in North Carolina work under supervision by obstetrics physicians.
Aspiring nurse-midwives who are in waiting for the examination and have met the educational requirements may be granted Graduate Nurse Midwife Applicant Status by the Committee.
In that case, a nurse has a limited scope of practice.
The status is valid until the certification process is completed, or the nurse is notified about the examination results.
The maximum duration of the Graduate status is six months since the graduation date.
The Nurse Practitioner/Certified Nurse Midwife Application Process
Because nurse practitioners and nurse midwives in North Carolina work with collaborative physicians they need to registers and submit the "approval to practice" document.
Approval is a necessary step, and without it, nurse practitioners aren't legally allowed to practice.
Once the work setting or any change happen related to the work, nurse practitioners and nurse midwives need to report it to the Board.
Luckily, the application process is online.
The process starts by choosing a suitable APRN category and following the steps.
The nurse-midwife fee is $100 per physician.
Nurse practitioners need to pay $25 for registration, and an additional $100 for approval.
The approval fee is reduced to $20 for nurse practitioners who enroll in volunteering programs.
Clinical Nurse Specialist Requirements
Clinical nurse specialists also need to hold a degree at least on a master's level.
The programs need to be properly accredited by one of the two suitable organizations in North Carolina.
Those are the Council of Higher Education Accreditation (CHEA) and the U.S. Secretary of Education.
In North Carolina, a clinical nurse specialist is required to hold a certification issued by approved agencies.
For specialty areas when there is no suitable certification, the Board accepts alternate demonstration of competency.
It may include a minimum of 1.000 hours of work experience and 75 CE contact hours in the last five years.
Additionally, a clinical nurse specialist needs to submit a resume and letters of recommendation.
Clinical nurse specialists who were first certified before 2007 have different standards.
They need to hold the degree at masters level, but some minor exceptions can be made.
However, clinical nurse specialists who are out-of-practice for more than two years, need to take a refresher course to be registered.
Certified Registered Nurse Anesthetist Requirements
Nurse anesthetists are also expected to hold a master's degree and suitable certification.
The National Board of Certification and Recertification for Nurse Anesthetists (NBCRNA) is in charge of certifying CRNAs.
They need to renew the advanced practice status biennially.
The Nurse Anesthetist/ Clinical Nurse Specialist Application Process
The Board of Nursing in North Carolina holds the jurisdiction over nurse anesthetists and clinical nurse specialists.
The application can be completed online.
Aspiring nurse anesthetists need to pay $25 fee for state recognition, while clinical nurse specialists pay $25 for registration.
Schools
Aspiring APRNs in North Carolina have several schools to choose from, that offer graduate certificate, MSN, and DNP programs.
Some of the programs are available in online or hybrid form.
For example, MSN programs with different specialization tracks such as Family, Adult-Gerontology, Neonatal, Pediatric, etc., are available at the Duke University in Durham.
DNP programs are offered at The University Of North Carolina At Chapel Hill.
Next, Western Carolina University in Cullowhee is known for its excellent graduate certificate program with the Family nurse practitioner specialization track.
Check the table for more information.
| School Name | Address |
| --- | --- |
| Duke University | 307 Trent Drive Durham, NC 27710 (919) 684-3786 |
| East Carolina University | East Fifth Street Greenville, NC 27858, (252) 328-6131 |
| Gardner-Webb University | 110 S. Main St., P.O. Box 997 Boiling Springs, NC 28017, (704) 406-4000 |
| The University Of North Carolina At Chapel Hill | Carrington Hall Chapel Hill, NC 27599, (919) 962-2211 |
| University of North Carolina at Charlotte | 9201 University City Blvd Charlotte, NC 28223, (704) 687-8622 |
| University of North Carolina Wilmington | 601 S. College Road Wilmington, NC 28403, (910) 962-3000 |
| Western Carolina University | 1 University Way Cullowhee, NC 28723, (828) 227-7211 |
| Winston-Salem State University | 601 S Martin Luther King Jr Dr Winston-Salem, NC 27110, (336) 750-2000 |
Salary
Nurse with MSN degrees is paid better than nurses with some lower education degree.
However, a salary depends on experience as well as certification, Department, employer, city, etc.
An average annual salary of a nurse practitioner in North Carolina is $104.397.
Annual Salary Range:
Annual Salary by Location:
| Location | Avg. Annual Salary |
| --- | --- |
| Charlotte | $107,197 |
| Raleigh | $104,988 |
| Greensboro | $104,581 |
| Durham | $104,406 |
| Winston-Salem | $104,835 |
| Fayetteville | $100,414 |
| Cary | $104,988 |
| High Point | $105,207 |
| Wilmington | $99,812 |
| Asheville | $100,524 |
Nurse Practitioner by State
---