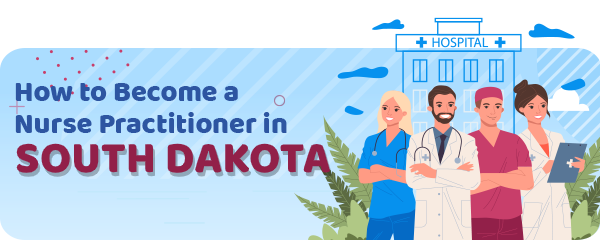 In South Dakota, advanced practice nurses are termed as APNs or APRNs.
The state's Board of Nursing regulates the field of APRNs in South Dakota.
There are four formally recognized roles of APNs in South Dakota – Certified Nurse Midwife (CNM), Certified Nurse Practitioner (CNP), Clinical Nurse Specialist (CNS), and Certified Registered Nurse Anesthetist (CRNA).
Aspiring APRNs need a registered nurse license in South Dakota.
South Dakota takes part in the nursing license compact which means that nurses are qualified for RN license if they hold a license in some other state, that is part of the compact.
Residents of non-compact states need to apply for RN by endorsement and fulfill all criteria for licensure.
Sometimes, additional requirements include advanced education and certification.
Requirements for Certified Nurse Midwives and Nurse Practitioners
The Board specifies the requirement for nurse practitioners and nurse-midwives in the article 20:62.
To gain the license, one must complete a specific program for CNP or CNM role.
The degree-level must be graduate and the program accreditation must come through the U.S. Department of Education.
You can find the complete list of accreditation agencies for advance-practice nursing programs in the application materials.
Some of the appropriate agencies are American College of Nurse-Midwives, National Association of Nurse Practitioners, and the Commission on Collegiate Nursing Education.
Aspiring APRNs might get temporary approval once they complete their studies, but to gain a certificate, they need to pass the national certification examination.
There are several nurse practitioner practice areas in South Dakota.
Those are:
Family
Adult
Pediatrics
Gerontology
Neonatal
Psychiatric/ Mental Health
Women's Health
Organizations such as the American Academy of Nurse Practitioners, American College of Nurse-Midwives, American Nurses Credentialing Center and others are approved certification organizations in South Dakota.
Additionally, nurse practitioners and nurse midwives can practice advanced medical functions under collaboration with a physician.
Clinical Nurse Specialist and Nurse Anesthetist Requirements
The Board describes requirements for clinical nurse specialists and nurse anesthetists in Article 20:48.
To become a clinical nurse specialist, a nurse needs to complete an education program and earn a master's degree.
The next step is passing the examination.
Organizations such as the American Association of Critical-Care Nurses, American Nurses Credentialing Center, etc. are in charge of clinical nurse specialist certification.
For more information about certification and eligibility, you can always contact the Board of Nursing.
There is a similar procedure for nurse anesthetists.
The Council on Accreditation of Nurse Anesthesia Educational Programs accredits programs suitable for nurse anesthetists.
The National Board for Certification and Recertification of Nurse Anesthetists (NBCRNA) maintains the examination of nurse anesthetists.
APRN Application Process
South Dakota is one of the states where a fingerprint-based criminal background check is required for the APRN application.
You can schedule your fingerprinting procedure by telephone or email.
All application forms and useful materials are available for download on the Board of Nursing website.
The South Dakota Board requires fingerprint-based criminal background checks. Fingerprints may be made at a local law enforcement agency. However, the applicant will need to use Board-issued cards. Prospective licensees may make requests for fingerprinting packets by either telephone or email.
The forms differ based on the advanced-practice role, but there are some similarities.
All applicants need to submit official transcripts.
Additionally, schools need to fill out a verification form to confirm that the program met standards.
The South Dakota Board of Nursing requires that verification of current certification, but the process may be different in different organizations.
An out-of-state registered nurse from another compact state needs to submit his or her license.
Candidates with disciplinary history need to provide supporting documentation.
The application process for nurse practitioners and nurse midwives include additional document by supervising physician.
The application fee for all advanced roles is $100 and the application review period is four to six weeks.
Temporary Permits
All aspiring advanced practice nurses may apply for a temporary permit.
Only those who test promptly after graduation is eligible for the temporary permit.
Candidates who are waiting for examination or results may be issued with temporary permits, but the Board needs confirmation from the chosen certifying organization.
To apply for a temporary permit, the candidate needs to submit a copy of the state license and copy of the national certification.
The fee for the temporary permit is $25.
Additionally, candidates are eligible to apply for the temporary license once the fingerprints are received.
License Renewal
The requirements for license renewal include evidence of continuing education.
Schools
At the moment, two schools in South Dakota offer appropriate education for advanced practice nurses.
Those are Mount Marty College in Yankton.
Students at this college can choose Family Nurse Practitioner and Psychiatric Mental Health Nurse Practitioner specialization.
Both programs are conducted on-campus.
Students looking for a hybrid or online programs can apply for the Graduate Certificate programs at South Dakota State University.
Additionally, there is an MSN program for Family Nurse Practitioners in hybrid form.
| School Name | Address |
| --- | --- |
| Mount Marty College | 1105 West 8th Street Yankton, SD 57078, (605) 668-1545 |
| South Dakota State University | 1015 Campanile Ave. Brookings, SD 57007, (605) 688-4121 |
Salary
An average annual salary of a nurse practitioner in South Dakota is $93,673.
Bear in mind that salary can be modified due to different education levels, different levels of experience, specialization, location, certifications, etc.
Annual Salary Range:
Annual Salary by Location:
| Location | Avg. Annual Salary |
| --- | --- |
| Sioux Falls | $95,906 |
| Rapid City | $94,975 |
| Aberdeen | $89,186 |
| Watertown | $94,264 |
| Brookings | $94,264 |
| Mitchell | $94,264 |
| Pierre | $90,828 |
| Yankton | $92,163 |
| Huron | $91,725 |
| Vermillion | $90,062 |
Nurse Practitioner by State
---