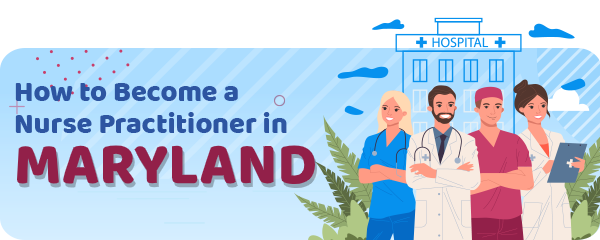 Maryland's State Board of Nursing regulates the practice of advanced practice registered nurses (APRNs).
Unlike other US states, there are five recognized roles in Maryland.
Those are Nurse Practitioners (NP), Clinical Nurse Specialist (CNS), Nurse Midwife (NM), Nurse Anesthetists (CRNA), and Nurse Psychotherapist (APRN/PMH).
The role of Nurse Psychotherapist isn't common in other states, even though advanced practitioners with similar training have other titles in other states.
Maryland is part of the compact agreement, so APRNs need to hold RN license in Maryland or in other compact states.
In Maryland, nurses gain their advanced status due to their education and certification.
Each specialty has different specializations.
Also, some roles are broad and include various subspecialties.
Maryland state regulations changed in the recent past.
For example, the passage of the Full Practice Authority Act of 2015,
There have been a number of recent changes, including passage of the Full Practice Authority Act of 2015, a law impacting the practice of nurse practitioners.
Nurse Practitioner Requirements
To become a nurse practitioner in Maryland, nurses need to complete the appropriate program, approved by the Board of Nursing.
Also, nurses need to pass the Board-approved examination.
You can find the complete list of approved programs on the website of the Board, including nation-wide programs.
The programs that are not on the list may be approved, but only if they meet the Board standards.
Accreditation of the program must be done through the US Department of Education or the Council for Higher Education Accreditation.
Therefore, a program must fulfill educational criteria and include coursework in pharmacology and advanced health assessment.
Nurse practitioners can pick an area of specialization.
Therefore, they can pursue certification in family, adult acute care, neonatal, etc.
A nurse practitioner certification must be recognized nationwide and by the Board.
There are four suitable organizations for the certifying process.
Those are:
 American Nurses Credentialing Center,
American Academy of Nurse Practitioners,
Pediatric Nursing Certification Board, and
National Certification Corporation.
Not all certifications are suitable for nurse practitioners licensure.
In late 2015, there were some changes in the new licensing law, and application forms might not yer reflect the new standards.
But, the latest role of the Nurse Psychotherapist application packet comes with the complete list of accepted certifications for nurse practitioners.
If you have any questions regarding the licensure process, you can contact the licensing agency.
Those who want to practice in an area other than the original NP program, need to complete additional training and submit a proof of it to the agency.
Nurse Midwife Requirements
Aspiring nurse midwives need to earn a master's level degree or higher degree.
But, nurse midwives who completed their education before July 1, 2014, are exempt from the requirements.
Their educational programs are accepted as valid if they are approved by the American Midwifery Certification Board (AMCB.)
In Maryland, nurse midwives need to earn their certifications through AMCB or other approved agencies.
Those who don't hold a master's degree need to earn certification through AMCB.
Nurse Anesthetist Requirements
Only nurse anesthetists who completed their educational programs before January 1, 2008, don't have to hold a master's degree.
Nurse anesthetists in Maryland earn their certifications through
Council on Certification of Nurse Anesthetists or other Board-approved entities.
Clinical Nurse Specialist Requirements
In Maryland, clinical nurse specialists have two pathways – certification and alternate certification.
The minimum degree a clinical nurse specialist must hold is a master's degree.
To earn the certification, aspiring CNS needs to pass the national certification exam.
American Nurse Credentialing center offers certifications for CNS in various specialty areas.
Some of them are Adult health, Home health, Gerontological, Pediatric, Public/ community health, etc.
Also, bear in mind that certifications can change.
Therefore, not all certifications are available for new applicants.
The second pathway includes obligatory practice as CNS.
In this way, the requirements are less stringent.
The master's degree is required, and some certification.
Nurse Psychotherapist Requirements
Similarly, aspiring nurse psychotherapists in Maryland need to complete a master's degree in psychiatric mental health nursing.
The organizations suitable for their certifications are American Nurses Credentialing Center – ANCC.
The certification is a psychiatric mental health certification.
Graduate Practice Opportunity
Nurses who complete educational requirements for APRNs can work undergraduate status.
In this case, advanced practitioners need to be supervised.
For the most part, the supervisor comes to form the same or compatible field.
The Application Process
You can download all application materials for the advanced practice role on the website of Maryland State's Board of Nursing.
Official transcripts and a copy of qualifying certifications are required.
Additionally, the licensing agency seeks a copy of the RN license.
CNS interested in applying for alternate certification needs to provide additional documentation to showcase work history, resume, course descriptions, letter fo recommendation, and proof of any successful examination.
All applicants need to pay a nonrefundable fee of $50.
Those who want to earn second advanced practice credentials pay $25.
Renewal Requirements
All advanced nursing roles must enroll in activities for maintaining their certifications.
For example, nurse midwives need to submit evidence of enrollment in continuous educational programs.
Schools
There are several schools options for advanced nursing roles in Maryland.
For example, Coppin State University in Baltimore offers Post-Master Certification in Family Nurse Practitioner (FNP).
The program is conducted on-campus.
Those who seek an online education can choose the Graduate Certificate program at John Hopkins University.
Hybrid programs are available at the University of Maryland, as well as John Hopkins University.
| School Name | Address |
| --- | --- |
| Bowie State University | 14000 Jericho Park Road Bowie, MD 20715, (301) 860-4000 |
| Coppin State University | 2500 West North Avenue Baltimore, MD 21216, (410) 951-3000 |
| Johns Hopkins University | 525 N. Wolfe Street Baltimore, MD 21205, (410) 955-4766 |
| Salisbury University | 1101 Camden Avenue Salisbury, MD 21801, (410) 543-6000 |
| University of Maryland | 655 W. Lombard St. Baltimore, MD 21201, (410) 706-6109 |
Salary
On average, a nurse practitioner in Maryland earns $112.830 per year.
Bear in mind that salary is a result of different factors, including experience and education level, location, facility, working hours, etc.
Annual Salary Range:
Annual Salary by Location:
| Location | Avg. Annual Salary |
| --- | --- |
| Baltimore | $112,495 |
| Frederick | $117,116 |
| Gaithersburg | $120,779 |
| Bowie | $120,853 |
| Rockville | $120,962 |
| Hagerstown | $110,840 |
| Annapolis | $115,655 |
| College Park | $121,108 |
| Salisbury | $116,424 |
| Cumberland | $100,414 |
Nurse Practitioner by State
---