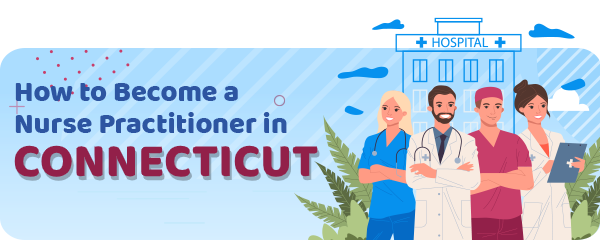 In Connecticut, advanced practice registered nurses (APRNs) earn their credentials through the State's Department of Public Health (DPH).
APRNs earn their licenses due to their advanced nursing education and third-party certification.
In the state of Connecticut, there are multiple certifications roles of nurse practitioners, clinical nurse specialists, and nurse anesthetists.
Nurse-midwives are also licensed as advanced practice nurses in Connecticut, but they have different requirements and different application processes.
Since 2014, advanced practice nurses are allowed to practice independently.
However, to be eligible to practice independently, nurses need to practice under a collaboration agreement with a physician for at least the first three years of their employment.
APRN Education Requirements
Aspiring nurse practitioners, clinical nurse specialists, and nurse anesthetists need to earn a master's degree in nursing.
However, nurses who qualified for the advanced nursing license before December 31, 1994, are an exception from the master's degree requirements.
To earn the license an advanced practice requirement, aspiring APRNs need to complete 30 hours of pharmacology course work.
Also, APRNs need to pursue national certification issued by one of the approved organizations.
Those are:
American Association of Nurse Anesthetists
Pediatric Nursing Certification Board
American Nurses Credentialing Center
National Certification Corporation for the Obstetric, Gynecologic, and Neonatal Nursing Specialties
American Academy of Nurse Practitioners
Oncology Nursing Certification Corporation
American Association of Critical-Care Nurses
Another requirement for APRNs is holding a license as a registered nurse in Connecticut.
Temporary APRN Practice Pending Certification
While waiting for the date of a certifying exam, a registered nurse may be granted a temporary permit.
The maximum timeframe is 120 days.
A registered nurse with a temporary permit can work, but only under supervision.
You can find more information about requirements in the Nurse Practice Act, Section 20-101.
Additional APRN Requirements
In Connecticut, during the first three years, a nurse must work under collaboration with physicians, or until she completes 2.000 practice hours.
Also, advanced practice nurses in Connecticut need to have liability insurance.
However, nurses who earned their certification through the AANA might be exempted from this rule.
Nurse Practice Act, Section 20-94c describes more about insurance requirements.
The APRN Application Process
The Department of Public Health has all application materials for download.
Clinical nurse specialists, nurse anesthetists, and nurse practitioners use the same application packet.
Department in Health in Connecticut require documents to be sent from the primary source.
Therefore, the issuing institution needs to send official transcripts to the DPH.
Dean or director of the program needs to verify completed coursework and you can find the verification form on the Board website.
The license verification is also required for out-of-state nurses with licenses issued outside Connecticut.
Luckily, out-of-state nurses may complete the process online through the National Council of State Boards of Nursing' NURSYS System.
If the electronic verification isn't enabled, you can use the paper verification form from the Connecticut Department of Health.
Additionally, an applicant needs to verify its certifications.
The fee for the APRN license is $200.
Also, applicants with adverse professional history need to submit supporting documentation.
Applicants need to provide a personal statement about past issues and court records.
Bear in mind, that you need to notarize your application and include a recent photograph.
APRN Renewal Requirements
APRNs in Connecticut need to renew their licenses every other year.
The renewal requirements include completing 50 contact hours.
However, this requirement doesn't apply for the first license renewal process.
Continuing education refers to a minimum of five contact hours of pharmacotherapeutics.
Additionally, all applicants need to complete at least one contact hour in the field such as sexual assault, risk management, substance abuse, cultural competence, domestic violence, and disease.
Nurse Midwife Requirements and Application Process
The requirements for the nurse-midwife license are slightly different.
They need to complete 30 hours of pharmacology coursework to be fully prepared for a nurse-midwife role.
Also, aspiring nurse-midwives need to have certification issued by the American College of Nurse-Midwives.
The prerequisite for nurse midwives is holding a Connecticut RN licensure, too.
International nurse-midwives who don't hold an RN license in Connecticut or other US states need to pass the Commission on Graduates of Foreign Nursing Schools (CGFNS) Examination.
The Department of Health also offers the application packet for the nurse-midwives.
Further, the nurse-midwives must submit proof of pharmacology coursework and ACNM certification.
The primary source needs to send the transcripts and the licensing agency requires verification on licenses of out-of-state nurses.
The application fee for the nurse-midwives is $100.
Schools
Aspiring advanced practice nurses in Connecticut have a few great options for advanced nursing education.
There are traditional, on-campus, hybrid, and fully online programs available for nurses interested in MSN, DNP, or graduate certificate programs.
For example, the University of Connecticut offers graduate certificate programs with adult – gerontology specialization and neonatal population focus.
MSN programs include Family nurse practitioner programs, Neonatal Nurse Practitioner Master's Program, etc.
DNP programs are available at Fairfield University.
Options for aspiring students are Doctor of Nursing Practice – Family Nurse Practitioner and Doctor of Nursing Practice Psychiatric Mental Health Nurse Practitioner.
Check the table for more information on schools in Connecticut.
| School Name | Address |
| --- | --- |
| Fairfield University | 1073 North Benson Road Fairfield, CT 06824, (203) 254-4000 |
| Sacred Heart University | 5151 Park Avenue Fairfield, CT 06825, (203) 371-7999 |
| Southern Connecticut State University | 501 Crescent Street New Haven, CT 06515, (203) 392-7278 |
| University of Connecticut | 231 Glenbrook Rd Storrs, CT 06269, (860) 486-0876 |
| University of Saint Joseph | 1678 Asylum Avenue West Hartford, CT 06117, (186) 023-2457 x1 |
| Yale University | 400 West Campus Drive Orange, CT 06477, (203) 785-2389 |
Salary
Connecticut is in the group of high paying states for nurse practitioners.
A nurse practitioner in Connecticut earns on average $118.405 per year.
The salary certainly depends on multiple factors, including certifications, specializations track, location, education level, health care facility, etc.
Annual Salary Range:
Annual Salary by Location:
| Location | Avg. Annual Salary |
| --- | --- |
| Bridgeport | $123,515 |
| New Haven | $120,079 |
| Hartford | $118,245 |
| Stamford | $126,149 |
| Waterbury | $117,968 |
| Norwalk | $126,149 |
| Danbury | $121,487 |
| New Britain | $118,187 |
| West Hartford | $118,245 |
| Greenwich | $126,149 |
Nurse Practitioner by State
---