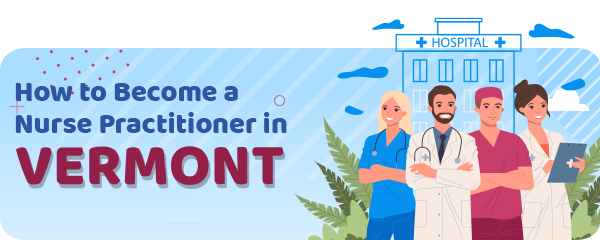 Vermont's Board of Nursing recognizes four roles of Advanced Practice Registered Nurses (APRNs).
Those are nurse practitioner (NP), certified registered nurse anesthetist (CRNA), certified nurse-midwife, and clinical nurse specialist in psychiatric and mental health nursing.
APRNs are healthcare workers who have a population foci.
The foci can be broad or narrow.
In Vermont, there are several population foci – Adult and Family, which are broad, Geriatric, Neonatal, Pediatric, Psychiatric/mental health, and women's health (gender-related).
Aspiring APRNs in Vermont need to hold a valid and unencumbered registered nurse license in Vermont.
The process of earning advanced credentials consists of three stages.
The first one is completing the graduate program, following by obtaining national certification, and fulfillment of collaborative practice requirements.
Once an APRN meets all requirements, he or she can practice independently in Vermont.
APRNs Educational Requirements in Vermont
APRNs in Vermont must earn a graduate degree or certificate in one of the four APRN roles.
There are two types of appropriate programs.
The Vermont Board of Nursing approves the programs.
The second type of programs are programs approved by the national agency.
The State of Vermont needs to verify the certification agency.
You can find the list of all Vermont-approved program on the licensing agency website.
To be approved, a program must contain coursework in advanced assessment, advanced pathophysiology, and pharmacotherapeutics.
Certification Requirements for APRNs in Vermont
After a nurse completes educational qualifications, he or she needs to pursue national certification.
The Vermont Board of Nursing approves several certification organizations.
Those are the American Association of Critical-Care Nurses (AACN), American Association of Nurse Practitioners (AANP).
Midwives get certified through the American College of Nurse-Midwives (ACNM) or American Midwifery Certification Board (AMCB), etc.
Pediatric nurses are certified through National Certification Corporation (NCC), and nurse anesthetists through the National Board of Certification and Recertification for Nurse Anesthetists (NBCRNA).
American Nurses Credentialing Center (ANCC) is also approved by the Board.
There are additional certifications for nurse practitioners related to family, pediatric, and mental health nursing.
ANCC certifies clinical nurse specialist in mental health practice.
Collaborative Practice Requirement
In Vermont, an advanced practice nurse initially works under a collaborative agreement with a doctor or other APRN.
The duration of the collaborative agreements is basically a transition process to practice and it can last around at least two years.
During the collaborative agreement, a nurse needs to complete at least 2.400 hours of experience.
If an APRN decides to switch foci or earn certification in another role, he or she needs to complete another collaborative agreement.
However, the next transition to practice is much shorter, and the nurse needs to complete at least 1.600 hours in a new role in a year.
If the collaborative agreement is done with another APRN, he or she must be from the same role and population foci.
Recency Requirement
If there have been more than two years from your graduation date, you will have to show proof of recent practice.
The licensing agency in Vermont accepts at least 400 hours of practice completed in recent two years.
Additionally, the agency will accept candidates with at least 960 hours in the last five years.
Also, if you have been volunteering, you can expect some additional credits.
If you don't fulfill the time requirement, you will have to complete a refresher course.
The course requirements are different for each candidate and depend on the time that APRN has been out of practice.
Those who have been out of practice for ten or more years, need to complete a new graduate program.
APRN Application
The required documentation includes official transcripts and a copy of qualifying certification.
Candidates will criminal background need to submit the supporting documentation.
All candidates need to provide a recent two by two photograph and copy of driver's license or other ID.
The requirements for out-of-state applicants include a copy of the license with an expiration date.
Volunteering APRNs need to provide a recommendation letter as well as a job description
The application fee is $75 and you can mail all application forms and supporting documentation to the Board of Nursing in Montpelier.
License Renewal
In Vermont, renewal is biennial and APRNs need to demonstrate current certification and practice guidelines if they are employed.
Additionally, APRNs need to provide evidence of active practice.
If not, he or she will be asked to complete a refresher course.
Schools
The University of Vermont has three graduate certificate programs.
Those are Family nurse practitioner (FNP), Adult/Gerontology NP, and Psychiatric-mental health nurse practitioner.
All programs are created as traditional, on-campus programs, but there might be online programs in the future.
| School Name | Address |
| --- | --- |
| University of Vermont | The University of Vermont Burlington, VT 05405, (802) 656-3131 |
Salary
Factors such as location and employer affect the final paycheck of the nurse practitioner in Vermont.
Additional factors such as professional experience, additional certifications, formal education are also important for determining salary.
The average salary of the nurse practitioner in Vermont is 105,382 per year.
Annual Salary Range:
Annual Salary by Location:
| Location | Avg. Annual Salary |
| --- | --- |
| Burlington | $107,756 |
| Essex | $107,756 |
| Rutland | $108,724 |
| Colchester | $107,756 |
| South Burlington | $107,756 |
| Bennington | $110,707 |
| Brattleboro | $110,930 |
| Hartford | $112,167 |
| Milton | $107,690 |
| Barre | $106,771 |
Nurse Practitioner by State
---