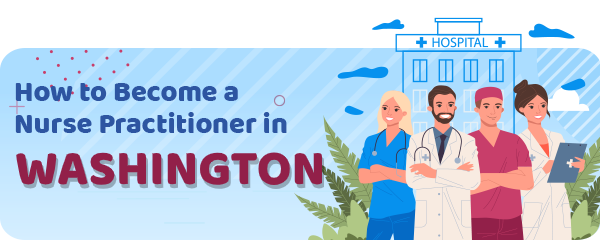 The Nursing Care Quality Assurance Commission, as part of the Washington Department of Health (DOH), regulates the field of Advanced Registered Nurse Practitioners (ARNPs).
In Washingon, there are three roles of ARNPs – Nurse Practitioner (NP), Certified Nurse Midwife (CNM), and Certified Registered Nurse Anesthetist (CRNA).
Nurse practitioners are by far the most common specialty in Washington state, and Clinical nurse specialists are not considered APRNs in this state.
To become an ARNP, one must first hold a registered nurse license.
Washington is one of the states that are not part of the nurse license compact.
It is an agreement that regulates the procedure of nursing license for out-of-state nurses.
Popular Programs
ARNP – Education
To become an ARNP, a registered nurse must complete an advanced program approved by appropriate agencies.
The program for nurse practitioner includes broad focus – family practice, or narrow focus, on a specific part of the population.
The majority of nurse practitioners choose the family practice specialty, following with adult specialty, according to the Nursing Commission.
Also, the Commission states that practitioners aren't allowed to practice beyond their training, but they are allowed to subspecialize and focus on a specific population.
APRN programs must meet several requirements to become approved.
The curriculum must include diagnostic theory, health management, and assessment, pharmacology, physiology, clinical and didactic preparation, etc.
There is a requirement of 500 supervised hours of patient care.
The Council of Higher Education Accreditation and the United States Department of Education maintains the accreditation process.
The certifying agencies align their requirements with Washington standards as well.
For example, the American Nurse Credentialing Center is in charge of certifying a variety of NP, also have 500 hours of patient care requirement.
According to ANCC, the courses in advanced physiology, health assessment, and pharmacology are required.
There are some exceptions though.
For example, out-of-state licensees who have exceptional practice and were active in the past two years may obtain their licenses due to the year of graduation.
Candidates who graduated in 1995 or later must have a graduate degree.
Certification Requirements
Candidates need to pass the national certification examination after they complete the program.
There are four nurse practitioner certification organizations -American Nurses Credentialing Center, American Academy of Nurse Practitioners, Pediatric Nursing Certification Board, National Certification Corporation for Obstetric, Gynecological, and Neonatal Nursing.
The American Midwifery Certification Board certifies nurse-midwives.
CRNAs earn their certificates through the National Board of Certification and Recertification for Nurse Anesthetists.
Additional Washington-Specific Requirements
In Washington, candidates need to complete seven hours of HIV/AIDS training.
Some programs include training as part of their curriculum.
Those who wish to earn prescriptive authority need to demonstrate at least 30 hours of continuous education in pharmacology in the last two years.
Active Practice Requirement
Applicants who have completed their programs need to have at least 250 hours of advanced practice experience in the next two years.
The Application Process
After they complete their studies, applicants become eligible to register for the national certification.
During the certifying process, candidates may earn an interim permit.
In that case, their status is Graduate Advanced Registered Nurse Practitioner – GARNP.
There is a one-year deadline for applying for licensure.
In case of personal issues, candidates may ask for additional time.
You can find all forms on the DOH website.
The required documentation includes official transcripts and certification verification.
The application fee is $92.
Also, all candidates need to demonstrate that they are familiar with the Washington code, and all useful links are in the application packet.
You can contact your licensing agency via email and ask for more information if you need to.
International applicants may be licenses but only if their education meets the standards of the Washington states.
American Nurses Credentialing Center reviews the application of international candidates.
License Renewal
ARNP need to renew their licenses every two years.
The renewal requirements include at least 250 hours of active practice and 30 hours of education.
ARNPs with two licenses have higher requirements, because of the multiple specialties.
To renew prescriptive authority, an ARNP needs to complete at least 15 hours of pharmacotherapeutics coursework.
These hours aren't part of the 30 requirements.
Schools
The field of nurse practitioner has an expected growth rate of 31% by 2024.
Therefore, there are a lot of appropriate programs for various specializations in Washington.
In Washington, state students can choose traditional, on-campus programs, online education, and hybrid forms – a combination of online and classroom courses.
For example, the University of Washington in Seatle has a variety of DNP and Graduate Certificate programs.
DNP programs are conducted in hybrid form, while graduate certificate programs are suitable for those looking for on-campus education.
Online DNP and MSN programs are available at the Gonzaga University.
Check the table for more information.
| School Name | Address |
| --- | --- |
| Gonzaga University | 502 E Boone Ave Spokane, WA 99202, (509) 328-4220 |
| Pacific Lutheran University | 12180 Park Ave S Tacoma, WA 98447, (253) 535-7411 |
| Seattle University | 1410 NE Campus Parkway Seattle, WA 98195, (206) 543-2100 |
| University of Washington | 1410 NE Campus Parkway Seattle, WA 98195, (206) 543-2100 |
| Washington State University | 1815 Wilson Rd Pullman, WA 99164, (509) 335-3564 |
| Washington State University Vancouver | 14204 NE Salmon Creek Ave Vancouver, WA 98686, (360) 546-9788 |
Salary
Washington state is one of the top-paying states for nurse practitioners.
A nurse practitioner in Washington earns an average annual salary of $116.873.
The salary depends on education, experience, location, facility, certifications, etc.
Annual Salary Range:
Annual Salary by Location:
| Location | Avg. Annual Salary |
| --- | --- |
| Seattle | $119,718 |
| Spokane | $108,556 |
| Tacoma | $116,664 |
| Vancouver | $114,085 |
| Bellevue | $119,718 |
| Everett | $117,091 |
| Federal Way | $116,664 |
| Kent | $116,430 |
| Yakima | $108,312 |
| Bellingham | $111,729 |
Nurse Practitioner by State
---