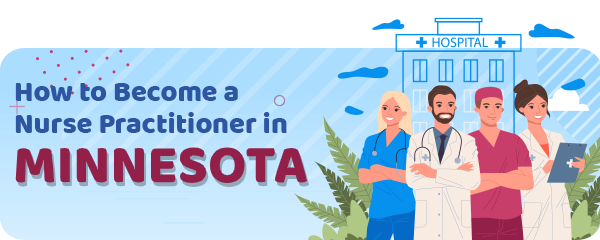 Since 2014, the scope of practice of advanced practice registered nurses in Minnesota has expanded.
The new law brought additional requirements that include having an APRN license, in addition to RN license.
In the state of Minnesota there are four roles of APRNs:
Clinical Nurse Specialist
Nurse Practitioner
Nurse Midwife
Registered Nurse Anesthetist
Advanced practice nurses have a population focus.
In Minnesota, APRNs specializes in the following population focuses:
Family and individual Adult-gerontology
Women's health/ gender-related
Neonatal
Pediatrics
Psychiatric/ mental health
Additionally, the advanced training and certification can be narrower to indicate that a nurse is focused either on acute or primary care.
Further, nurse anesthetists are recognized as APRNs with family as their population focus.
To earn advanced credentials, APRNs need to meet certain education and certification requirements.
Additionally, in Minnesota, the supervised practice is also one of the requirements, but the details depend on the chosen APRN category.
APRN Educational Requirements
Aspiring APRNs in Minnesota need to complete an educational program at the graduate level.
Also, the programs need to be properly accredited.
Two accreditation agencies in Minnesota are the Council on Higher Education Accreditation and the United States Secretary of Education.
The program needs to prepare the nurse for the role.
Furthermore, the Minnesota Board of Nursing needs to approve the programs.
You can find the list of approved Minnesota programs.
APRN Certification Requirements
The next step for APRNs, after graduation, is to pursue national certification.
Several certifying bodies operate in Minnesota and are approved by the Board.
Those are:
American Academy of Nurse Practitioners
American Association of Critical-Care Nurses Certification Corporation
American Midwifery Certification Board
American Nurses Credentialing Center
National Certification Corporation for the Obstetric, Gynecological, and Neonatal Nursing Specialties
National Board of Certification and Recertification for Nurse Anesthetists
Pediatric Nursing Certification Board
The application for certification is direct and the certification needs to be completed through examination.
Further, the agency needs to review the credentials and set a date for the examination.
Supervised Practice Requirements
In Minnesota, there is a supervised practice requirement for nurse practitioners and clinical nurse specialists.
They need to complete a total of 2.080 hours of supervised practice.
The hours can be completed in various work settings, such as hospitals, or integrated.
A nurse needs to sign a collaborative agreement with physicians or ARPN.
The agreement needs to be signed with a compatible physician or APRN to be valid.
Application Process
The Board of Nursing in Minnesota holds the jurisdiction over APRNs in this state at the beginning of their career.
Application forms are available for download on the Board of Nursing website.
Next, applicants need to note the chosen role and population focus.
For example, those interested in the adult-gerontology specialty area will mark the appropriate box.
If qualifying certification includes acute or primary care, the applicant needs to mark it as well.
Also, there are questions about the applicant's legal, professional, and health history, including addictions.
If an applicant answers yes to any of the potentially disqualifying questions, he or she needs to provide supporting documentation.
Next, applicants need to deliver the Confirmation of Graduation form, signed by the school officials.
Also, the certifying agency needs to send the confirmation directly to the Board of Nursing.
On the other hand, there is an Initiation of Practice form, available for clinical nurse specialists and nurse practitioners.
Later, collaborating physicians need to verify supervised practice hours.
All applicants need to pay a non-refundable fee of $105.
Besides, if a nurse is qualified in more than one specialty area, she or she needs to submit separate applications.
On the other hand, if a nurse is qualified for one role, but has credentials that affect more than one population focus, he or she can submit one application.
Further, nurse anesthetists need to sign the prescribing agreement if they are interested in prescribing nonsurgical pain management.
A DEA number is needed for some types of prescriptions, but not all of them.
If you have any questions, you can contact a DEA office to find out more.
Licensure by Endorsement
There is an endorsement option for out-of-state nurses who meet national educational standards.
According to the Nurse Practice Act, out-of-state licensees need to have national certifications.
Additionally, they need to meet standards that were in place at the date of the program completion.
Renewal Requirements
Nurses in Minnesota need to renew their RN and APRN licenses every other year.
The renewal requirements include continued national certification and meeting continuing competency requirements set by the certifying agency.
A nurse pays only the fee for the renewal of an RN license, but it isn't a permanent solution.
Schools
Aspiring APRNs in Minnesota have several options for proper advanced nursing education.
The majority of the programs are in on-campus forms, but there are a few online and hybrid options.
For example, there is an MSN program at Herzing University Minneapolis with Nursing Leadership and Administration Specialization track.
It is a fully online program.
Next, the DNP program at Augsburg College is a hybrid program with some on-campus courses and some online courses.
All other programs are on-campus.
| School Name | Address |
| --- | --- |
| Augsburg College | 2211 Riverside Ave Minneapolis, MN 55454, (612) 330-1000 |
| Herzing University Minneapolis | 5700 W Broadway Ave Minneapolis, MN 55428, (612) 360-2484 |
| Metropolitan State University | Gateway Services, Founders Hall, 1st Floor, 700 7th Street East St Paul, MN 55106, (651) 793-1300 |
| The College of St. Scholastica | 1200 Kenwood Avenue Duluth, MN 55811, (800) 447-5444 |
| University of Minnesota | 308 Harvard Street SE Minneapolis, MN 55455, (612) 624-9600 |
| Winona State University Rochester | 859 30th Ave SE Rochester, MN 55904, (507) 285-7100 |
Salary
An average salary of a nurse practitioner in Minnesota is $111.948 per year.
Location, specialization, experience, and certifications affect the salary.
Annual Salary Range:
Annual Salary by Location:
| Location | Avg. Annual Salary |
| --- | --- |
| Minneapolis | $116,380 |
| St. Paul | $116,380 |
| Duluth | $103,796 |
| Rochester | $105,984 |
| Minnesota city | $100,788 |
| Mankato | $115,395 |
| Brainerd | $102,241 |
| Bemidji | $97,481 |
| Burnsville | $116,052 |
| Winona | $99,486 |
Nurse Practitioner by State
---