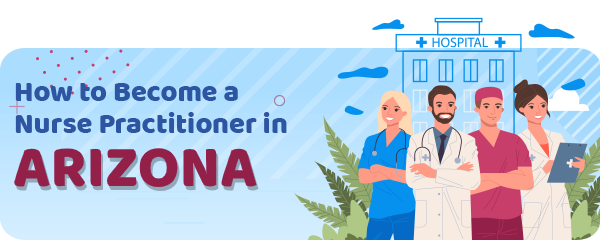 The Arizona Board of Nursing (AZBN) has jurisdiction over Arizona's advanced practice nurses.
The AZBN recognize all four nationally approved advanced practice registered nurses role:
Registered Nurse Practitioner (RNP)
Certified Nurse Midwife
Clinical Nurse Specialist (CNS)
Certified Registered Nurse Anesthetist (CRNA)
Nurse practitioners and clinical nurse specialists in Arizona, as in other states, have a population focus.
Therefore, there are several specialty areas for RNP and CNS:
Family/ individual across the lifespan:
Pediatric primary
Pediatric acute care
Adult-gerontology primary
Adult-gerontology acute care
Psychiatric mental health
Neonatal
Nurse-midwives are considered to have women's health/gender-related focus.
Popular Programs
Additionally, the Board can accept other population focuses if there is a proper certification for it.
The requirements for the advanced credentials include RN licensure in Arizona or another compact state, graduate degree and national certification.
Besides, several exceptions apply to nurses who graduated before certain dates in the past.
APRN Educational Requirements
In Arizona, aspiring nurse practitioners and clinical nurse specialists must complete graduate degree programs.
Nurse anesthetists are required to complete CRNA programs.
Only programs accredited by the Council on Accreditation of Nurse Anesthesia Educational Programs are suitable for CRNAs education.
However, some other accreditation may be accepted by the Board if the program is approved as qualifying in the jurisdiction in which it is placed.
The state administrative code R4-14-502 contains the requirements for in-state programs.
You can find the list of approved APRN programs on the website of the Board of Nursing.
Arizona RNP Certification Requirements
There are several certifications agencies, suitable for nurse practitioners in Arizona:
American Academy of Nurse Practitioners
American Nurses Credentialing Center
National Certification Corporation for Obstetric, Gynecological, and Neonatal Nursing Specialties
Pediatric Nursing Certification Board
AACN Certification Board
Nurse practitioners can find multiple certifications through the American Nurses Credentialing Center.
Those include adult-gerontological acute-care, adult, family psychiatric/mental health nurse certifications, etc.
Similarly, the American Academy of Nurse Practitioners certifies nurse practitioners in adult, family, and adult-gerontological specialty areas.
You can find the complete list of all certifications offered to be approved by certifying organizations in Arizona on the Board of Nursing website.
The AACN offers certifications to the clinical nurse specialists, as well as the American Nurses Credentialing Center.
The American Midwifery Certification Board certifies nurse-midwives in Arizona.
Next, the National Board of Certification and Recertification for Nurse Anesthetists.
Clinical nurse specialists with women's health specialization track need to submit a scope of practice statement, verification of 500 hours of recent practice, and letter of recommendation to be credentialed without national certification.
Additionally, the Board requires verification from the current supervisor or faculty member who collaborated with the applicant in the last two years.
Also, nurse practitioners and clinical nurse specialists can be granted temporary permit pending certification.
Out-of-State Advanced Practice Nurses
APRNs that were credentialed in distant past aren't required to complete all current standards.
The master's degree requirement doesn't apply to nurses who graduated before November 1, 2001.
Additionally, nurse practitioners who hold master's degrees in other fields (non-nursing), may be eligible for licensing in Arizona, if their initial license was issued before November 13, 2004, and is still valid.
Out-of-state candidates who earned their licenses before July 1, 2004, maybe credentialed in Arizona without national certification.
International Applicants
International nurses need to submit educational documentation and seek credential evaluation through the Commission on Graduates of Foreign Nursing Schools.
Additionally, if the applicant's first language isn't English, the candidate needs to demonstrate proficiency in the English language.
Prescriptive Privilege
Nurse-midwives and nurse practitioners can apply for the prescriptive authority in Arizona.
They need to complete three semester hours (equivalent to 45 contact hours) in pharmacology coursework.
The Board will accept only nurses who have completed the requirement in the last three years prior to application.
Additionally, the candidate needs to provide further documentation about the course content.
Application Process for NP's in Arizona
The Board of Nursing website has all application forms available for download.
Also, candidates in Arizona need to submit their fingerprints.
However, candidates who submitted their fingerprints to the Board in the last two years are exempted from the requirement.
The background check results determine permanent licensure.
Next, applicants need to submit official transcripts, which need to be sent directly from the primary source – educational institution.
The same applies to the certification verification.
The applicant will need to show proof of citizenship.
The application fee is $150, the fingerprinting fee is $50, and the temporary permission is an additional $35.
Renewal
ARPN certification expires at the same time as an RN license.
The renewal requirement includes certification verification.
Schools
Aspiring APRNs in Arizona have several appropriate and Board approved schools.
For example, those interested in DNP programs can study at the University of Arizona.
The programs are online.
Arizona State University in Phoenix offers on-campus DNP programs as well as several graduate certificate programs.
MSN program can be found at Northern Arizona University and the University of Phoenix.
Check the table for more information.
| School Name | Address |
| --- | --- |
| Arizona State University | 550 N 3rd St Phoenix, AZ 85004, (602) 496-2644 |
| Grand Canyon University | 3300 West Camelback Road Phoenix, AZ 85017, (855) 428-5673 |
| Northern Arizona University | 202 E Pine Knoll Dr- PO Box: 15035 Flagstaff, AZ 86011, (928) 523-2671 |
| University of Arizona | 1305 N. Martin | PO Box 210203 Tucson, AZ 85721 (520) 626-6154 |
| University of Phoenix | 1625 W. Fountainhead Pkwy Tempe, AZ 85282, (866) 484-1831 |
Salary
The average salary of a nurse practitioner in the state of Arizona is $108.191  per year.
Moreover, salary depends on factors such as location, certification, experience, employer, etc.
Annual Salary Range:
Annual Salary by Location:
| Location | Avg. Annual Salary |
| --- | --- |
| Phoenix | $108,434 |
| Tucson | $102,822 |
| Mesa | $106,367 |
| Glendale | $108,434 |
| Scottsdale | $106,367 |
| Chandler | $106,367 |
| Tempe | $106,367 |
| Gilbert | $106,367 |
| Peoria | $108,215 |
| Yuma | $112,170 |
Nurse Practitioner by State
---