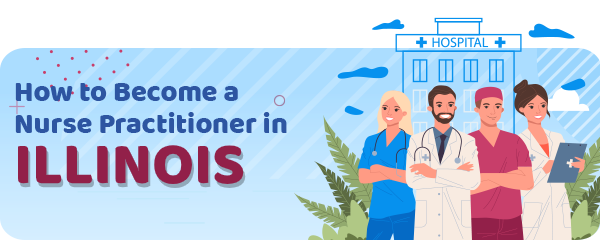 Illinois Department of Financial and Professional Regulation (IDPR) regulates the field of advanced practice nurses in this state.
IDPR recognizes four roles of advanced practice nurses – Certified Nurse Practitioner, Certified Clinical Nurse Specialist, Certified Nurse Midwife, and Certified Registered Nurse Anesthetist.
State regulations in Illinois require that advanced nurses hold RN and APN license.
According to the National Council for State Boards of Nursing, Illinois states with pending nurse compact legislature.
Therefore, the primary RN license must be issued in Illinois as a requirement to practice in Illinois.
APN Educational Requirements
The educational requirements for advanced practice nurses in Illinois include earning a graduate degree or post-master certificate.
Aspiring advanced practice nurses need to complete a program that includes preparation for the examination for earning an advanced practice certification.
Additionally, APNs who want to earn a license in the second advanced practice specialty area don't need to complete another program.
Instead, they need to complete additional education which makes them eligible for the second certification.
APN Certification Requirements in Illinois
To earn certification, aspiring advanced practice nurses need to pass the examination.
In Illinois, there are several certifying agencies suitable for different APN roles.
For example, nurse anesthetists are certificate through the American Association of Nurse Anesthetist Council.
Additionally, they can earn their certifications through the American Association of Nurse Anesthetists Council on Recertification.
The American Midwifery Certification Board and the American College of Nurse-Midwives certify nurse-midwives.
Nurse practitioners can choose the certifying agency because there are several agencies suitable for their certification.
Those are:
American Academy of Nurse Practitioners Certification Program
American Nurses Credentialing Center
Certification Board for Urologic Nurses and Associates
National Certification Corporation for the Obstetric, Gynecologic, and Neonatal Nursing Specialties
Pediatric Nurse Certification Board
Similarly, there are multiple agencies that are suitable for certification of clinical nurse specialists.
Those are:
American Association of Critical-Care Nurses
American Nurses Credentialing Center*
Certification Board for Urologic Nurses and Associates
Oncology Nursing Certification Corporation
Rehabilitation Nursing Certification Board
The majority of agencies issue the certification called Clinical Nurse Specialist.
However, those nurses who earn their certifications through the Oncology Nursing Certification Corporation get the Advanced Oncology Nurse tittle.
Those who earn their credentials through the Rehabilitation Nursing Certification Board get the title – Certified Rehabilitation Registered Nurse – Advanced credentials.
You can find the complete list of suitable certifying agencies for clinical nurse specialists in Appendix A on the website of the Illinois General Assembly (ILGA).
Organizations such as the American Association of Neuroscience Nurses, the National Board of Certification of Hospice and Palliative Nurses, etc. are on the list.
However, bear in mind that not all the organizations on the list offer advanced-practice specialization certification, some are only suitable for general advanced-practice roles.
Temporary Permits Pending Certification
In Illinois, RNs who have finished the advanced practice programs and are waiting to sit for the exam may be granted with the temporary permit.
To apply for the temporary permit, a candidate needs the complete documentation from the certifying agency, including the examination date.
Out-of-State Nurse Anesthetists
Out-of-state nurse anesthetists have a slightly distinct procedure.
They need to submit a proof of completing appropriate advance practice nurse anesthetist programs before 1999.
The Nurse Practice Act states that their application needs to be made before July 1, 2018, to be considered as valid.
Application Process
You can find all application forms on the IDPR website.
All official graduate transcripts, including any certification-qualifying coursework, and a copy of the qualifying certification need to be submitted to the licensing agency.
Those who hold licenses in other states need to verify their licenses first.
The verification must be done from the original state, current state, and any of the states where applicants practiced in the last five years.
The application fee is $125, and if the applicant applies for two or more certification category, he or she needs to pay fees for all categories.
Prescriptive Authority Requirements in Illinois
All APNs in Illinois need to have a collaborative agreement unless they are extemp from the rule.
The collaborative agreement may grant the prescriptive authority to the nurse.
Bear in mind that there is a difference between legend drugs and controlled substances.
In Illinois, a nurse doesn't have to file a separate application for the legend drugs.
You can find the application for the Applications for Advanced Practice Nurse Mid-level Practitioner Controlled Substances License on the IDPR website.
The collaborating physician needs to sign the document to make it valid.
APN License Renewal
Both RN and APN licenses need to be renewed every two years, based on the initial certification.
Schools
Aspiring APNs in Illinois have a wide range of appropriate schools for their advanced nursing education.
There are online, hybrid, and on-campus programs.
For example, Bradley University offers an online graduate certification program, an online DNP program, an online MSN-FNP program.
The Loyola University of Chicago offers several graduate certificate program conducted on-campus, and multiple hybrid MSN programs.
The University of Illinois at Chicago (UIC) has a wide range of DNP programs conduced in hybrid forms.
Some of the available tracks are Family Nurse Practitioner, Adult/Gerontology Acute Care Nurse, Women's Health Nurse Practitioner, etc.
Check the table for more information on the available schools in Illinois.
| School Name | Address |
| --- | --- |
| Bradley University | 1501 W Bradley Ave Peoria, IL 61625, (309) 676-7611 |
| Illinois State University | Campus Box 4040 Normal, IL 61790, (309) 438-2583 |
| Lewis University | One University Parkway Romeoville, IL 60446, (815) 838-0500 |
| Loyola University of Chicago | 1032 W. Sheridan Rd Chicago, IL 60660, (773) 274-3000 |
| Resurrection University | 1431 N Claremont Ave Chicago, IL 60622, (773) 252-6464 |
| Rush University | 600 S. Paulina St Chicago, IL 60612, (312) 942-7100 |
| Saint Francis Medical Center College of Nursing | 511 NE Greenleaf Street Peoria, IL 61603, (309) 655-2201 |
| Southern Illinois University Edwardsville | 1 Hairpin Dr Edwardsville, IL 62025, (888) 328-5168 |
| University of Illinois at Chicago (UIC) | 845 South Damen Ave Chicago, IL 60612, (312) 996-7800 |
| University of Illinois Chicago - Rockford | 1601 Parkview Ave Rockford, IL 61107, (815) 395-0600 |
| University of Illinois College of Medicine at Rockford | 1601 Parkview Ave Rockford, IL 61107, (815) 395-0600 |
| University of St. Francis | 500 Wilcox St. Joliet, IL 60435, (800) 735-7500 |
Salary
An average annual salary of a nurse practitioner in Illinois is $112.386.
Remember, the salary depends on location, healthcare organization, experience level, additional certificates, and education.
Annual Salary Range:
Annual Salary by Location:
| Location | Avg. Annual Salary |
| --- | --- |
| Chicago | $115,997 |
| Rockford | $108,326 |
| Aurora | $114,972 |
| Naperville | $113,650 |
| Peoria | $105,700 |
| Springfield | $101,004 |
| Joliet | $112,714 |
| Elgin | $114,129 |
| Waukegan | $109,393 |
| Cicero | $115,997 |
Nurse Practitioner by State
---