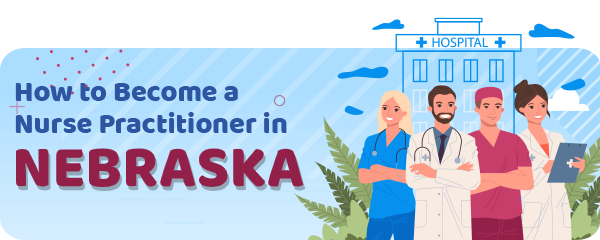 Nebraska's Department of Health and Human Services regulates the advanced practice registered nurses.
In Nebraska, there are four roles of APRNs:
Nurse Practitioner (APRN-NP)
Clinical Nurse Specialist (APRN-CNS)
Certified Nurse Midwife (APRN-CNM)
Certified Registered Nurse Anesthetist (APRN-CRNA)
Future APRNs need to hold a valid RN license.
Because Nebraska is part of the Nurse Licensure Compact, the Board of Nursing accepts multi-state licenses issued by other state members.
There are two primary requirements for the APRNs in Nebraska, other than RN license.
First, future APRNs need to complete a graduation-level nursing education.
Second, they need to obtain national certification in a chosen specialty.
Some APRNs are exempted from the certification requirement due to their graduation date or specialty area.
Clinical Nurse Specialist Requirements
Aspiring Clinical nurse specialists need to complete a master's or doctoral degree in the nursing field.
If you already hold a master's degree in nursing, you can complete a post-master certificate program, focused on training for the chosen advanced nurse role.
To become a clinical nurse specialist, students need to pass the examination and earn the certification.
The next steps include certification maintenance throughout the years.
There are several certification organizations suitable for the certifying process of CNS.
Those are:
American Nurses Credentialing Center
American Association of Critical-Care Nurses
Oncology Nursing Certification Corporation
You can find the complete list of all approved certifying organizations in the application packet.
Additionally, if there is no suitable certification available in Nebraska available, the Board can accept some alternate demonstration of competency.
You can contact the Board to find out more information.
Nurse Practitioner Requirements
The requirements for the Nurse practitioner in Nebraska include holding at least a degree on the master's level.
Additionally, the educational program needs to include 30 contact hours of pharmacotherapeutics and 500 hours of clinical practice.
There are multiple certifying organizations for nurse practitioners.
Those are:
American Academy of Nurse Practitioners,
American Nurses Credentialing Center,
National Certification Corporation for Obstetric, Gynecologic, and Neonatal Nursing Specialties
Pediatric Nursing Certification Board.
In Nebraska, temporary permits are enabled for the new graduates.
A temporary permit allows the graduates to start working sooner while waiting for the certification exam.
Additionally, nurse practitioners in Nebraska need to obtain 2000 hours of supervised practice.
It is the change that has been made on the NP requirements, because in the past, NPs needed to work under a collaborative agreement with licensed physicians.
The new regulations state that the supervisor needs to be a physician or an experienced nurse practitioner.
After the 2000 hours of active supervised practice are completed, the next step for nurse practitioners is to submit a transition to practice agreement.
Also, in Nebraska, the nurse practitioner needs to hold liability insurance.
However, nurse practitioners specialized in neonatal or women's health with a graduation date before July 1, 2007, are not required to have graduate degrees.
This exception applies to the APRNs who are specialized in other areas and graduated before July 19, 1996.
Nurse Anesthetists Requirements
Only programs accredited by the Council on Accreditation of Nurse Anesthesia and Education Programs are suitable for aspiring nurse anesthetists.
The Nurse Anesthetist Practice Act states that a Certified Registered Nurse Anesthetist (CRNA) needs to hold certification issued by the Council on Certification of Nurse Anesthetists.
The organization now goes under the name of the National Board of Certification and Recertification for Nurse Anesthetists.
A temporary permit is also an option for nurse anesthetists.
Burse anesthetists need to submit an application and pay the fee to be granted a temporary work permit.
Certified Nurse Midwife Requirements
The educational programs for the nurse-midwives in Nebraska need to be accredited by the American College of Nurse-Midwives.
The American Midwifery Certification Board (AMCB) is in charge of the certifying process of nurse-midwives in Nebraska.
Temporary permits are also available for aspiring nurse-midwives.
In the case of a falling certification exam, the nurse loses a temporary permit.
Application Process
You can find the complete application packet on the Board of Nursing website.
There are separate application packets for each APRNs role.
Additionally, some candidates will need to submit supporting documentation.
It can include official transcripts, evidence of examination and certification, citizenship documents, etc.
The application fee depends on the renewal cycle stage.
Out-of-State APRNs
Out-of-state APRNs who have completed their studies in the past, need to submit evidence of current licensure.
Additionally, the requirements include submitting proof of active practice in the last five years.
The educational requirements may apply as well.
All out-of-state candidates need to hold national certification and to provide a verification form issued by the original state of licensure.
A temporary permit is enabled for out out-of-state candidates, too.
Renewal Requirements
An APRN needs to renew the license every two years.
The renewal requirements include holding a current certification and active practice status.
The additional requirements may apply for certain roles.
Therefore, nurse practitioners need to show evidence of 40 hours of continuing education, and 10 hours need to be in pharmacotherapeutics.
Those who fail to fulfill the criteria for renewal can enroll in re-entry programs.
Schools
Aspiring APRNs in Nebraska can choose between three schools with appropriate advanced nursing programs.
Clarkson College in Omaha has two graduate certificate programs and four MSN programs.
All programs are conducted online.
DNP programs are available on the Creighton University in Omaha.
The widest range of programs and specialization tracks is available at the University of Nebraska Medical Center.
| School Name | Address |
| --- | --- |
| Clarkson College | 101 S. 42 Street Omaha, NE 68131, (402) 552-3100 |
| Creighton University | 2500 California Plaza Omaha, NE 68178, (402) 280-2700 |
| University of Nebraska Medical Center | 42nd and Emile Omaha, NE 68198, (402) 559-4000 |
Salary
An average salary of a nurse practitioner in Nebraska is $100.348  per year.
The salary varies across the state and depends on education, experience, certifications, and work setting.
Annual Salary Range:
Annual Salary by Location:
| Location | Avg. Annual Salary |
| --- | --- |
| Omaha | $103,461 |
| Lincoln | $102,962 |
| Bellevue | $103,461 |
| Grand Island | $101,539 |
| Kearney | $101,539 |
| Fremont | $101,918 |
| Hastings | $101,539 |
| North Platte | $98,449 |
| Norfolk | $90,062 |
| Columbus | $101,539 |
Nurse Practitioner by State
---