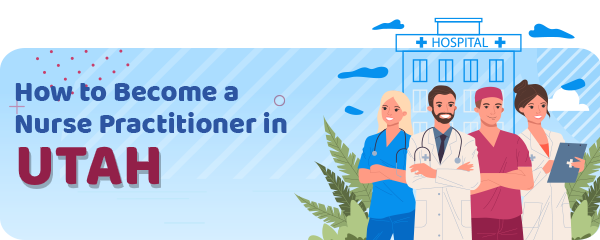 In Utah, the division of Occupational and Professional Licensing (DOPL) grants licenses to Advanced Practice Registered Nurses (APRNs).
There are four APRN roles in Utah – nurse practitioner, nurse midwife, clinical nurse specialist, and nurse anesthetists.
Nurse anesthetists need to have APRN – CRNA licenses to practice.
There are two classifications of APRN roles.
Some APRNs like (CRNAs) need to apply for controlled substance licensing in addition to APRN licensing.
Aspiring APRNs need to complete graduate programs and earn certification through passing the exam.
Additionally, physiatric/mental health nurses will need more practice under supervision to become eligible to sit for the exam.
A nurse must hold a valid license to become eligible for an RN license.
Educational Requirements for APRNs in Utah
To earn a tittle of APRN, a nurse must complete an advanced educational program for nurse practitioners.
All APRN roles, except Nurse anesthetist role, need to demonstrate skills and coursework in assessment, diagnosis, treatment, and pharmacotherapeutics.
Those who completed the nurse anesthetist program need to submit proof that the program is approved by the Council on Accreditation of Nurse Anesthesia Educational Programs.
Out-of-state nurses may need to relicense in Utah if their education isn't equivalent to the educational standards in Utah at the time of graduation.
Out-of-state nurses who haven't completed a required patient assessment and pharmacotherapeutics coursework may apply for a temporary license.
Requirements for APRN Certification in Utah
In Utah, a third party maintains the certification process for APRNs.
There are several nationally approved certifying organizations.
Those are:
The American Nurses Credentialing Center
The American Association of Nurse Practitioners
The Pediatric Nursing Certification Board
The National Certification Corporation for the Obstetric, Gynecologic, and Neonatal Nursing Specialties
The American Midwifery Certification Board
The National Board of Certification and Recertification for Nurse Anesthetists
After program completion, aspiring certified APRNs need to pass the exam within five years.
In a person fails the exam within the set deadline, he or she will need to enroll in additional educational courses.
To become eligible to take the certification exam, a third party needs to review previous education of aspiring certified APRNs.
All documentation needs to be delivered directly to the certifying agency.
The Utah Division of Occupational and Professional Licensing may grant intern license for APRNs who apply for licensure within a year of educational program completion.
However, the intern license isn't available for the certified registered nurse anesthetist.
Requirements for Psychiatric/ Mental Health APRNs
All requirements mentioned above apply to psychiatric/mental health APRNs, but there is a set of additional requirements for this role.
These nurses need to complete at least 4.000 hours of mixed theory and clinical practice classes.
After the program completion, aspiring psychiatric/mental health APRNs are granted with 1.000 hours.
The rest of the 3.000 hours, needs to be completed post-examination and under intern license.
From these hours, nurses need to complete at least 1.000 hours of mental therapy and 2.000 of clinical practice.
The clinical practice hours can be under the supervision of mental health therapists.
The supervisor will verify the certification and practitioner competency.
International APRNs
International nurses with more than 6.000 hours of professional experience gained in another state don't have to go through the certification process.
These nurses need to show evidence of successfully passing an English proficiency test.
Nurses who have less than 6.000 hours need to complete a three-part certification through CGFNS.
The certification process consists of a language test, gaining professional experience in the USA, or obtaining additional credentials.
The Nurse Practice Act Rules, part R 156-31b-301d describes all requirements for international nurses.
Application
The DOPL website has all application forms available for download.
Also, all applicants can have their fingerprints made free in the Salt Lake City DOPL office.
The required documentation includes official transcripts from previous schools.
Also, candidates who have some criminal background need to provide more information on the issues.
Candidates can submit documents online or mail them to the licensing agency.
If you want to apply for a temporary license, you will need to provide proof of employment under physician or APRN supervision.
The temporary license expires only 180 days, and those who hold temporary licenses need to submit their examination score to the Utah Board of Nursing.
The application fee is $140.
Those who want to pursue an intern license need to pay an extra fee of $35.
The controlled substance licensure adds $100 to the initial fee.
You can mail your application to the DOPL office.
License Renewal
Every two year, an APRN need to renew its license.
Continuous education is usually the most important requirement for license renewal.
Those who want to renew their license need to submit the proof of continuous practice and continuous education to the licensing agency.
Schools
There are several schools with APRN programs in Utah, mostly based in Salt Lake City and Provo.
Aspiring APRNs can choose between hybrid and traditional on-campus programs.
For example, the University of Utah has plenty of DNP programs with various specializations such as Family Nurse Practioner, Adult/Gerontology, Neonatal, etc.
Brigham Young University has a Family Nurse Practitioner concentration.
Rocky Mountain University of Health Professions has a Post-Baccalaureate and post-graduate program for Family Nurse Practitioners.
| School Name | Address |
| --- | --- |
| Brigham Young University | SWKT, Campus Dr #500A Provo, UT 84602, (801) 422-4173 |
| Rocky Mountain University of Health Professions | 122 E 1700 S Provo, UT 84606, (801) 375-5125 |
| University of Utah | 10 South 2000 East Salt Lake City, UT 84112, (801) 581-3414 |
| Westminster College | 1840 S 1300 E Salt Lake City, UT 84105, (801) 484-7651 |
Salary
An average annual salary of a nurse practitioner in Utah is $103.678.
The salary depends on specialization, healthcare facility, location, experience, education, etc.
Annual Salary Range:
Annual Salary by Location:
| Location | Avg. Annual Salary |
| --- | --- |
| Salt Lake City | $103,994 |
| Provo | $100,184 |
| Sandy | $103,709 |
| Orem | $100,184 |
| Ogden | $101,377 |
| West Jordan | $103,614 |
| Layton | $100,997 |
| Saint George | $111,784 |
| Park City | $101,201 |
| Moab | $98,762 |
Nurse Practitioner by State
---