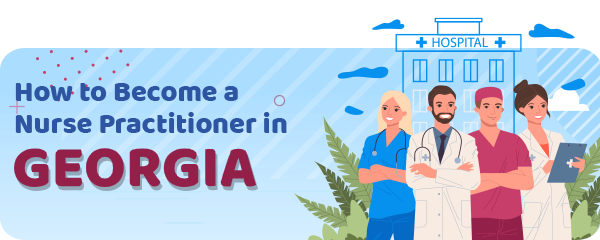 The advanced practice registered nurses (APRNs) in Georgia is under the jurisdiction of the Georgia Board of Nursing.
APRNs also need to be licensed as registered nurses in the state of Georgia.
Additionally, Georgia isn't part of the nurse licensure compact agreement, thus, the procedure for the out-of-state nurses is more complex.
There are five advanced practice roles in Georgia recognized by the Board of Nursing:
Nurse Practitioner (NP)
Clinical Nurse Specialist (CNS)
Clinical Nurse Specialist, Psychiatric/Mental Health (CNS/PMH)
Certified Registered Nurse Anesthetist (CRNA)
Certified Nurse-Midwife (CNM)
The advanced nurses gain their credentials based on their graduate education and national specialty certification.
In Georgia, APRNs are considered as providers with independent licenses.
Popular Programs
However, they work under protocol agreements.
The Georgia Composite Medical Board grants the prescriptive authority to the advanced practice nurses.
Educational Requirements
Future APRNs need to hold a master's degree or higher and complete a program that will offer appropriate training for the advanced role.
Additionally, APRNs need to complete coursework in advanced pharmacology.
However, state administrative code includes some specific academic requirements for some of the roles.
For example, clinical nurse specialists have to complete at least two nursing courses with clinical practice.
They also need to complete coursework in advanced physiology and advanced physical assessment.
The requirements for psychiatric/mental health clinical nurse specialists include completing at least two psychiatric nursing courses with relevant clinical practice.
APRN Certification Requirements
In Georgia, aspiring APRNs can choose between different types of specialist programs, and nurse practitioners and clinical nurses have a population focuses.
The certification type depends on the program choice.
National certification needs to be issued by the approved certifying agency.
Some of the organizations with national approval available for certifying process in Georgia are:
The American Academy of Nurse Practitioners
American Association of Critical-Care Nurses Certification Corporation
The American Midwifery Certification Board
The American Nurses Credentialing Center
The National Board of Certification and Recertification for Nurse Anesthetists
The National Certification Corporation
The Pediatric Nursing Certification Board
Nurse-midwives earn the certification through the American Midwifery Certification Board.
Further, the American Nurses Credentialing Center is in charge of the certifying process of clinical nurse specialists and psychiatric/mental health nurses.
Lastly, the National Board of Certification and Recertification issues a certification of nurse anesthetists.
Recency Requirement
In Georgia, there is an additional requirement for the nurses who completed their education in the past.
Those nurses need to show proof of at least 500 hours of practice. It applies to the nurses who finished their education four or more years ago.
If the nurse cannot fulfill the requirement, he or she needs to complete refresher courses.
Chapter 410-11 of the state administrative code describes more requirements for advanced practice nurses.
The Application Process
You can find all application forms on the website of the Georgia Board of Nursing.
Clinical nurse specialists and nurse practitioners need to note on the application form their choose specialty area.
The application packet also includes the verification form.
Additionally, the licensing agency needs to receive the verification via email.
Official transcripts need to be sent in the sealed envelope from the primary source – educational institution.
Moreover, applicants who have legal convictions or disciplinary history need to submit the supporting education and detailed letters with more information about past issues.
Applicants who are not residents of Georgia need to include a copy of a document that established qualified alien status.
All applicants need to pay a fee of $60 and to notarize their application forms.
In Georgia, you have to send application materials and documentation in a nine by twelve envelope.
You should mail the documents to the Board of Nursing office in Macon.
Luckily, the licensing agency is open for email communication and the applicant can monitor the status of their application online.
Renewal Requirements
APRNs need to renew their credential biennially.
The renewal requirements include evidence of national certification.
Also, nurse midwives who earn their certificates before 1996 need to enroll in continuing education through the American College of Nurse-Midwives.
Temporary Authorization for Re-Entry
If an advanced practice nurse certification has lapsed, he or she may be granted a temporary permit.
The temporary permit will allow the nurse to fulfill requirements that will qualify him or her for recertification.
Moreover, a temporary permit may be renewed once and lasts for six months.
Prescriptive Authority
To earn the prescriptive authority, APRNs need a protocol agreement with physicians in the compatible specialty area.
The Georgia Composite Medical Board has all the forms available for download.
More information on prescriptive authority requirements can be found in Chapter 360-2 of the state administrative code.
The feed for prescriptive authority is $150.
Schools
There is a growing demand for advanced practice nurses, and therefore there are more educational programs available in Georgia.
Programs are conducted on-campus, online, or in hybrid form.
For example, online MSN programs are available at Emory University in Atlanta.
DNP programs are offered at Augusta University and those are conducted online.
Graduate certificate programs can be found at Georgia University in Milledgeville and South University in Savanah.
Check the table for more information.
| School Name | Address |
| --- | --- |
| Armstrong State University | 1935 Abercorn Street Savannah, GA 31419, (912) 344-2576 |
| Augusta University | 1120 15th Street Augusta, GA 30912, (706) 721-9767 |
| Emory University | 1520 Clifton Road NE Atlanta, GA 30322, (404) 727-7980 |
| Georgia College | 231 W. Hancock St. Milledgeville,, GA 31061, (800) 342-0471 |
| Georgia Southern University | 1332 Southern Drive Statesboro, GA 30458, (912) 478-4636 |
| Georgia Southern University (Armstrong) | 1935 Abercorn Street Savannah, GA 31419, (912) 344-2576 |
| Georgia Southwestern State University | 800 Georgia Southwestern State University Drive Americus, GA 31709, (877) 871-4594 |
| Georgia State University | 33 Gilmer St SE Atlanta, GA 30303, (404) 413-2000 |
| Mercer University | 1501 Mercer University Drive Macon, GA 31207, (180) 063-7237 x8 |
| Middle Georgia State University | 100 University Parkway Macon, GA 31206, (478) 471-2700 |
| South University | 709 Mall Boulevard Savannah, GA 31406, (888) 444-3404 |
| University of North Georgia | 155 Sunset Drive Dahlonega, GA 30597, (706) 864-1930 |
| University of Northern Georgia | 155 Sunset Drive Dahlonega, GA 30597, (706) 864-1930 |
Salary
An average salary of a nurse practitioner in Georgia is $105.875 per year.
However, the salary is a result of different factors such as education level, certifications, facility regulations, specialization, and city.
Annual Salary Range:
Annual Salary by Location:
| Location | Avg. Annual Salary |
| --- | --- |
| Atlanta | $108,247 |
| Augusta | $101,746 |
| Columbus | $98,867 |
| Savannah | $102,295 |
| Athens | $107,481 |
| Macon | $101,649 |
| Roswell | $107,839 |
| Albany | $100,590 |
| Marietta | $107,941 |
| Warner Robins | $101,342 |
Nurse Practitioner by State
---