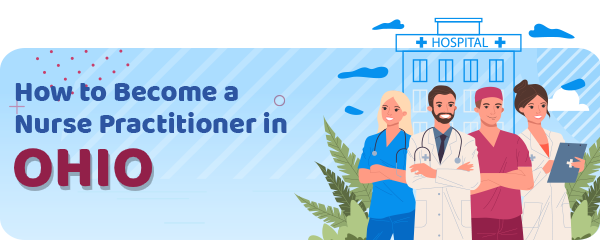 In Ohio, the Board of Nursing license advanced practice registered nurse – APRNs.
There are four recognized roles in Ohio:
Certified Nurse Practitioner (CNP)
Certified Nurse-Midwife (CNM)
Certified Registered Nurse Anesthetist (CRNA)
Clinical Nurse Specialist (CNS)
APRNs in Ohio earn their advanced nursing credential due to graduate education and national certification.
APRNs who need prescriptive authority (clinical nurse specialist, nurse midwives, and nurse practitioners) need to fulfill certain requirements as well.
In Ohio APRN is expected to have a standard care arrangement with a collaborating physician.
Also, APRNs need to hold an RN license in addition to their APRN license.
The APRN license in Ohio is called Certificate of Authority.
Ohio is not a party to the Nurse License Compact, so both licenses are state-specific.
Registered nurses who come from other states need to be endorsed in Ohio.
Some of the requirements changed in 2015 and will change in the future to align Ohio practice with the national model.
APRN Education and Certification Requirements in Ohio
In Ohio, aspiring advanced practice nurses have a graduate degree.
Moreover, the program needs to approved and to make the graduate eligible to take the certification examination.
However, there could be more education requirements, depending on the role and population focus.
You can check the website of the certifying agency to learn more about requirements and exceptions.
Next, according to the state code, section 4723.46, the Board of Nursing in Ohio approves third-party certifying agencies.
The list of approved certifying agencies changes annually.
Some of the organizations commonly found on the list are:
American Academy of Nurse Practitioners
American Association of Critical-Care Nurses
American Nurses Credentialing Center
Hospice and Palliative Credentialing Center
National Certification Corporation
Oncology Nursing Certification Corporation
Pediatric Nursing Certification Board
National Board of Certification and Recertification for Nurse Anesthetists
American Midwifery Certification Board
Additional Requirements for Prescriptive Authority
There is an additional set of requirements for nurse practitioners, nurse midwives, and clinical nurse specialists who seek prescriptive authority.
The first requirement is the completion of an advanced pharmacology course.
It has to include a minimum of 45 contact hours and to be related to the nurse's specialty area.
Also, the course needs to be aligned with Ohio law.
For example, it needs to resolve pharmacokinetic principles and issues surrounding the prescription of controlled substances.
Next, the licensing agency requires that the course is completed in the last three years.
Fortunately, online courses are also accepted by the Board.
In Ohio, the Board requires externship in many situations.
The externship includes 1.500 hours for in-state applicants, and at least 500 hours need to be under the direct supervision of the physician.
However, nurses who have the previous prescriptive experience may be exempted from the requirement.
Also, APRNs who have held prescriptive authority in another state may apply for the authority in Ohio.
However, to be valid the previous experience needs to be at least one year of active prescribing practice in the last three years.
Still, a nurse needs to complete a two-hour course related to laws in Ohio, related to prescriptive authority and drugs.
APRNs need to choose between three separate applications, based on experience.
The fee for externship application and out-of-state prescriptive authority application is $50.
Also, since the 2015 change in law, the APRNs in Ohio have expanded their scope of practice.
Application Process
You can download all application forms from the Ohio Board of Nursing website.
However, make sure that you have met all the requirements before you start the application process.
Additionally, there is a verification form included in the application process that needs to be completed by an educational institution.
Also, the licensing agency requires certification verification, completed by the certification agency.
Candidates who have a disciplinary or criminal record, need to submit additional documentation.
The application non-refundable fee for APRNs approval is $100.
Application materials need to be sent to the Advanced Practice Unit in Columbus.
Recertification and Renewal
APRNs are required to renew their licenses biennially.
Also, they need to recertify occasionally with their initial certification agencies.
Once the recertification process is completed, the verification needs to be delivered to the Ohio Board of Nursing.
The renewal requirement includes continuing education, which is also a standard for RN renewal.
However, some nurses may be exempted from the requirement.
Schools
Because there is a growing need for advanced nurse professionals, there are multiple schools in Ohio offering high-quality programs for aspiring APRNs.
For example, Case Western Reserve University in Cleveland, offers several graduate certificate programs, half conducted on-campus and half performed online.
Kent State University offers MSN programs with various specializations tracks such as Family, Pediatric, Psychiatric, etc.
Mount Carmel College of Nursing has four educational programs conducted on-campus in the charming city of Columbus.
Ohio University in Athens offers its students to choose whether they want to enroll in online or in-classroom programs.
Otterbein University in Westerville has DNP programs, as well as BSN to DNP bridge programs.
The Ohio State University in Columbus has the largest number of bridge programs with various specialization tracks.
The University of Cincinnati is well known for its high-quality DNP and MSN programs.
Check the table for more information.
| School Name | Address |
| --- | --- |
| Case Western Reserve University | 10900 Euclid Ave Cleveland, OH 44106, (216) 368-2000 |
| Kent State University | 1375 University Esplanade Kent, OH 44242, (330) 672-7930 |
| Malone University | 2600 Cleveland Avenue Northwest Canton, OH 44709, (800) 521-1146 |
| Mount Carmel College of Nursing | 127 S Davis Ave Columbus, OH 43222, (614) 234-5800 |
| Ohio University | Athens, OH 45701 (740) 593-1000 |
| Otterbein University | 1 South Grove Street Westerville, OH 43081, (614) 890-3000 |
| The Ohio State University | 1585 Neil Avenue Columbus, OH 43210, (614) 292-4041 |
| The University of Akron | 302 E Buchtel Ave Akron, OH 44325, (330) 972-7111 |
| The University of Toledo | 2801 W. Bancroft Toledo, OH 43606, (800) 586-5336 |
| University of Cincinnati | 2600 Clifton Ave. Cincinnati, OH 45220, (513) 556-0000 |
| Ursuline College | 2550 Lander Rd Pepper Pike, OH 44124, (440) 449-4200 |
| Walsh University | 2020 East Maple Street North Canton, OH 44720, (330) 490-7090 |
| Wright State University | 3640 Colonel Glenn Hwy Dayton, OH 45431, (937) 775-3333 |
| Xavier University | 3800 Victory Parkway Cincinnati, OH 45207, (513) 745-3000 |
| Youngstown State University | 1 University Plaza Youngstown, OH 44555, (330) 941-3000 |
Salary
An average salary of a nurse practitioner in Ohio is $106.849 per year.
However, salaries vary across the state and depend on factors such as education, experience, specialty area, certification, etc.
Annual Salary Range:
Annual Salary by Location:
| Location | Avg. Annual Salary |
| --- | --- |
| Columbus | $107,626 |
| Cleveland | $108,574 |
| Cincinnati | $107,013 |
| Toledo | $105,820 |
| Akron | $105,065 |
| Dayton | $106,378 |
| Youngstown | $103,741 |
| Canton | $104,508 |
| Lorain | $106,553 |
| Findlay | $103,299 |
Nurse Practitioner by State
---