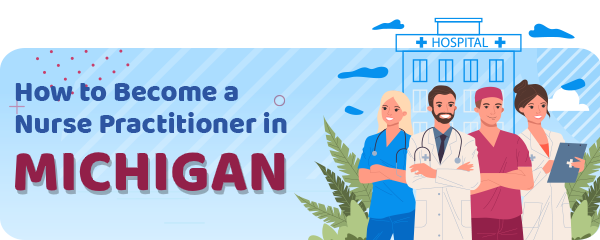 In Michigan, clinical nurses with graduate education are licensed as RNs.
Additionally, they hold a specialty certification issued by the Michigan Department of Licensing and Regulatory Affairs (LARA).
There are three categories of nursing specialty in the state of Michigan, but they can be state-certified in four advanced nursing roles.
Those are:
Nurse Anesthetist
Nurse Practitioner
Nurse-Midwives
Clinical Nurse Specialist
Moreover, an advanced practice nurse earns their certifications in Michigan due to their training and successful pass of the examination.
However, in Michigan, there is no distinguishment between clinical nurse specialists and nurse practitioners.
Both categories are called nurse practitioners.
APRN's certification process is based on national standards.
Further, applicants need to pass a routine criminal background check and screening for out-of-state nurses when they apply for a Michigan RN license.
Out-of-state nurses need to apply to the Board for license endorsement, although Michigan isn't party to the nurse license compact.
Education and Certification Requirements
According to the Michigan Public Health Code, the specialty certification depends on the advanced educational program.
The third-party certification agencies set the educational requirements for advanced practice roles.
There are multiple certifying organizations in Michigan, according to state administrative code.
Those are:
American College of Nurse-Midwives Certification Council
American Nurses Credentialing Center
National Certification Board of Pediatric Nurse Practitioners and Nurses
American Academy of Nurse Practitioners
National Certification Corporation for Obstetric, Gynecologic, and Neonatal Nursing Specialties
Oncology Nursing Certification Corporation
Before each candidate gets the examination date, the national certifying agency needs to review the academic qualifications.
Nurse practitioners, nurse anesthetists, and nurse midwives are expected to complete the education at the graduate level.
They also need to submit official transcripts and verify their clinical practicum.
You can find more details about the schedule on the website of the certifying agency.
Your chosen role and target population foci determine the appropriate certifying agency.
Moreover, some agencies offer multiple certifications for advanced nurse professionals.
You can find the complete list of Board-approved certifying agencies on application forms.
For example, the American Nurses Credentialing Center (ANCC) has several certifications available for nurse practitioners and clinical nurse specialists.
The certifications for nurse practitioners are:
Adult
Family
Gerontological
Pediatric
Adult Acute Care
Adult Psychiatric and Mental Health Diabetes Management, Advanced
The certifications for clinical nurse specialist are:
Adult Health
Pediatric Nursing
Gerontological Nursing
Public/ Community Health Nursing
Adult Psychiatric and Mental Health Nursing
Child/ Adolescent Psychiatric and Mental Health Nursing
Neonatal nurse practitioners and women's health nurse practitioners are certified through the National Certification Corporation.
However, remember that national certifications can change.
Some certifications that were approved in the past are no longer approved by the Michigan Board.
The Application Process
In Michigan, the temporary permit isn't an option for advanced practice nurses.
Unlike other states, nurses need to meet all requirements before they complete their advanced credentialing process.
The application forms are available for download on the Board of Nursing website.
Further, nurses in Michigan need to verify their certification status.
Luckily, there is a form created for this purpose.
Also, the form is category-specific, but remember that nurse practitioners and clinical nurse specialists in Michigan have the same process, so they use the same form.
There are parts of the form that need to be filled out by the certification agency and by the applicant itself.
The verification can be sent by email but needs to come from the primary source – certifying agency.
The amount you have to pay for application fee depends on the date when the RN license expires.
Next, the application review lasts around three weeks, and the status can be monitored online.
Once you apply, your application status is considered valid for the years.
Renewal Requirements
The frequency of the specialty credential renewal is two years.
However, the first renewal cycle can be shorter.
The renewal requirements in Michigan are similar to renewal requirements in other states and are set by the certifying agency.
Those include verification of the continuing certification, certificate maintenance, etc.
Schools
Michigan has multiple options for high-quality nursing education in a variety of specialty areas.
For example, Eastern Michigan University offers online MSN and Graduate certificate programs with adult-gerontology specialization tracks.
Next, Madonna University in Livonia has several MSN program.
DNP programs are available at Northern Michigan University
in Marquette and Saginaw Valley State University.
The latter offers a high-quality BSN to DNP educational pathway.
Additionally, you can complete a DNP program at the University of Michigan or  Wayne State University.
If you are interested in online education, you can consider Spring Arbor University.
At this university, you can choose BSN to MSN program, RN to MSN program, and several programs for different specialist areas.
Hybrid programs are available at Northern Michigan University and Oakland University in Rochester.
Check the table for more information.
| School Name | Address |
| --- | --- |
| Eastern Michigan University | 900 Oakwood St Ypsilanti, MI 48197, (734) 487-1849 |
| Madonna University | 36600 Schoolcraft Road Livonia, MI 48150, (734) 432-5300 |
| Michigan State University | 220 Trowbridge Rd. East Lansing, MI 48824, (517) 355-1855 |
| Northern Michigan University | 1401 Presque Isle Ave Marquette, MI 49855, (906) 227-1000 |
| Oakland University | 433 Meadow Brook Road Rochester, MI 48309, (248) 370-4253 |
| Saginaw Valley State University | 7400 Bay Road University Center, MI 48710, (989) 964-4000 |
| Spring Arbor University | 106 E. Main St. Spring Arbor, MI 49283, (184) 465-7252 x5 |
| University of Detroit Mercy | 4001 W. McNichols Road Detroit, MI 48221, (313) 993-1245 |
| University of Michigan | 426 N. Ingalls St. Ann Arbor, MI 48109, (734) 763-5985 |
| University of Michigan- Flint | 303 E. Kearsley Street Flint, MI 48502, (810) 762-3300 |
| Wayne State University | 5557 Cass Avenue Detroit, MI 48202, (313) 577-4082 |
Salary
An average annual salary of a nurse practitioner in Michigan is $109.519.
However, a salary depends on numerous factors such as location, experience, certifications, specialty, facility, etc.
Annual Salary Range:
Annual Salary by Location:
| Location | Avg. Annual Salary |
| --- | --- |
| Detroit | $112,123 |
| Gran Rapids | $106,772 |
| Warren | $112,123 |
| Flint | $101,515 |
| Sterling Heights | $111,773 |
| Lansing | $107,144 |
| Ann Arbor | $113,710 |
| Livonia | $111,773 |
| Dearborn | $112,123 |
| Westland | $112,479 |
Nurse Practitioner by State
---