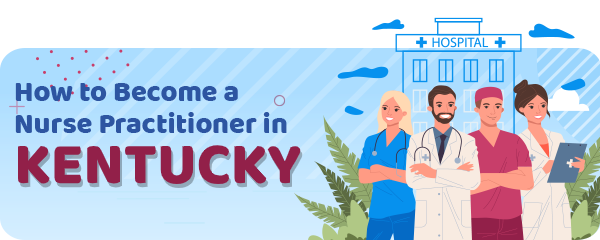 The Kentucky Board of Nursing grants licenses to the advanced practice registered nurse (APRNs).
The prerequisite for APRN license is to hold a registered nurse license in Kentucky, or in another state that is part of the nurse compact agreement.
There are four roles of APRNs in Kentucky.
Those are nurse practitioners, nurse midwives, nurse anesthetists, and clinical nurse specialists.
Advanced practice registered nurses have a population focus.
Midwives and nurse anesthetists are qualified according to the population foci.
However, clinical nurse specialists and nurse practitioners have several concentrations available.
Those include adult, family, pediatric, women's health, acute care, mental health (adult/child/adolescent), gerontological, and neonatal.
APRNs are granted licensure based on their education and national certification.
In Kentucky, all aspiring APRNs need to pass federal background checks.
Educational Requirements
To become an APRN, one must complete a post-basic nursing educational program.
Additionally, clinical experience is required in Kentucky.
Currently, the students can complete the master's program, post-master program, or DNP program.
However, those who qualified before July 1, 2005, are exempted from the master's degree requirement.
Certification Requirements
Aspiring advanced practice nurses need to pass the national certification and maintain it to be allowed to practice.
There are several certifying agencies and the choice depends on the role and population focus.
According to the Kentucky Board of Nursing, approved certifying organizations are:
The American Association of Critical-Care Nurses (AACN)
The American Academy of Nurse Practitioners (AANPcert)
The American Midwifery Certification Board (AMCB)
The American Nurses Credentialing Center (ANCC)
The National Board of Certification & Recertification for Nurse Anesthetists (NBCRNA)
The National Certification Corporation (NCC)
The Pediatric Nursing Certification Board (PNCB)
Additionally, the Oncology Nursing Certification Corporation is suitable for certification maintenance.
However, new APRNs cannot be certified through this organization.
Background Check Requirement
In Kentucky, aspiring APRNs, need to pass fingerprint-based background checks.
Registered nurses in Kentucky also have to pass the checks.
All applicants can request fingerprint cards from the Board, and mail them to the Kentucky State Police.
The fee for the finger-print check is $14.75.
Additionally, background checks may be requested online, and candidates will receive their results electronically.
However, candidates who mail their requests have to pay $20 and the fingerprints review may last longer.
Application Process
Nurses with Kentucky RN licenses should follow the application steps they can find on the website of the Kentucky Board of Nursing.
The same steps are required for nurses who hold their RN licenses in the state that are part of the nurse compact agreement.
Candidates are encouraged to submit their applications online.
However, bear in mind that there is are separate applications for APRN license, and APRNs and RN licenses.
All candidates need to show proof of post-basic education.
If the nurse has completed the advanced-practice education as part of the post-master certification program, he or she need to provide official transcripts of the master's degree.
Nurse-midwives and nurse anesthetists who have completed their education before 2005, may submit their diplomas.
The other two roles who completed the education before 2005, need to submit transcripts.
Besides, all roles need to provide a copy of the certification.
The APRN license fee is $165.
If the Board requires some supporting documents for endorsing RN license, individuals will have additional fees.
Typically, the review process lasts around 14 days.
However, if a candidate has a criminal history, the process may last longer.
Temporary APRN Authorization
Applicants who seek RN endorsement may get a temporary license for both RN and APRN practice.
Prescriptive Authority for Controlled Substances
APRNs who want to obtain a prescriptive authority for controlled substances need to sign a collaborative agreement with physicians.
Only once they are licensed as an advanced practitioner for at least one year, APRNs may apply for the prescriptive authority.
You can find all related documentation and materials on the Kentucky Board of Nursing website.
APRN Licenses Renewal
In Kentucky, APRN licenses and RN licenses usually have the same expiration date.
To renew the license, APRN needs to complete a minimum of five contact hours of education in pharmacology.
Those who want to renew the prescriptive authority may have other requirements.
Renewal applications can also be submitted online.
However, additional requirements may be in place from different certifying agencies.
Sometimes, RNs need to complete additional courses work during the renewal period, to maintain their RN license.
Schools
Aspiring APRNs in Kentucky have multiple schools for their advanced practice education.
For example, Bellarmine University in Louisville offers a hybrid MSN program with a Family Nurse Practitioner specialization track.
Eastern Kentucky University offers an online Graduate certificate and MSN programs.
Additionally, those interested in rural nursing can complete the online Rural Health Family Nurse Practitioner program at this University.
University of Kentucky College of Nursing in Lexington has a wide choice of different Graduate certificate and DNP programs.
For example, there are Adult-Gerontology Clinical Nurse Specialist,  Adult-Gerontology Nurse Practitioner, Pediatric Acute Care Nurse Practitioner program, and others.
Also, students can complete BSN to DNP bridge programs with various specialization tracks such as Adult/Gerontology Acute Care Nurse Practitioner.
Check the table for more information.
| School Name | Address |
| --- | --- |
| Bellarmine University | 2001 Newburg Rd Louisville, KY 40205, (502) 272-8000 |
| Eastern Kentucky University | 521 Lancaster Ave Richmond, KY 40475, (859) 622-1000 |
| Frontier Nursing University | 195 School Street Hyden, KY 41749, (606) 672-2312 |
| Kentucky Christian University | 100 Academic Parkway Grayson, KY 41143, (800) 522-3181 |
| Kentucky State University | 400 East Main St. Frankfort, KY 40601, (502) 597-6000 |
| Morehead State University | 150 University Blvd. Morehead, KY 40351, (800) 585-6781 |
| Northern Kentucky University | Nunn Drive Highland Heights, KY 41099, (800) 985-7215 |
| Spalding University | 901 South Fourth St. Louisville, KY 40203, (502) 585-9911 |
| University of Kentucky College of Nursing | 315 College of Nursing Building 751 Rose Street Lexington, KY 40536, (859) 323-5108 |
| University Of Louisville | 555 South Floyd Street Suite 3019 Louisville, KY 40202, (502) 852-5825 |
| Western Kentucky University | 1906 College Heights Blvd Bowling Green, KY 42101, (270) 745-0111 |
Salary
A salary is calculated using different factors such as education level, experience, additional certifications, and skills, etc.
The location and healthcare facility also determine the salary.
An average annual salary of a nurse practitioner in Kentucky is $102.975.
Annual Salary Range:
Annual Salary by Location:
| Location | Avg. Annual Salary |
| --- | --- |
| Lexington | $103,051 |
| Louisville | $103,194 |
| Owensboro | $102,775 |
| Bowling Green | $98,642 |
| Covington | $107,013 |
| Hopkinsville | $98,488 |
| Frankfort | $99,965 |
| Henderson | $103,431 |
| Richmond | $102,010 |
| Paducah | $97,613 |
Nurse Practitioner by State
---