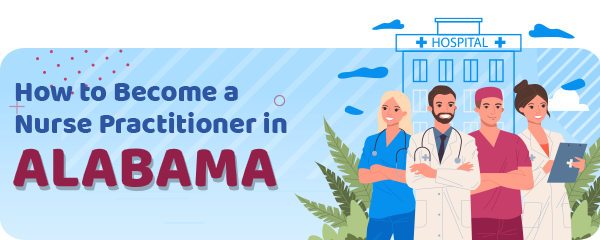 In Alabama state, the Board of Nursing holds the jurisdiction over advanced practice nurses (APNs).
Similar to other US states, the state regulations note that every APN needs to hold RN licenses, in addition to advanced practice approval.
The state of Alabama is not a party to the Nurse Licence Compact, which makes a procedure for out-of-state APNs a bit more complex.
Further, in Alabama, there are four advanced practice categories, recognized by the Board:
Certified Registered Nurse Practitioner (CRNP)
Certified Nurse Midwife (CNM)
Certified Registered Nurse Anesthetist (CRNA)
Clinical Nurse Specialist (CNS)
Alabama's APNs earn their credentials due to graduate education and specialty certification.
Advanced Practice Nurse Education and Certification Requirements
Aspiring APNs in Alabama need to complete master's or post master's programs intended to prepare them for the advanced nursing roles.
However, there are a few exceptions.
However, nurse anesthetists who have completed their education before December 31, 2003, are certified without a master's degree.
Nurse practitioners and nurse midwives with BSN degree who completed their studies before 1996 are also exempt from the master's degree requirement.
Additionally, nurses who finished their studies before 1984, are exempt from the rule of required BSN degree.
According to the administrative state code, the Board has the authority to waive the master's degree requirement.
Usually, aspiring APNs in Alabama need to have national certification.
The certification needs to be obtained through a Board-approved certification agency.
However, nurses who don't have appropriate certification available may be certified through the Board as well.
Nurse anesthetists are certified through the National Board for Certification and Recertification of Nurse Anesthetists.
The American Midwifery Certification Board certifies nurse-midwives.
On the other hand, nurse practitioners and clinical nurse specialists have a variety of appropriate certifying agencies.
The specialty area determines the certification agency.
Alabama Board of Nursing recognizes the following certifying agencies for NPs and CNS:
American Academy of Nurse Practitioners
American Association of Critical-Care Nurses
American Nurses Credentialing Center
National Certification Corporation for Obstetric, Gynecological, and Neonatal Nursing Specialties
Pediatric Nursing Certification Board
The Board can also accept certification in oncology and hospice/palliative care.
You can find the complete list of the approved certification on the Alabama Board of Nursing website, section Frequently asked questions.
The Board can change certification availability.
Therefore, some certifications that were available in the past are no longer an option for new ANPs.
However, these certifications are available for recertification.
Prescriptive Authority/ Collaborative Agreements
The scope of practice of nurse practitioners and nurse midwives include prescribing authority.
To obtain one, a nurse practitioner needs to sign a collaborative agreement with compatible physicians with unrestricted Alabama license.
The collaborative agreement isn't required for clinical nurse specialists and nurse anesthetists.
You can find more information on collaboration on the FAQ sections of the Board of Nursing website.
The State Administrative Code: Advanced Practice Nursing Collaborative Practice, Chapter 610-X-5 includes the details of the nurse practitioner and nurse-midwife requirements.
Chapter 610-X-9: Advanced Practice Nursing discusses the requirements for clinical nurse specialists and nurse anesthetists.
Out-of-State Advanced Practice Nurses
In Alabama, the reciprocity for out-of-state APNs isn't granted.
However, some APNs may be licensed, if he or she met the educational requirements in the past.
Application Process
Luckily, applications can be submitted online in Alabama.
The required documentation includes official transcripts and certification verification.
The fee for APN approval is $150.
Consult the Board of Nursing website to find out more about current application deadlines.
Provisional Approval
Nurse anesthetists, nurse practitioners, and nurse midwives obtain temporary provisional approval during the certification process.
The candidate needs to have test authorization to be eligible for provisional approval.
Aspiring APNs need to apply for the provisional approval before they make an examination attempt.
The nurse who is granted provisional approval loses temporary credentials if he or she fails an examination.
Luckily, a nurse may retake the examination and re-apply to the Alabama Board.
The titles for the aspiring APNs with provisional approval are:
Graduate Nurse Midwife
Graduate Registered Nurse Practitioner
Graduate Registered Nurse Anesthetist
Renewal Requirements
Both RN and APN licenses need to be renewed every two years.
The renewal requirements include a demonstration of current certification and official verification from the certifying agency.
Additionally, the continuing education requirement is in place for nurse anesthetists, nurse practitioners, and clinical nurse specialists.
It includes completion of six hours in pharmacology.
Schools
Aspiring APNs in Alabama have sufficient advanced nursing education programs.
Thus, they can choose between MSN, DNP, and graduate certificate programs at colleges and universities and online, hybrid, and on-campus courses.
DNP programs are available at Samford University in Birmingham, MSN programs are offered at South University, Univesity of Alabama, University of South Alabama, etc.
Troy University has an online graduate certificate program with a Family nurse practitioner specialization track.
Check the table for more information.
| School Name | Address |
| --- | --- |
| Samford University | 800 Lakeshore Drive Birmingham, AL 35229, (205) 726-2011 |
| South University | 5355 Vaughn Road Montgomery, AL 36116, (866) 629-2962 |
| The University of Alabama | 50 University Boulevard East Tuscaloosa, AL 35401, (205) 348-6639 |
| Troy University | Troy University School of Nursing, Pell Ave Troy, AL 36081, (334) 834-2320 |
| University of Alabama at Birmingham | 1720 2nd Avenue South Birmingham, AL 35294, (205) 975-7529 |
| University of Alabama in Huntsville | 301 Sparkman Drive Huntsville, AL 35899, (256) 824-1000 |
| University of Mobile | 5735 College Parkway Mobile, AL 36613, (251) 675-5990 |
| University of South Alabama | 5721 USA Dr N Mobile, AL 36688, (251) 445-9400 |
Salary
Nurse with advanced credentials is usually paid more than an RN.
Therefore, the average salary of a nurse practitioner in the state of Alabama is $102.537  per year.
However, salary depends on experience, certification, location, and employer.
Annual Salary Range:
Annual Salary by Location:
| Location | Avg. Annual Salary |
| --- | --- |
| Birmingham | $103,610 |
| Montgomery | $98,138 |
| Mobile | $101,297 |
| Huntsville | $103,521 |
| Tuscaloosa | $102,596 |
| Dothan | $96,825 |
| Decatur | $100,357 |
| Auburn | $98,101 |
| Gadsden | $102,690 |
| Alabaster | $103,026 |
Nurse Practitioner by State
---