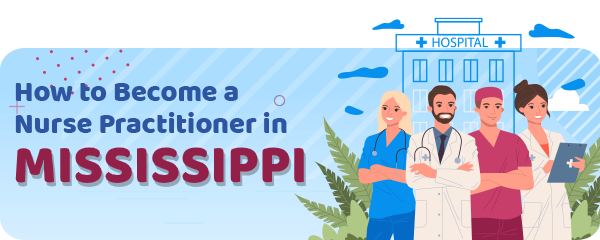 Mississippi, the advanced practice nurses are under the jurisdiction of the State Board of Nursing.
There are four roles of APRNs in Mississippi:
Certified Nurse Practitioner (CNP)
Certified Registered Nurse Anesthetist (CRNA)
Certified Nurse Midwife (CNM)
Clinical Nurse Specialist (CNS)
Additionally, nurse practitioners and clinical nurse specialists have a population focus that can be broad or narrow.
Nurses that focus on families and individuals across the lifespan have broad population focus.
The narrow focus is on neonatal, pediatrics, women's health/gender, or adult-gerontology nurses.
Moreover, some nurses focus on psychiatric and mental health issues.
The certification requirements include holding an RN license.
A temporary permit is also acceptable if the license is pending.
Fortunately, Mississippi is a member of the nurse compact and accepts out-of-state nurses from other compact states.
Out-of-state nurses who come from the non-compact state need to apply for RN endorsement.
Education and Certification Requirements
Aspiring APRNs in Mississippi need to hold at least a master's degree.
Additionally, programs need to include relevant clinical experience and accredited by the Board-approved agency.
Moreover, the program serves as proper training for the intended role.
The requirements for the APRNs who completed their education by the end of 1998 are different, and they don't have to hold the graduate-level degree.
Those who graduated after 1993 need to demonstrate that their education included proper education for the chosen advanced practice category.
Also, those who have achieved their credentials before 1993 aren't required to hold degrees that are specifically linked to the role.
On the other hand, they need to show that accredited programs included all necessary training for the advanced nursing category.
APRNs in Mississippi have to pursue a national certification examination.
In Mississippi, multiple agencies are Board-approved for certifying APRNs.
Further, the choice depends on the role and population focus of the choose professionals.
APRNs in Mississippi need to maintain their certification.
The requirements for maintenance depend on the certifying agency and include meeting continuing competency requirements.
Background Check Requirements
In Mississippi, APRNs need to pass the fingerprint-based criminal background check.
Luckily, students in Mississippi schools may have their fingerprints made at their schools.
The other option is to schedule their fingerprinting appointments at the State Board of Nursing offices.
The process includes online registration and application.
The fee for the background check is $75.
Additionally, applicants need to bring two forms of ID to the appointment.
New APRN Graduates
APRNs in Mississippi are allowed to apply for a temporary permit.
The temporary permit has a maximum duration of 120 days from the date of graduation.
APRNs with temporary permits required to sit for the certification examination within 90 days of graduation date.
New graduates in Mississippi are also required to complete a residency program, with a 720-hour duration.
The practice during the residency program needs to be supervised by a physician or related APRN.
Further, after the residency program is completed the Board requires the letter of completion to make sure that requirements are met.
Controlled Substances Prescriptive Authority
APRNs seeking prescriptive authority for controlled substances need to submit a separate application.
However, only APRNs who completed 720 hours during the residency program are allowed to apply for the prescriptive authority.
The Application Process
The state of Mississippi is slowly introducing an online application system.
Before you start the application process, make sure to read state administrative code to make sure that you are familiar with practice guidelines.
The APRNs need to sign the Verification of Protocol document with a licensed collaborating physician.
Next, applicants need to submit copies of their national certification.
Nurse with multiple certifications needs to submit copies of all certifications.
Also, official transcripts need to be sent to the Board from the education institution.
Candidates, who have criminal or professional disciplinary history, need to provide supporting documentation, including court documents.
The application fee is $100.
Renewal Requirements
The APRNs in Mississippi need to renew their credentials biennially.
The renewal requirements are continuing education, and APRNs need to complete 40 contact hours in relevant practice areas.
Schools
The growing need for advanced nurse practitioners' needs in the World, including the USA, lead to advanced nursing programs.
Therefore, several schools in Mississippi offer appropriate advanced nursing programs.
Alcorn State University in Lorman has an MSN program with a Family Nurse Practitioner specialization track.
Next, Delta State University in Cleveland has one graduate certificate and one MSN program; both are conducted on-campus.
University of Mississippi Medical Center has several DNP and MSN programs.
Those are, for example, Acute Care Adult-Gerontology NP, Adult-Gerontology Primary Care NP, Neonatal Nurse Practitioner.
DNP programs are available as BSN to DNP bridge programs.
For example, you can choose BSN to DNP: Psychiatric/Mental Health Nurse Practitioner, Adult-Gerontology specialization tracks, or others.
Check the table for more information.
| School Name | Address |
| --- | --- |
| Alcorn State University | 1000 ASU Drive Lorman, MS 39096, (601) 877-6100 |
| Delta State University | Highway 8 West Cleveland, MS 38733, (180) 046-8637 x8 |
| Mississippi University For Women | 1100 College Street Columbus, MS 39701, (187) 746-2843 x9 |
| The University of Southern Mississippi | 118 College Drive Hattiesburg, MS 39406, (601) 266-1000 |
| University Of Mississippi Medical Center | 2500 North State Street Jackson, MS 39216, (601) 984-1000 |
Salary
Salary of all healthcare professionals, including advanced practice registered nurses is a result of education level, certification, specialty, skills, healthcare facility, department, and location.
An average annual salary of a nurse practitioner in Mississippi is $95.205.
Annual Salary Range:
Annual Salary by Location:
| Location | Avg. Annual Salary |
| --- | --- |
| Jackson | $97,868 |
| Gulfport | $96,223 |
| Biloxi | $96,989 |
| Hattiesburg | $95,621 |
| Greenville | $97,284 |
| Meridian | $96,974 |
| Tupelo | $92,316 |
| Southaven | $101,257 |
| Vicksburg | $96,883 |
| Pascagoula | $96,212 |
Nurse Practitioner by State
---