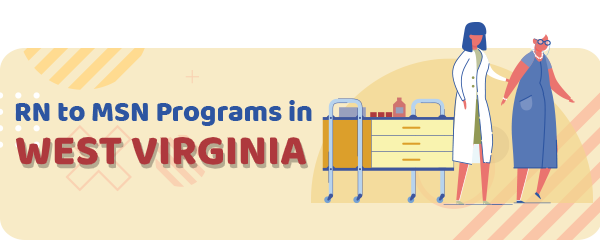 If you are a registered nurse (RN) in West Virginia and you want to continue your career development in the best way, you can complete RN to MSN program.
Obtaining a higher degree, such as MSN, will improve your job opportunities and increase your salary.
If you have ADN or BSN degree, you can also find appropriate programs in the nearby states.
Online courses are also available.
RN to MSN Admissions Requirements in West Virginia
If you want to apply for the RN to MSN program in West Virginia, you will have to meet several criteria.
Aspiring students need to have a valid and unencumbered RN license and a GPA of at least 3.0 on all undergraduate programs.
Upon application, students need to submit a resume, proof of clinical experience, letter of recommendation, and personal statement.
Additionally, some schools only admit students who have completed the undergraduate statistics course with a grade C or better and a health assessment course.
RN to MSN Courses
MSN programs consist of general nursing courses and specialization courses.
It is because many students can choose a specialization track such as Nurse Administrator, Family Nurse Practitioner, Pediatric Nurse Practitioner, etc.
The most common courses at MSN programs include Advanced Health Assessment, Advanced Pathophysiology, Advanced Pharmacology, Health Care Policy, and Politics, etc.
The duration of MSN programs depends on the school and students.
Students can choose to study full-time or part-time, and the chosen specialization also affects the length.
On average, the duration of the full-time program is three years, and the duration of the part-time program is four years.
Online Programs
Students in West Virginia can also choose one of the online MSN programs.
These are convenient and flexible, thus working nurses choose to study online because of the ability to study at their own pace.
Online programs also have clinical hour requirements that can be completed in students' local healthcare facilities.
The Costs
How much you will have to pay for an RN to MSN/BSN program depends on the school and program.
For example, if you choose a program at Wheeling University in West Virginia, you will have to pay around $9.000 per semester.
The program has five semesters, and the tuition doesn't cover expenses for books and nursing instruments.
Schools in West Virginia
In West Virginia, there is one in-state option for MSN programs.
The program is online, but students will have to attend occasional on-campus meetings.
The online program is flexible and offers students a chance to pick their specialization.
Available specializations are gerontological nursing, psychiatric nursing, anesthetist, etc.
| School Name | Address |
| --- | --- |
| Wheeling University | 316 Washington Avenue Wheeling, WV 26003, (304) 243-2000 |
Salary
On average, a registered nurse level 2 in West Virginia earns $67,320 per year.
Bear in mind that a salary depends on factors such as location, experience, employer, certificates, specialization, etc.
Annual Salary Range:
Annual Salary by Location:
| Location | Avg. Annual Salary |
| --- | --- |
| Charleston | $69,210 |
| Huntington | $67,110 |
| Parkersburg | $67,470 |
| Wheeling | $74,390 |
| Morgantown | $74,390 |
| Weirton | $74,120 |
| Fairmont | $74,390 |
| Beckley | $68,600 |
| Clarksburg | $66,860 |
| Martinsburg | $83,710 |
RN to MSN Programs by State
---