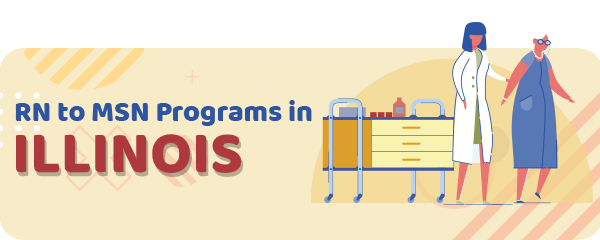 Registered nurses in Illinois, who want to take the next step in their education, have several educational pathways to achieve MSN.
Obtaining a Master's degree in Nursing will ensure a higher salary and better job opportunities.
For more information on the RN to MSN programs in the state, keep reading.
RN to MSN Admissions Requirements in Illinois
Registered nurses in Illinois have to satisfy a set of requirements to be admitted to MSN programs in Illinois.
Also, nurses have to hold a valid, unencumbered registered professional nurse license in Illinois and have a cumulative GPA of at least 3.0 on undergraduate studies.
Additionally, all students need to submit three letters of recommendation and a personal goal statement.
Only, when you fulfill all the requirements, you can apply to the RN to MSN program of your choice in the state of Illinois.
RN to MSN Courses
There are different RN to MSN models, and you choose the one that suits you, based on your eligibility.
For example, nurses who have BSN can finish only the MSN portion of the program.
Other students can choose transition RN to MSN program through the BSN pathway.
After you complete general studies, you will have to choose the specialization.
For example, you can become an Adult Clinical Nurse Specialist, a Family Nurse Practitioner, or else.
Online RN to MSN Programs
Nowadays, online programs are very popular due to their convenience and affordability.
Nurses who are full-time employed often choose an online course because they don't have to relocate and quit the job to finish it.
But, you should know that all online education programs require clinical nursing hours.
For the majority of programs, you can finish the hours in your local area.
The Costs
Costs are different for traditional, transition, and online courses.
Also, tuition for some programs include expenses for books and other materials.
For example, if you choose a program at the Resurrection University, expect to pay around $858 per credit hour.
Schools in Illinois
Illinois has numerous schools that have RN to MSN programs.
That is why you have higher chances to find the one that you eligible to attend and the one that fits your needs and expectation.
Let's have a quick overview of the best schools with RN to MSN programs in the state of Illinois.
Bradley University has an excellent online program that accepts students from all states.
DePaul University allows you to take the online course and complete clinical hours in your local area.
Elmhurst College has programs for nurses with BSN and those who want an RN to MSN transition program.
Lewis University has an exceptional RN to MSN programs for students who want to specialize in Nursing Education, Nursing Administration, or become a Nurse Practitioner.
McKendree University has an MSN online course.
Rush University has a high reputation and is "America's Best Graduate School" according to U.S. News and World Report's.
Saint Francis Medical Center College of Nursing is suitable for students looking for accelerated programs.
Saint Xavier University has an online course for nurses who want to earn BSN and a transition RN to MSN program.
Trinity College of Nursing and Health Sciences is known for its excellent curriculum for nursing education and health care system.
The University of Illinois in Chicago allows you to complete it either as a full-time or part-time student.
| School Name | Address |
| --- | --- |
| Bradley University | 1501 West Bradley Avenue, Peoria, IL 61625 |
| DePaul University | 1 E. Jackson, Chicago, IL 60604 |
| Elmhurst College | 190 Prospect Avenue, Elmhurst, IL 60126 |
| Lewis University | One University Parkway, Romeoville, IL 60446 |
| McKendree University-Illinois | 701 College Rd, Lebanon, IL 62254 |
| Rush University | 600 S. Paulina St., Chicago, IL 60612 |
| Saint Francis Medical Center College of Nursing | 511 NE Greenleaf St, Peoria, IL 61603 |
| Saint Xavier University | 3700 West 103rd Street, Chicago, IL 60655 |
| Trinity College of Nursing and Health Sciences | 2122 25th Avenue, Rock Island, IL 61201 |
| University of Illinois at Chicago | 1200 W Harrison St, Chicago, IL 60607 |
Salary
Salary is calculated using various factors such as educational level, experience, location, healthcare facility, etc.
On average, a registered nurse, level 2 in Illinois can earn $77890 per year.
Annual Salary Range:
Annual Salary by Location:
| Location | Avg. Annual Salary |
| --- | --- |
| Chicago | $80,400 |
| Rockford | $75,080 |
| Aurora | $79,690 |
| Naperville | $78,770 |
| Peoria | $73,260 |
| Springfield | $70,010 |
| Joliet | $78,120 |
| Elgin | $79,100 |
| Waukegan | $75,820 |
| Cicero | $80,400 |
RN to MSN Programs by State
---