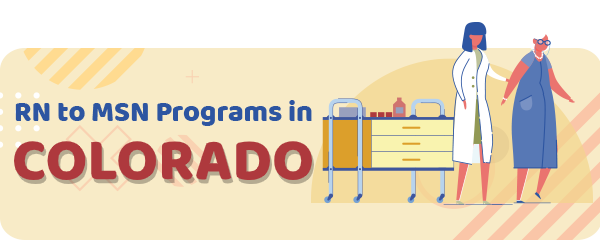 Registered nurses (RNs) in Colorado who want to take the next step toward an excellent career in nursing can finish the Master's degree in Nursing (MSN).
Getting an MSN degree will improve job opportunities and salaries for nurses.
Keep reading to find out more about RN to MSN educational programs in Colorado.
RN to MSN Admissions Requirements in Colorado
Each RN to MSN program has several essential requirements that students need to fulfill.
Essential requirements include a minimum GPA of 3.0 on all undergraduate studies and having an active, unencumbered registered professional nurse license in Colorado.
Only students who have finished the ACEN or CCNE accredited ADN or BSN program can be admitted to the RN to MSN program in Colorado.
Popular Programs
Upon application, students are asked to provide a personal statement essay and three professional and academic letters of recommendation.
Additionally, students need to pass a criminal background check.
Only those who fulfill all requirements can be admitted to the RN to MSN program in Colorado.
RN to MSN Courses
There are several RN to MSN program models in Colorado.
You can choose the one that suits your past education.
For example, the simplest educational pathway is for nurses who have BSN, because they can complete only the MSN part of the program.
Other nurses can pick the program which will allow them to obtain both BSN and MSN degrees.
After the general education courses are done, you can choose the specialization track and become a family nurse practitioner, adult clinical nurse specialist, etc.
Online RN to MSN Programs
Recently, online classes are getting more and more popular because they are more convenient than traditional ones and have more affordable fees.
Also, working nurses often prefer online classes because they don't have to quit the job or relocate to finish school.
Even if you choose an online program, you will have to complete clinical requirements.
Fortunately, all schools allow students to finish the clinical requirements in their local healthcare facilities.
The Costs
Program fees are different across Colorado and depend on several factors.
Before you decide which program to take, you can check whether the tuition covers expenses for books and all the necessary things.
For example, if you choose Aspen University, you will have to pay around $975 per course.
Schools in Colorado
Let's see what colleges and universities in Colorado offer appropriate RN to MSN programs.
For example, American Sentinel University has a great RN to BSN to MSN track and is one of the few CCNE-accredited universities with this program.
Aspen University is CCNE-accredited online program.
Students at Regis University must complete a minimum of 30 semester hours to finish the program.
| School Name | Address |
| --- | --- |
| American Sentinel University | 2260 South Xanadu Way, Suite 310, Aurora, CO 80014 |
| Aspen University | 1660 S. Albion Street, Suite 525, Denver, CO 80222 |
| Regis University | 3333 Regis Boulevard, Denver, CO 80221-1099 |
Salary
Salary is a result of several factors, such as location, employer, experience, education, etc.
An average yearly salary of a registered nurse, level 2 in Colorado is $75620.
Annual Salary Range:
Annual Salary by Location:
| Location | Avg. Annual Salary |
| --- | --- |
| Denver | $76,700 |
| Colorado Springs | $75,490 |
| Aurora | $76,650 |
| Lake City | $72,160 |
| Fort Collins | $73,840 |
| Arvada | $76,700 |
| Pueblo | $70,340 |
| Westminster | $76,700 |
| Boulder | $77,820 |
| Thornton | $76,700 |
RN to MSN Programs by State
---