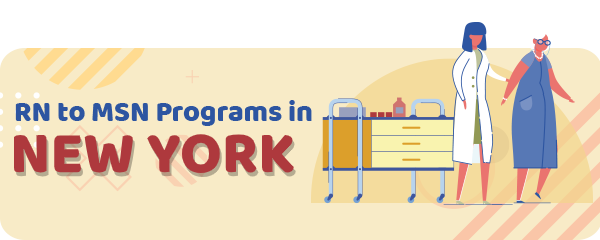 Ambitious registered nurses in the state of New York can take a step forward in their career and obtain a Master's of Science in Nursing (MSN) degree.
In New York state, there are plenty of options for RN to MSN programs for both ADN and BSN-prepared nurses.
Also, bear in mind that an MSN degree ensures better job opportunities and a higher salary.
MSN programs also include various specialization tracks and can be conducted online as well as on-campus.
RN to MSN Admissions Requirements in New York
The RN to MSN programs are quite competitive, so there is a set of admission requirements for all students.
Even though schools can change the requirements, typically only students with a minimum GPA of 3.0 are admitted.
Only students who have ADN or BSN degree from an accredited university and a minimum one year of clinical experience as an RN are accepted.
Additionally, students need to submit three letters of recommendation and a personal goal statement.
RN to MSN Courses
The traditional RN to MSN pathways for nurses with ADN degree includes bridge courses.
After an ADN nurse complete set of bridge course, he or she will be on the baccalaureate level and can continue with the MSN program.
Nurses who hold BSN can only complete MSN courses, such as advanced nursing and specialty program.
Students can choose a specialization track and continue their career as Nurse Anesthetists, Family Nurse Practitioner, or others.
The curriculums are slightly different, but you can expect courses such as Organizational Leadership and Role Formation, Quality Improvement, Safety, and Healthcare Technologies, Healthcare Policy and Advocacy, etc.
The duration of MSN programs depends on factors such as student status – full-time or part-time, specialization, required credits, etc.
Most of the schools admit students in Fall, Spring, and Summer semesters.
Online programs
Some students prefer flexible online programs and the ability to study at their own pace.
Working nurses choose online courses because they don't have to relocate and quit the job to complete the programs.
Also, online programs are cheaper than on-campus MSN programs, but also include clinical hours.
Luckily, the clinical requirements can be completed in a local health care facility.
The Costs
Completing an RN to MSN program can be pricey and students have options for grants and scholarships.
Sometimes tuition covers the fees and books, and sometimes you have to pay extra for it.
For example, the MSN program at St.John Fisher College is around $15.260 per year for on-campus students.
Schools in New York
The state of New York offers excellent options for both online and traditional nursing studies.
For example, the University of Rochester has a flexible, accelerated path and its graduates are highly appreciated across the country.
Next, Daemen College has a specialization in Adult/Gerontology Nursing and accelerated nursing programs.
Nurses seeking online education can choose Excelsior College, SUNY Empire State College, or a hybrid program at Stony Brook University.
| School Name | Address |
| --- | --- |
| Daemen College | 4380 Main St Amherst, NY 14226, (716) 839-8387 |
| Excelsior College | 7 Columbia Cir Albany, NY 12203-5159 |
| Stony Brook University | 101 Nicolls Road Stony Brook, NY 11794, (631) 689-8333 |
| SUNY Empire State College | Two Union Avenue Saratoga Springs, NY 12866 (800) 847-3000 |
| SUNY Upstate Medical University | 750 E Adams St Syracuse, NY 13210 |
| University of Rochester | 255 Crittenden Blvd Rochester, NY 14642 (585) 273-5639 |
Salary
The average salary of a registered nurse level 2 in New York is $81,530 annually.
Salary depends on certificates, education, experience, specialization, employer, etc.
Annual Salary Range:
Annual Salary by Location:
| Location | Avg. Annual Salary |
| --- | --- |
| New York | $91,940 |
| Buffalo | $72,660 |
| Rochester | $74,900 |
| Yonkers | $87,580 |
| Syracuse | $74,890 |
| Albany | $77,220 |
| New Rochelle | $87,040 |
| Mount Vernon | $87,540 |
| Schenectady | $76,920 |
| Utica | $72,760 |
RN to MSN Programs by State
---