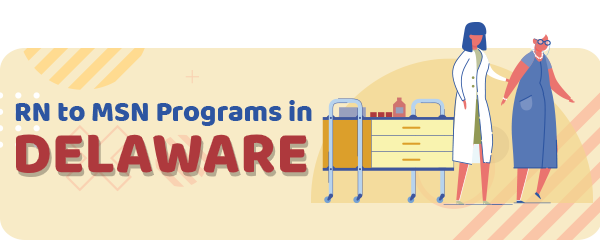 Registered nurses (RNs) who want to improve their knowledge and take a new pathway in their career can complete a Master's degree in Nursing (MSN).
Taking the next step in your education will ensure you better job opportunities and a higher salary.
Keep reading for more information on RN to MSN programs in Delaware.
RN to MSN Admissions Requirements in Delaware
To be admitted to the RN to MSN program of your choice in the state of Delaware, you have to satisfy several criteria.
Only if you have graduated from a BSN or ADN program accredited by ACEN or CCNE, and have an active, unencumbered registered professional nurse license in Delaware, you can start the RN to MSN program.
All students must submit the graduate application and all official transcripts.
Only if you meet all criteria you can be admitted to the RN to MSN program.
RN to MSN Courses
There are several educational pathways toward an MSN degree.
For example, nurses who have a BSN can complete just an MSN portion of the program.
Others can choose programs that allow them to earn BSN and MSN as well.
After you complete the general education courses, you can choose a specialization track.
Therefore, you can continue your nursing career as an Adult Clinical Nurse Specialist, a Family Nurse Practitioner, or else.
Online RN to MSN Programs
Online education is convenient for lots of students, and tuition is more affordable.
There are several RN to MSN programs conducted online in Delaware.
Working nurses often choose online courses, because it is much easier for them to continue with their work and online classes.
Also, you should know that even if you pick an online course, you will have to complete clinical hours.
Luckily, most of the schools allow their students to complete the requirement in their local area.
The Costs
Tuition for the RN to MSN program varies across the state and depends on several factors.
For example, Wilmington University charges around $466 per credit hour.
You should check whether the books and materials are included in the tuition as well.
Schools in Delaware
There are colleges and universities in Delaware that has various nursing programs.
For example, Wesley College has complete nursing educational programs which include a hospital school diploma, a collegiate Associate Degree in Nursing, or a Collegiate Baccalaureate Degree in Nursing.
Also, you can specialize in an advanced practice role as a Clinical Nurse Specialist with a focus on adult-gerontology.
| School Name | Address |
| --- | --- |
| Wesley College | 120 N State St, Dover, DE 19901 |
Salary
Salary depends on several factors such as an employer, location, experience, education, certificates, etc.
On average, a registered nurse, level 2 in Delaware makes $79640 per year.
Annual Salary Range:
Annual Salary by Location:
| Location | Avg. Annual Salary |
| --- | --- |
| Wilmington | $80,850 |
| Dover | $80,730 |
| Newark | $80,790 |
| Milford | $80,930 |
| Seaford | $79,260 |
| Middletown | $80,600 |
| Ellendale | $80,930 |
| Smyrna | $80,640 |
| New Castle | $80,850 |
| Georgetown | $80,930 |
RN to MSN Programs by State
---