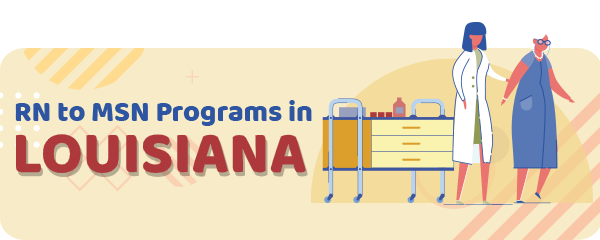 If you are a registered nurse in the state of Louisiana and you want to upgrade your career, you can complete a Master's degree in Nursing (MSN).
Earning an MSN will improve your job opportunities and increase your paychecks.
Keep reading to find out more about RN to MSN programs in Louisiana.
RN to MSN Admissions Requirements in Louisiana
To be admitted to RN to MSN program in Louisiana, you have to satisfy elementary requirements.
A minimum GPA on undergraduate studies in Louisiana required for RN to MSN program is 2.75.
Next, you will have to submit three letters of recommendation and a personal goal statement essay and hold a valid professional nursing license in Louisiana.
Only students who have completed the ADN or BSN program on accredited universities can be admitted to the RN to MSN program in Louisiana.
Only those who satisfy all criteria can be admitted to RN to MSN programs in the state of Louisiana.
RN to MSN Courses
There are several educational routes you can take to obtain your MSN degree.
Your previous education determines your eligibility for certain routes.
For example, the simplest route is for nurses with BSN, because they can finish only the MSN part of the program.
Other nurses can choose a program that allows them to obtain both BSN and MSN.
The next step after you complete the general education part is to choose a specialization track.
Therefore, you can continue your career as a family nurse practitioner, adult clinical nurse specialist, or something else.
Online RN to MSN Programs
Online education is part of many programs and more and more students prefer it over traditional education.
Working nurses often choose an online program because of convenience.
Also, the fees for online classes can be lower.
However, even if you choose an online program, you will have to complete clinical requirements.
The majority of schools allow the student to complete it in their local healthcare facilities.
The Costs
The program fees differ across the state and are based on several factors.
Before you choose your program, make sure to check the list of things covered by tuition.
For example, students who choose the program at the University of Louisiana at Lafayette, have to pay around $4123 for 9 hours of graduate courses.
Schools in Louisiana
Several schools in Louisiana offer appropriate RN to MSN courses.
If you want a 100% online program, you can choose Louisiana College.
Loyola University New Orleans has three specialization tracks – Family Nurse Practitioner, Healthcare Systems Administration & Leadership, and Nurse Educator.
| School Name | Address |
| --- | --- |
| Louisiana College | 1140 College Dr, Pineville, LA 71360 |
| Loyola University New Orleans | 6363 St. Charles Avenue, New Orleans, LA 70118 |
Salary
Salary is calculated using multiple factors, for example, city, experience, education, employer, etc.
An average annual salary of registered nurse level 2 in the state of Louisiana is $72660.
Annual Salary Range:
Annual Salary by Location:
| Location | Avg. Annual Salary |
| --- | --- |
| New Orleans | $75,300 |
| Baton Rouge | $70,520 |
| Shreveport | $69,730 |
| Lafayette | $69,690 |
| Lake Charles | $68,730 |
| Kenner | $75,250 |
| Bossier City | $69,730 |
| Monroe | $69,370 |
| Alexandria | $67,200 |
| New Iberia | $69,280 |
RN to MSN Programs by State
---