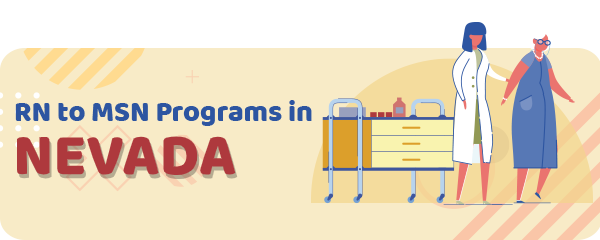 Nevada has a growing need for registered nurses with higher degrees, such as a Master's of Science in Nursing (MSN) degree.
It is why more schools in Nevada offer RN to MSN programs, suitable for both ADN and BSN-prepared nurses.
Nurses who hold MSN degree work on higher positions, enjoy a higher salary and have better job opportunities.
Keep reading to find out more useful information on RN to MSN programs in Nevada.
RN to MSN Admissions Requirements in Nevada
Aspiring MSN nurses have to meet several requirements to be admitted to RN programs in Nevada.
Only students who meet all requirements can be admitted.
Requirements include having a cumulative GPA of at least 3.00 and an ADN or BSN degree obtained from an officially accredited university.
Also, aspiring students need to hold a valid and unencumbered Nevada registered nurse license.
The documentation students need to submit during the application process includes a resume, professional letter of recommendation, and a personal statement of career goals.
RN to MSN Courses
A typical curriculum for the RN to MSN program in Nevada includes core nursing courses and specialization courses.
Students can choose to specialize and become a Family Nurse Practitioner, Nurse Educator, or else.
All programs have a clinical requirement, and students are asked to complete a certain number of supervised clinical hours.
The curriculum at the University of Nevada in Las Vegas includes courses such as Advanced Pathophysiology and Genetics, Advanced Pharmacology and Genetics, FNP Adult and Women's Health, etc.
The duration of the program depends on several factors, and the average time is from two to three years.
Also, ADN-prepared nurses have to complete more courses than BSN-prepared nurses.
Online programs
Nevada students often choose online programs because they are flexible, and cost less.
Working nurses find it much more convenient to study at their own pace and don't have to relocate to complete the program.
Also, online programs allow students to complete clinical requirements in their local area.
The Costs
The costs of the RN to MSN programs are different, and the list of things covered by tuition isn't the same in all schools.
Most likely, the tuition won't cover expenses for books and nursing instruments, mandatory fees, etc.
Luckily, students can apply for numerous grants and scholarships available for nursing students.
For example, a program at the University of Nevada in Reno costs around $4,000 per semester and doesn't include nursing fees.
Schools in Nevada
There are several RN to MSN program in Nevada.
Some are part-time and there are full-time options as well.
Also, students get to choose if they will enroll in an on-campus program or in an online program.
The most common specializations available in Nevada are Nurse Educator, Family Nurse Practitioner, Urgent Care Nurse, etc.
| School Name | Address |
| --- | --- |
| University of Nevada, Reno | 1664 N. Virginia Street Reno, NV 89557, (775) 784-1110 |
Salary
An annual median salary of registered nurse level 2 in Nevada is  $77.880.
A salary is calculated using factors such as education, experience, specialization, location, certificates, etc.
Annual Salary Range:
Annual Salary by Location:
| Location | Avg. Annual Salary |
| --- | --- |
| Las Vegas | $78,750 |
| Reno | $76,290 |
| Henderson | $78,450 |
| North Las Vegas | $78,750 |
| Sparks | $76,290 |
| Carson City | $76,590 |
| Elko | $64,660 |
| Boulder City | $77,690 |
| Mesquite | $77,620 |
| Fallon | $75,300 |
RN to MSN Programs by State
---