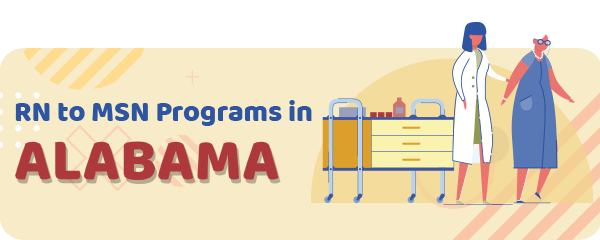 Registered nurses (RNs) who are ready to take the next step in their education and career can finish the Master's degree in Nursing (MSN).
Upgrading your education and tittle will ensure better job opportunities and a higher salary.
Keep reading to find out more about RN to MSN programs in Alabama.
RN to MSN Admissions Requirements in Alabama
To be admitted to the program of your choice, you have to meet certain criteria.
Those are related to your previous education, your licenses, and application documents.
The minimum GPA on undergraduate work in Alabama is 3.0.
Students need to show proof of CPR certification, have a valid unencumbered registered nurse license, proof of clinical experience.
Only students who have completed all prerequisite courses can be admitted.
Upon application, you might need to provide letters of recommendation and a resume that proves your clinical experience.
Only nurses who fulfill all requirements on time can start some of the RN to MSN programs in Alabama.
RN to MSN Courses
There are several program models for RN to MSN education.
Your previous education will determine the educational pathway suitable for you.
For example, if you hold a BSN, you can complete only the MSN part of the program.
Nurses without BSN, can start the program which will allow them to earn BSN, and then MSN.
After you finish all general education classes, you can pick the specialization such as Family Nurse Practitioner, Adult Clinical Nurse Specialist, etc.
Online RN to MSN Programs
Online programs are getting more popular because they cost less, and they are more flexible.
Also, working nurses often choose online education because they don't have to quit the job and relocate to finish school.
However, students who pick the online program also need to complete the clinical requirements.
But, most schools allow students to complete the clinical requirements in their local healthcare facilities.
The Costs
Program fees differ across the state and depend on several factors.
Also, the list of things covered by tuition is different in schools, and you should check if the tuition covers the expenses for books and nursing instruments.
For example, if you choose a program at the University of Alabama, you will have to pay around $367 per credit hour.
Schools in Alabama
Several schools in Alabama offer RN to MSN programs.
Let's have a quick overview of the best schools.
Spring Hill College is on the list of Top 10 colleges in the USA and has a great nursing program.
The University of Alabama offers an innovative curriculum and clinical simulation.
The University of Alabama in Huntsville is a suitable choice for students who would like a 100% online course.
The University of North Alabama is one of the best schools in the south with a comprehensive curriculum and modern teaching techniques.
The University of South Alabama is the first choice for lots of students and educates more than 14000 students in the modern 1200-acre campus.
| School Name | Address |
| --- | --- |
| Spring Hill College | 4000 Dauphin St., Mobile, AL 36608 |
| The University of Alabama | 650 University Boulevard East, Tuscaloosa, AL 35401 |
| The University of Alabama: Huntsville | 124 University Cir, Huntsville, AL 35816 |
| University of North Alabama | One Harrison Place, Florence, AL 35632 |
| University of South Alabama | 307 N. University Blvd. #130, Mobile, AL 36608 |
Salary
Salary is always a result of many factors, such as education level, professional experience, city, employer, etc.
An average annual salary of a registered nurse, level 2 in Alabama is $71070.
Annual Salary Range:
Annual Salary by Location:
| Location | Avg. Annual Salary |
| --- | --- |
| Birmingham | $71,810 |
| Montgomery | $68,020 |
| Mobile | $70,210 |
| Huntsville | $71,750 |
| Tuscaloosa | $71,110 |
| Horton | $71,140 |
| Dothan | $67,110 |
| Decatur | $69,560 |
| Auburn | $67,990 |
| Gadsden | $71,170 |
RN to MSN Programs by State
---